Dumpster Hire
I realized how much I stunk when I sat down in Captain Soprano's office. Tried to cover my stench of dried onions, sanitizing agent and dried milk with a weak smile.
"You wrote to me, remember?" he offered.
"Oh, yeah. Umm…he's jumping out of the trash to scare people." Women had been coming up to me, out of breath, slightly clammy, after being scared half to death when a C/O would pop out of dumpsters as they walked past, asking me what could be done about Officer Dumpster Diver.
"Where?"
"I haven't seen but it looks like right outside the end of Four-South and on the East side [of the prison compound.]"
Rabkin, the Operations Captain, walked in and sat next to Soprano behind the desk. He took his glasses off, squeezed his eyes closed and massaged the bridge of his nose. He was annoyed he had to be there. Either that or he smelled me.
"So he's in the dumpster and he jumps out at people?" Soprano asked with his pen poised above a lined pad like he needed notes to remember this later.
"Wait, who's jumping out of a dumpster at who?" Rabkin spat out. I could tell what he was thinking: Which one of these nutty broads do I need to bust? Except it wasn't one of us.
"Frisky. Frisky is. Your guy is jumping out of the dumpsters and scaring people."
And Soprano turned and reminded him:
"You know how Frisky likes to scare the 'mates," like this wasn't disturbing or a dereliction of duty. They already knew that a C/O was doing this and had done nothing – at least nothing effective – to stop it.
"I mean, I've been here for about 5 years and I know that the garbage isn't an assigned post for staff," I informed them, or at least those were the words that came out of my mouth. What I really said was: We all know he's not doing his job.
"Well, I mean, I can talk to him," Soprano shrugged. I don't know if he knows that was the wrong answer. His solution to the problem I presented was that a superior officer might suggest to one of his charges that he quit his Oscar-the-Grouch schtick of hiding inside garbage receptacles to pop out to scare the shit out of women they're all supposed to be dedicated to reforming.
It's a little played out to use the garbage as a metaphor for modern corrections but it's close. Some yahoo, rogue officer is allowed to roam the compound, instead of working, and pull pranks, playing in the trash. Everyone knows it's happening, yet no one says anything. I'd compare his antics to a fraternity rush but frat boys are above chillin' inside green dumpsters. Even people whose fortune has been reversed on them so badly that they become homeless and live in the streets have the sense to get in and get out of a dumpster after they get what they need. They don't hang out in medical waste for kicks. And re-traumatizing people isn't a taxpayer-financed blast for them.
The Connecticut Department of Correction's motto is P.R.I.D.E. – Professionalism, Respect, Integrity, Dignity and Excellence. Yellow and blue letters scream it at anyone who leaves the prison though the front door. Can't even go to the visiting room without P.R.I.D.E. screeching at you.
So I wanted to ask:
Would I file this dumper-writhing under Professionalism, since he's clearly perfected this art? Or maybe Dignity, because he may roll around in trash but always gets up? Or Excellence because he gets in and out real fast?
But I didn't, because P.R.I.D.E. may not contain any of its listed ingredients, but it does have power.
"Captain Soprano, I've already written to you about why this is a problem. A lot of people here have severe PTSD. Scaring them like that can trigger their startle response and I wouldn't be surprised if one of them just swings and hits him when he does that. And then what? She goes to seg, gets charged – outside charges, which means more time [added to her sentence] – he might get hurt. I mean, it's a crime waiting to happen."
And both of them just stared blankly at me as if to ask: So what?


THREE IDEAS IN CRIMINAL JUSTICE FROM JULY 24 – 30, 2017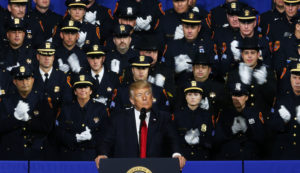 President Donald Trump spoke Friday at Suffolk Community College in Brentwood, New York, close to where the violent street gang "MS-13" committed a number of murders, and urged Congress to dedicate more funding to border enforcement and faster deportations.
Three takeaways from his speech:
He wants to abolish the Fourth Amendment and dispense with the more than 100 years of case law that requires judges to sign warrants to search your property and/or seize it.
He doesn't know that his immigration policies are strengthening MS-13.
He thinks it's acceptable to beat up anyone in custody.
It wasn't his best speech. But I bet it won't be his worst.