A Very Moving Story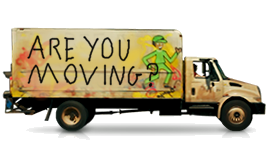 You have a call from…Chandra… an inmate at York Correctional Institution. This call may be monitored and/or recorded. You may start your conversation now.
"Chan? Happy Birthday," my father said.
"Thanks."
"I talked to the warden, you know, about your mail delay, and he said your mail is probably delayed because you've been moved 37 times."
"Yeah."
"Is that true?"
"Yeah."
"Thirty-seven times?"
"Hal-owe. Happy birth-day!" It was my mother, intervening. My father probably waved her over to another extension. It wasn't uncommon for my parents to sit two yards from each other, talking to the same person on the phone, each on different receivers.
"Hi Mommy."
"Hi. What is happening? They're putting you all over the place?" she asked.
"Huh?"
"Daddy said they moved you 37 times."
"Yeah, I guess."
"Oh, that's terrible. This is terrible," she said and sighed.
"They've moved you 37 times in a little over five years?" my father inquired, on a cross-ex.
"Yes. But every time I go to seg, that's two moves, you know. One in; one out. Maybe three, if I land in 3-South first."
"And how many times have you been to seg?" he asked, even though he knew.
"Fooo…no, five."
"Well, then, let me ask you this, Chan." That's Ronald Bozelkoish for You're not making any sense. "What happened in the other 25 moves? When you didn't go to seg."
"Umm, I moved. One regular unit to another."
"This is absolutely absurd. So they move you every other month? Is that what you're telling me? And this has been going on from the beginning?" Ronald was demanding information for an action plan.
"Well, except for the moves inside the unit."
"What is that?" He needed to check.
"Like when they move you from one cell to another inside a unit. You stay in the same building. Or half of the building," I explained.
"How many of those?" my father asked.
"I dunno. Two or three for most of the units."
"You're fucking kidding me."
"No," I said. I wasn't.
"Why didn't you tell me this was happening to you?" my mother asked.
"That I was getting moved? Why?"
"Because we would have done something about it," she explained, exasperated.
"'Cuz it didn't occur to me. I just want my mail on-time."
"But that won't happen if they keep moving you like they are, okay?" my father explained. "When did they move you last?"
"Well, to…today."
"Today?! On your birthday?" My mother was horrified.
"Where are you now?" my father asked like he was a 911 operator trying to ascertain the location of an emergency.
"I'm still here, in the prison. I'm in One North again."
"What is One North? What is that about?" came from my mother and "Where were you before?" came from my father.
"We need to stop this," came in unison.
"Well, I have only, what? Eight months left? How are we gonna stop it now?"
I am getting far too pragmatic.
I always hated moving in here. You stay at the same address you just get filed under another number. More than anything else that can happen in this facility, moving cells made me feel like we're chattel, like we had to be stored in a different container. Where we would be could change, but we always, always had to be stored somewhere. It was burdensome organizing for the staff, like they had to find somewhere to stuff us.
I never realized that I might hate the moves because the staff has gone pretty far to make me miserable with them. Normally, operations [administration] will move you only if you're in the prison, i.e. not at court or an off-grounds medical appointment, and only during first shift. Unless its an emergency in the cell, like when my toilet started flushing non-stop without anyone's using it and they moved me and my roommate to another building at night, you'll be moved before 2 PM.
Unless you're me, anyway. After a week in court during a week of snow and other delays (meaning I had about 10 hours of sleep for the week, aggregate) they moved me once at night – which is unheard of, unless there's an emergency. But there was none that night and there was every reason to let me stay where I was.
Paralyzed by fatigue, I couldn't even carry my stuff anymore and the C/O picked up my bags and carried them for me. They're not allowed to do that and I was so grateful to him that I didn't even say anything a few months later when he threw a roll of silver duct tape straight into my face. When I was on the phone. That was when I lived in One North another time, about 20 moves ago.
Moving is a security thing in every prison; they like to mix things up so no one gets too comfortable where they are, has time in one place to dig out a Shawshank tunnel. But what happened to me is excessive and I, in my mind the smartest person at this address, didn't even catch it even though other long-term inmates move about a third as often as I do and average inmates move about a fifth as often as I do. As much as I complain about this place, somehow I missed the fact what was happening to me wasn't right. I'm actually pretty good about feeling slights and bitching about them, too good at it maybe. But I miss the real stuff hunting for the piddly offenses or ways to get a reaction from people. If I just understood and mourned some of the things I've suffered for what they are, I'd probably calm down.
I remember when I had to meet with the eleventy-billionth shrink and she went through my file.
"So you know that this is abuse?" she asked, talking about every possible psychiatric intervention that had been foisted upon me.
"Well, it's more just family dysfunction," I half-agreed, amiably, so I'd be allowed to leave.
"Okay, but it's also abuse," she said.
"I mean, I guess. But not really. My parents love me, I know that."
"Love doesn't force," she told me. I never thought about it that way. I've loved many people, things, situations and always thought I could force more out of them with threats and generally bad behavior. I was never forced to go back to that doctor and I always wondered why.
After that birthday call, I've decided that the cycle of abuse isn't propelled by anger. The fact that 'hurt people hurt people' isn't because they are in pain so they make a conscious decision to share the torturous wealth. Abuse is fueled by ignorance. People don't know what constitutes abuse; that's why they so easily pass it to others. I've reached 41 years of life and I still don't know all the ways I've been abused and all the ways I've abused many people.  I simply never knew what I was doing or what was being done to me. It's not an excuse; it's a fact. Because so many women get moved here every day (especially me), it didn't really occur to me that these moves might be another form of mistreatment. It felt that way, but every allegedly legit thing that's been done to me felt the same. I didn't even know.
Every worker, when she checks in for work in the morning, has to report her housing unit.
"Ms. Bozelko, thank you. Zero-South," NY Giants said as he placed a deliberate check mark next to my name on the roster the next morning.
"No, it's One North."
"They moved you again? Oh boy."
"Yeah, I guess it's happening again," I told him and went to put on my boots. And as I slid on the chunky black rubber and started to think about how much abuse, incoming and outgoing, I never recognized, I didn't know that no one would ever move me in that facility again. I couldn't yet see how, even subtly, just acknowledging abuse stops the cycle.
THREE IDEAS IN JUSTICE REFORM FROM OCTOBER 16 -22, 2017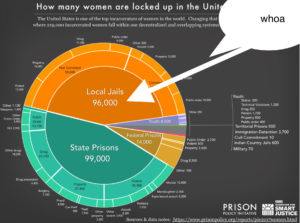 As part of the organization's "Whole Pie" series, the Prison Policy Initiative conducted the first formal count of incarcerated women in the country. It turns out that 15% of incarcerated women – around 30,000 of them – are sentenced but live in jails, not prisons.  It might seem like a minor distinction, one related to jurisdiction alone, but it's not. The difference between prisons and jails have everything to do with quality of life so we are really harming 30,000 women by not finding them a place in a prison. That sentence sounded nuts; I know, but it's true. For a good explanation about the difference between prison and jail, click here, on the legal website HG.com (HG stands for Hieramos Gamos, Latin for 'marriage of opposites,' which means that the site's founders think it's almost impossible for anyone who isn't a lawyer to understand anything about the legal system, an arrogance that might explain why they let their sentenced female clients languish in jails, but I digress.) Another 25% of women live in jails but are unsentenced. They suffer, too. Maybe not as much. Maybe more.
Republican Sens. John Cornyn of Texas and Mike Lee of Utah, and Democratic Sen. Sheldon Whitehouse of Rhode Island introduced the Corrections Oversight, Recidivism Reduction, and Eliminating Costs for Taxpayers In Our National System Act last Thursday. It's a mouthful for the same old shit. Literally; the same bill was introduced in 2015. The day before the new version was brought out, law enforcement leaders sent a letter to Attorney General Jeff Sessions and President Trump but they haven't responded. And they won't.
A federal trial judge in Brooklyn says he's going to hold a hearing on the perceived prevalence of lying by New York city police officers. There's no way to be sure without an exhaustive search of all court decisions, but this could be a first. And a discussion of the credibility of police testimony writ large is needed.  So this should be good. And still, ultimately, not get us that far.