The Next Fire
Lillian often drew pictures for the guards, the lieutenants. They were actually pretty gracious about accepting her colored-pencil renderings of houses, flowers and Willie the Wonder Pig because they knew she suffered from physical, mental and neurological disabilities.
I assumed that her constellation of conditions was the reason why they placed Lillian in a cell with me. Whatever animosity lingered between me and the staff did not matter; they knew that I would never exploit another inmate, particularly one with her abilities. When she moved in, she said she would be going to court soon – as she was still unsentenced – and hopefully go home that day, sentenced to time served, a total of one year.
"What exactly is your charge?" I inquired, typical intro cellmate crap.
"Arson One. I burned down a mill in Norwich," she said, a little too brightly. She had lit aflame a historical landmark, an empty mill.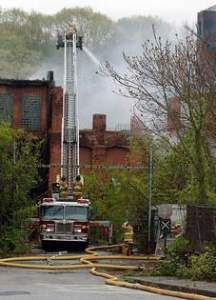 "Oh, okay," I said. What else could I say?
On a Thursday morning she packed her property to go to court but left me a note and two of her drawings in case she never returned. One, a drawing of a correction officer dubbed "DIKHED," was placed atop another with the cipherous title "My Next Fire," which I can best describe as a contemporary landscape, an entire village being eaten by flames. The stick figure populace was doing various things: dying, falling out of windows of burning buildings, lying on the ground with broken necks, driving ambulances and hearses, digging graves, fleeing structures ready to collapse from fire.
"Oh, okay," was all I could say about it. Until two days later when an overnight guard asked me about her as I left the building for breakfast.
"So ya miss your roommate, Bozelko?" He knew her from before York, when he worked security at a hospital where she was a patient.
I shrugged. Telling the truth would make me speak ill of other inmates to the correction officers which I don't like to do because it fuels their fire.
"Can you believe that judge have her a year for the mill?" he huffed.
"Yes. Yeah, I can believe that."
"What's the bastard gonna say when she does it again?" he wondered out loud.
My Next Fire.
"B, can I show you something?" I asked him and read sudden anxiety on his face. I believe he thought when I asked to show him something it was some kind of sexual overture or, even worse, an attempt at friendship and camaraderie between two equals who were clearly not.
"No. Not like that," I told him, swinging my hands in the universal You're way off sign. "It's something she left for me. I didn't know if I should report it or not."
"What the hell is it?"
"A picture of a fire."
"Get it."
I ran to my cell, grabbed the 'DIKHED' and 'My Next Fire' and ran downstairs. B scanned and paused. Picked up the phone receiver.
"I'm calling a lieutenant. Will you tell whoever comes over what happened?"
"Yeah, but…it's all there. She went to court and left me the note and the drawings. That's it."
"OK. I'll let you know if someone wants to talk to you."
Apparently no one wanted to talk to me because I heard nothing until I saw B on the walkway a few weeks later.
"Whatever happened with that picture?"
"Fucking lieutenant. She wouldn't do shit about it. She said because the picture wasn't signed by her, by the "artist." She even said 'how do we know Bozelko didn't draw it to set her up?'"
I laughed because that would be so like me, torching shit and then cartooning it.
"Yeah that's what I said," B agreed. "The handwriting and the people drawing match all the scribbles she hands out to staff but the LT wouldn't do shit about it." I knew the lieutenant he named. She's a royal bitch and, if the next fire proved anything, a work-shy bitch, too.
"So she didn't file a police report or anything?" I asked B who was muttering something about lazy cunts.
"No."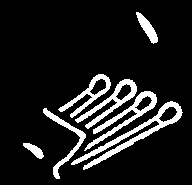 "Then what'd she do with it?"
"Threw it away," he announced.
"You're kidding me."
"Nope."
"Oh, okay," I told him. What else could I say?
I almost forgot about My Next Fire until my next encounter with B when his rotation schedule brought him back into my housing unit about six months later.
"Bozelko, you know your cellie's back."
"Of course she is," I conceded. York's recidivism rate close to 90%, so I hear that all the time. "Which one? Who exactly are we talking about?" He told me it was Lillian.
"My Next Fire?"
"Yep. Burned down the facility where she was living. It's like a bunch of small buildings."
A village.
"Was anyone hurt?" I asked, shocked, a little.
"No, but a bunch of the other residents living with her lost their housing. Almost a million in damages." B informed me as he took the three o'clock headcount.
"And that lieutenant never told the police anything about the drawing, did she?" I asked, knowing the answer.
"No, but I did. I called a buddy of mine who's a State Trooper and told him. They picked her up two days ago."
Now Lillian sits here and will likely serve fifteen years. Like mine, her parents are elderly and they will probably pass before she leaves. People have little sympathy for her but feel for her parents. Their pain, like the fire, was totally preventable. If only the lieutenant made a report, maybe someone would have kept better watch on Lillian and she never would have found that lighter. Maybe Lillian would have been unable to force people into homelessness, would have been unable to burden arson investigators with more work, would have kept an insurance adjuster from cutting a big check. Maybe with a bit more supervision before her next fire -once the lieutenant had reported it – Lillian would be OK right now. Instead, she's here. Again. And all of it could have been stopped because she telegraphed her next offense and everyone with the power to prevent was too unconcerned to do anything about it.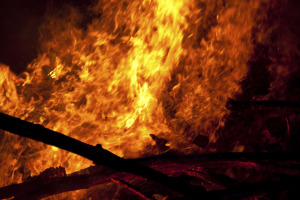 I rarely see Lillian but when I do, she has a drawing in hand, approaching a guard, thinking everything is going to be fine and she will be out soon. She won't. I don't know if anyone told her but she's as destroyed as the village.
"Chandra! I wanna be your roommate again! I'm gonna talk to a lieutenant about it!" she shouted and waved to me as I passed her on the walkway returning from work.
"Oh, okay. We'll see," I assured her. I think I'll be gone before the lieutenant can arrange it.