Go Shorty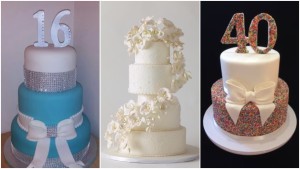 How was dinner? Sometimes the C/O's ask when you stroll back to your housing unit after a meal, a little incredulous that anyone actually ate what was served.
I shrugged.
"Okay. I always want chili in 90 degree heat. I only went because tomorrow's my birthday and the meals are worse."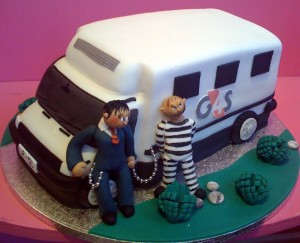 "Tomorrow's your birthday, Bozelko? Doin' anything fun? Havin' a party?" she joked. That's always a knee-slapper to them.
I always wanted to throw a blowout for my fortieth birthday, even though I never thought I would actually turn forty. I figured I would be due for something.
I gave up a Sweet Sixteen soiree when I was a kid  – didn't even want it -because I was going to be at a summer program in Ann Arbor and I didn't see how it was necessary.
"Are you sure you don't want a party? I think your friends would like a party. We can do it at the Graduate Club or the Quinnipiac Club and it will be nice…decorations? We can get a DJ…"
I shrugged.
"I don't think I need one," I demurred. All I wanted to do for my sixteenth birthday was go to "debate camp" – the Michigan National Debate Institute. I wasn't the consummate nerd when I was fifteen, but I was close. I just liked what I liked back then and wasn't vulnerable to peer pressure at all.  Looking back, I'm a little surprised at how adult I was about the party. So mature that it scared my mother a little. I overheard her asking my father:
"What teenager doesn't want a party?" Translated: Why doesn't my brat want what all brats are supposed to want?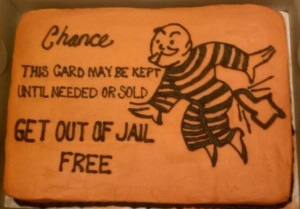 "Kath, what're we gonna do? Argue with her when she doesn't want to spend thousands on a party? Let her go to Michigan. I hope she feels this way when you plan her wedding," my father told her.
Except there's never been a wedding. Flagged that one, too. I still don't know if I ever actually wanted one.
I just always figured I would have a fortieth bash because I didn't have the other two.  Now, because of my stupid decisions, rage and denial, I would be 0 for 3 on parties: no Sweet Sixteen, no wedding, no Over-the-Hill shindig for my fortieth. Even if I planned one, I couldn't even invite myself because I'm stuck here.
I climbed up on my bunk and lay, frozen still, so that the 5-watt fan could chill the sweat all over me; rooms without air conditioning and open windows aren't fun in 90-degree weather.  For a woman to turn forty in prison is about as pathetic as it gets but, always an overachiever, not only was I reaching my fifth decade in the clink but I was going to debut wilted from the weather and motionless.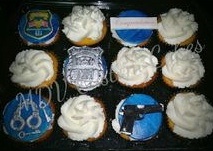 "Winks, I need to ask you a question," Cherry asked me at my door. Cherry is the Common Area Worker with a severe case of Co.W.S. – Common Area Worker Syndrome (the afflicted forget that they're inmates). She wasn't even supposed to be out of her room because it was count time.
"What?" I didn't even turn from the wall to her.
"I need to talk to you about a modification."
"Cherry, it's Saturday night, it's beastly hot and I really don't feel well."
"I need your help now."
"You know the court isn't even open until Monday morning, right? Nothing is happening now."
I wanted to add: and you're here for murder, so no one's reducing your 45-year sentence, but the way I was sweltering took away all my fight. Cherry's life story has always been sad to me. I'm sworn to secrecy about it but I'm pretty sure that poverty, abuse, addiction and mentally ill parents conspired to make sure that Cherry knew York CI intimately before she met her maker.
All of this undeserved loss in her life has made Cherry an officious pain in the ass, commandeering very cleaning supply in the unit, because suffering people will do anything for a little bit of power.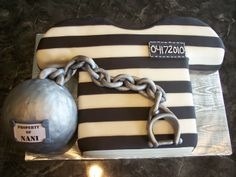 "I need to have it in the mail on Monday because Wednesday's a holiday and no mail is gonna be delivered," she pleaded. This, of course, was complete horseshit because Cherry knew, after 18 years here, that nothing she mailed was going to wind its way out for a week nor was it going to be granted.
My cellmate Olga, an Original Gangster if there ever was one, has a normal body and hands the size of clipboards from fighting. Olga doesn't tolerate Cherry.
"Can you just go help her because I don't want her at the door all night and you know she won't let this go," she asked. "It's too hot for me to listen to her shit. Blood pressure goes up and I can't cool down."
In the interest of domestic relations, I lowered myself from my bunk and put on another shirt so I could leave my cell properly dressed. As I walked downstairs to Cherry's lair – which is a broom closet – I could hear the whirr of probably ten different hairdryers in other cells.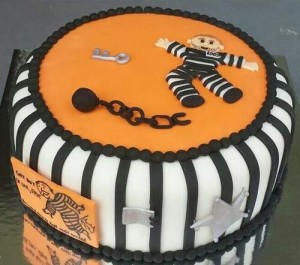 "Who the fuck is cooking and running their hairdryers in this heat?" I asked.
"I dunno, but all I need you to do is – here, come in here,"  she motioned me fully into the closet. "I need you to explain why 45 years is expressive because of, what's that word you use?"
"You mean excessive?"
"Yeah, excessive because of miritation, irrigation, something like that. That word you use."
"Mitigation?"
"We've already been through this… " I started to say but I could see Olga's huge hands at the end of her 63-year old arms, swinging into Cherry's face. I thought I would just write a cursory letter for Cherry to keep her away from our door to appease her and shut her up, so I agreed, accepted her copy of the form (which she got from me anyway) and walked back up to my cell to write it, hand it back to her and age for the rest of the night in my box.
Olga saw me come into the cell with the form.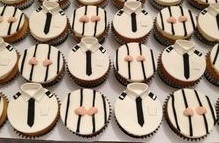 "She roped you in again? Here, I'm gonna cover the window so no one bothers you while you do that. Finish it and send that bitch packin' so I don't have to deal with her," Olga said as she attached paper towels to the door with a sticker from a deodorant.
"We can go seg for that…" I warned Olga but she had already set up the drape and went out to watch TV.
I sat down to make stuff up for Cherry and sweat trickled down the inside of my arm.
Olga poked her head into our own cell.
"Chan, other people have questions for you, too, so come out when you can," she said.
Olga's off the beam. She's mad that Cherry is at the door begging for help but she's arranging new requests out there, I thought.
I swung open the door with my speech all ready:
DO NOT tell me you need help with letters to judges so you can go see your kids. DO NOT tell me the gun wasn't loaded or you didn't know you were stabbing someone, okay? I am unable to overturn righteous convictions for stupid stuff you did. I am tired. I am hot. I am forty. LEAVE ME ALONE.
But I never got to deliver it because I walked out to the rec[reation] area and found a party, a huge, unexpected one.  A banner made from 20 pieces of contraband copy paper. Women on the tier had made personal pizzas for everyone – 24 in total –  by smashing sour cream and onion chips with cheese and hot water and spreading the mix between two tortillas to make a crust. Rice and beans. Ramen noodles made into spaghetti. Chicken salad wraps. Tuna casserole. Individual cakes made of honey buns mushed up with brownies and cappuccino to make a bread pudding, frosted with Fluff.
My mother would have fallen into a wilted heap herself if this had ever been served at the parties she wanted to have for me, but these dishes were prison's go-all-out gourmet. Trixie even made a game of prison Truth or Dare, which proved later to be downright dangerous.
If the man-hours, respect and gratitude invested into the prep for this party were converted to cash, I could have afforded to fête myself and 100 people to top-shelf booze, a raw bar and a three-course dinner. They had to start days ago and not one person wasn't involved with the planning. All for me for my fortieth.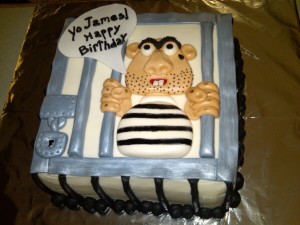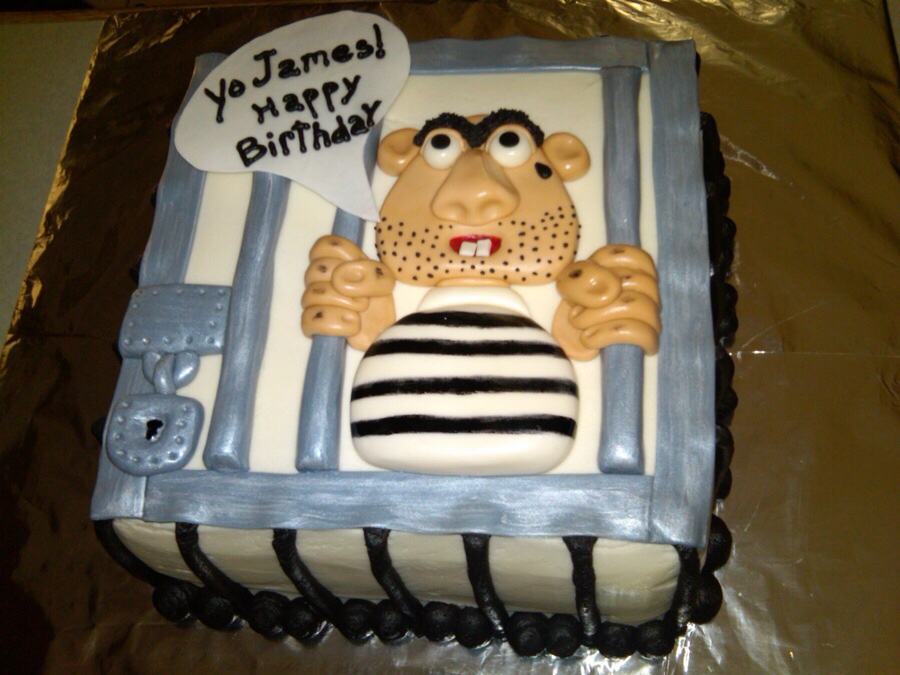 "You did this for me?" I was still taking it in.
"You do a lot for us," Soledad said as she mixed Nestea for everyone.
I looked through the glass wall of the tier, down at Cherry in the common-area. She waved at me to let me know she was in on it, too. If she weren't such a pain in the ass normally, I never would've bought her performance. I hated myself for being annoyed by her… ever.
I couldn't even react, mostly because the heat deflated me, but also because I was so touched by getting a surprise party for my fortieth. I may not like the way my wishes are delivered, but even through all of these trials, I still get what I want.
All pictures are of real cakes that someone thought would be appropriate for the party theme of mass incarceration.
THREE IDEAS IN CRIMINAL JUSTICE FROM JUNE 27 – JULY 3, 2016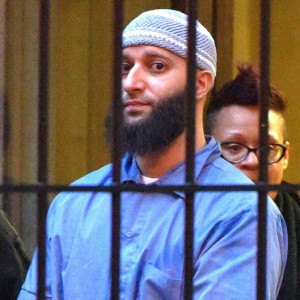 Pick a constitutional amendment, any amendment…
SIXTH AMENDMENT: Adnan Syed gets another trial on murder charges. The focus of the Serial podcast had his conviction vacated on the grounds that he received ineffective assistance of counsel when his defense attorney failed to cross-examine a cell phone tower expert witness presented by the State of Maryland. Everyone's celebrating this but me, and not because I don't want a new trial for Syed. Read the decision here: the court held that an attorney's failing to contact an alibi witness (in this case, Asia McClain – whose story is credible and would provide an absolute alibi for Syed) would be "unreasonable" but not constitute ineffective assistance of counsel. I went through this myself in a habeas corpus proceeding. Think about what it means: if you're charged with a crime and you have a witness who can provide an alibi for you, it's okay if your attorney NEVER contacts that person, never mind produce testimony from him. That's constitutionally adequate representation to some courts. That's nuts.
FIFTEENTH AMENDMENT: A divided Iowa Supreme Court upheld the state's law banning ex-offenders from voting last Thursday. All felonies are "infamous crimes" under the state constitution, the majority ruled. Justice reform advocates are up in arms that people with felony records won't get to vote. But consider this: at least 80,000 people in Iowa have criminal records. Only 98 of them have completed applications to have their voting rights restored in the last five years and 92 of those applications were granted. I doubt it matters if they have the right to vote or not. People with records who've lost the right to vote in Iowa don't care about their place in democracy.
EIGHTH AMENDMENT: Dog the Bounty Hunter's wife, Beth Chapman, was elected this winter to serve as the president of the lobbying organization called Professional Bail Agents of the United States. She's preparing for their annual conference next month and is likely to give bail reform efforts in coming legislative sessions a real challenge, as if they didn't have enough already. But doesn't her family's own reality show prove that cash bond doesn't assure that people come to court? She and her brood chase people who posted bail with her company and then skipped. I don't get it.