Cause He Mixes It with Love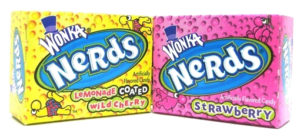 Again, I've been moved, tossed from one tier to another. I spent the first few hours in my new cage overly focused on unpacking my belongings from a trash bag and folding my mattress like a taco so I could tie ends of the sheet around it because, apparently, those Pratesi fitted jobs my mother covets are a luxury, totally unnecessary because you can knot the corners of a flat sheet underneath your mattress and sleep on that huge cotton bolus, Princess and the Pea-style.
My new cellmate got here a few months before I did, when she was 19. Now she's 23.  As I was folding, tying, tightening, pressing, I heard something about being born here at York to a mother who had since passed away, pro forma foster care with older couple who couldn't handle her, placement in a group home for troubled teens.
"…and this guy who worked at the group home, he…I had sex with him so I could get Nerds."
Did I just hear sex and candy?
"His girlfriend worked there too and she snitched on us. Cuz she's jealous. She wanted him to be walked off [fired] just to get him for cheating on her. She even called the fuckin' cops. Cuz jealous bitches are dirty like that."
"This was when you were in a group home? How old were you?" Weren't you like, seven, yesterday?
"Twelve."
"Oh God. I'm sorry."
She shrugged.
"I wanted the Nerds. And I wanted to fuck him."
"Did he get arrested?" I wanted to know. Do I need to start writing letters about this menace to make sure he's not still working with kids?
"Yeah, it was in the paper."
"Was your name in the paper?"
"Nah. I was a minor," she answered, revealing that she knows enough about rules and law and – especially – her status in every situation she finds.
"I mean, I'm not telling you any secret. I tell everyone here. The C/O's know, everyone knows that I got this guy walked off because I fucked him. So that's why the staff doesn't like me. You need to know that if you're gonna live with me."
"Well, they're not crazy about me either, so no problem. But you know you weren't wrong in that situation, right?"
"I was bugging him for the Nerds."
"Yeah, but it's just a hard-and-fast rule that guys aren't supposed to fuck 12-year-olds anywhere, for any reason, even if the 12-year-old wants it."
"I liked him. I wanted to fuck him. So I let him fuck me against a wall in a closet."
"Well, since he's the adult he had to let you down. Not only that, he could've given you the Nerds for free. That was always an option."
"He told me girls my age get married and fuck their husbands in far away places like India and Kentucky," explaining the grooming method he used, equating Kentucky with a third world country. He wasn't 100% wrong about that, but what a substitute for social studies. Molestation fills in for normal pre-teen activities yet again.
I don't know if I will ever be able to explain how fascinating and repulsive the combination of eroticism and childhood sweets was that day. Guilt and shame swirled and marbled her street sass. When he hollowed out her self-esteem by letting her gulp a box of Nerds she bartered sex to get, he drained all judgment from this girl. It was her fault that she wanted someone to commit a mundane, innocuous act between adult and child, one that's happened millions of times daily since the discovery of sugar cane – gifting a piece of candy – and The Candy Man hijacked it into a situation where he could get a piece of ass. In a closet. Standing up. With a kid.
Prison life is like a cross of Ad-Libs and the board game Clue. You start the adventure by filling the blanks of an erstwhile normal story with zany adjectives and nouns – Plural Noun? Nerds! Flat sheets! Verb? Molest! – and then spend the rest of the time deciphering why the story you just wrote yourself actually happened and who the real guilty party is.
My first few days living with her taught me that the group home incident wasn't the only reason why the staff had a problem with her. She's walking trouble: talking back to some staff, flirting with others. Drama in relationships with the other inmates, trading commissary as ruthlessly as anyone who ran with Pablo Escobar. She reports to our room repeating directives from her 'mom' – a Latina woman from Rhode Island who's doing LWOP [Life Without Parole] for 2 execution-style murders – who advises her on all things moral, ethical, culinary and correctional. Only 84 hours of celling with her have exhausted me, yet I have to admit that I hold her pretty blameless for all of it. I'm shocked that anyone thought her story was going to end differently.
When we walked out for  dinner tonight, she was behind me on the walkway and a C/O slithered out of the guards' shack in Yard 1. The ratt-tatt-tatter of small sugar pieces against cardboard twisted my head to catch him in November dusk, shaking a box of Nerds at her. I turned back around and kept walking but she
stopped.
THREE IDEAS IN JUSTICE REFORM
FROM NOVEMBER 6 – 12, 2017
Tell me how ideas related to criminal justice didn't permeate last week's election. And I will counter with these developments:
In Virginia, the election of Democratic candidate Ralph Northam means ex-offenders are not going to lose the voting rights restored to them in April.

Also in Virginia, prosecutor who ran on a platform of police accountability was re-elected.

In New Jersey, the governor-elect proposes to legalize marijuana, which Gov. Chris Christie has opposed.

In Philadelphia, despite huge opposition from police unions, former public defender Larry Krasner switched sides, being elected district attorney.

In New York, voters approved ballot measure that will prevent elected public officials convicted of felonies related to their work from collecting their pensions.
Prosecutors aren't even required to believe the theories and evidence they present to juries. The Marshall Project's Ken Armstrong and The New Yorker ran an important story – a typically New Yorker-length examination of how this really happens and innocent people go to prison – and WaPo's Radley Balko broke it down for us here.
And, because there are so many criminal justice topics to plunder from the Roy Moore story – the fact that it was revealed last week that the former Alabama Supreme Court Justice and current Republican Senate candidate probably had inappropriate sexual contact with underage girls as young as 14 years old – I have to choose just one aspect of the torrid tale to focus on.  The fact that we've normalized having sex with little girls – and boys – is why we have our national mass incarceration crisis right now. Not only has Roy Moore likely committed a crime, but he (and men who act like him) have enabled countless crimes to be committed by their victims. It all leads back to childhood sexual abuse, ladies and gentlemen. All. Of. It.