Prison Diaries Is a 2016 Webby Awards Honoree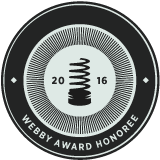 On April 5, 2016, the International Academy of Digital Arts and Sciences announced the Nominees and Honorees for the 20th Annual Webby Awards.
Prison Diaries was named an Honoree in the "Weird" category which is especially flattering because the IADAS defines 'weird' as "reflect[ing] a fresh perspective in thought and action strong enough to start a revolution."
It has begun.
Thank you.