Ten Pounds in a Five-Pound Bag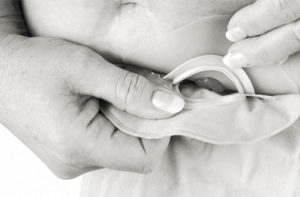 Prison is just society's colostomy bag. People who've never been here, who live relatively successful lives, survive life's peristalsis, moved along by the muscular contractions of education, work, marriage and offspring until they get pushed out life's back end. Prisoners can't even make it to the ass. Some authority siphons us away so that it can house all of the turds together.
Improvements to the bag don't change its appeal. Any wearer wants to lose the bag, sew up his wounds and sit regally on the toilet like everyone else.
The United States Supreme Court's recent ruling in Brown v. Plata that Yes, Governor Brown, you must empty your colostomy bag by at least 10,000 prisoners revealed something I never knew. In order for a prison to be considered officially, legally overcrowded, it has to be filled to 137.5% capacity. One-hundred and one percent, 110%, 125% – not overcrowded. You can't fit ten pounds of shit into a 5-pound bag, but apparently you can squeeze in 6.875 pounds. Who knew?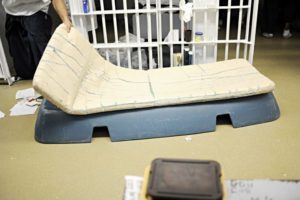 We get overcrowded here now and again. But maybe we don't. The population is about 1000 women, so to be overcrowded we'd have to have approximately an extra 375 inmates. I don't think we've had that many extra bodies, so I guess we've never been officially overcrowded. Maybe we've had 40 people in "boats" in the gym, perhaps 20 more in these makeshift beds in the medical unit. I know this only because I had to pack and deliver their meals from Main Dining and everyone called the people I was delivering to "overflow."
I've never had to face our unofficial overcrowding myself as I've always had a dedicated bed. I really resent that I should be grateful for something that's ruined my life: permanent, undeniable inclusion in a prison population.
No one wants a colostomy bag. Aside from the odor, the wearer has to watch his waste come out of him, a gruesome sight by itself but also a reminder that his body isn't working. He's sick. In the same way, the best prison is an empty prison, one that's been drained by completed sentences and true rehabilitation. One that was never needed would've been better, but society's sick.
This might just be a numbers game. York might have been designed to house 750 women and they just keep bumping up the capacity, buying bigger bags to show that we're not too full. Maybe I've been living in overcrowded conditions since I got here – I came in when Governor Rell remanded all parolees after the Cheshire murders – and everything I see as unacceptable and just a part of 'regular prison life' – (stuff like bad medical care) – is just a part of 'overcrowded prison life.'
Maybe conditions are different, livable, comprehensible when fewer women are here. Maybe we have less recidivism when the population is what it's supposed to be and the colostomy bag doesn't balloon and backup.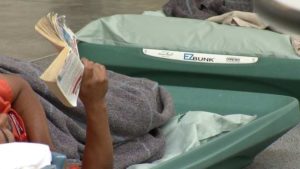 What is the safest number of people in a certain area? Do we even know? A prison, by its nature, overcrowds itself. People were meant to live in community, but not so many people in a proscribed area. Even if the challenges of early civilization required people to gather closely to protect themselves and sustain the human race, I doubt they defecated two feet away from someone else's head like we do in these cells. Maybe they did. Maybe they were into that.
But a modern society, one benefitting from social science research and PhD dissertations spread out across the land on the effects of overcrowding, that continues to pack human beings and their bodies into small spaces it gutless. Hence the bag and the presence in it that makes them waste, on display.
Whenever we have women sleeping in the canoes in the gym, rumors spread: "They need to get 200 people out by March" – "Warden has to approve 300 people for T.S. [transitional supervision or short-term parole] before November 1st" – "At least 150 have to be out by July or we get fined."
"The state will fine itself? We're not under any reduction order or anything. No one can do anything to York [CI] for not letting people out. Who's going to fine us? " I ask when they dump this crap on my lap.
And they always answer the same way, because they realize the rules governing their bodies are elastic and stretch to meet agendas that aren't their own:
"Shit."
THREE IDEAS IN JUSTICE REFORM FROM OCTOBER 10 – 16, 2016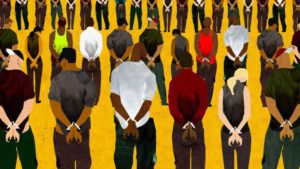 Republican Presidential Candidate Donald Trump unloaded a drug reform plan in New Hampshire on Saturday which kind of isn't a plan. He will  stop drugs from coming into the United States by implementing his immigration plan, getting Mexico to gift us a southern border wall and closing shipping loopholes. He also promised to get the Food and Drug Administration to approve drugs that prevent abuse – like Vivitrol –  more quickly, ignoring the fact that we have these drugs now, they're just too expensive for widespread use. He also said both candidates should be drug-tested. Donald, if Hillary is as crooked as you say, then she knows how to beat the piss-test. Do you?
An inmate in a federal facility in Beaumont, Texas has refused the clemency granted to him by President Obama because it required him to move into a residential drug treatment program before his release. Arnold Ray Jones figures he'll be released 8 months later than Obama's scheduled release date when he gets "good time" – time off for good behavior – applied to the end of his sentence.  The exact reason for rejecting the clemency is unknown – people speculate that it's because he thinks drug treatment is a waste of time (I say it's because he prefers his prison job to a bunch of group therapy situations). No matter what his reason is, this guy's got guts. I think he'll be okay, regardless of when he gets out.
Every 25 seconds someone is arrested for drug possession in the United States according to a report released on Wednesday by Human Rights Watch. Chew on that.