Periodically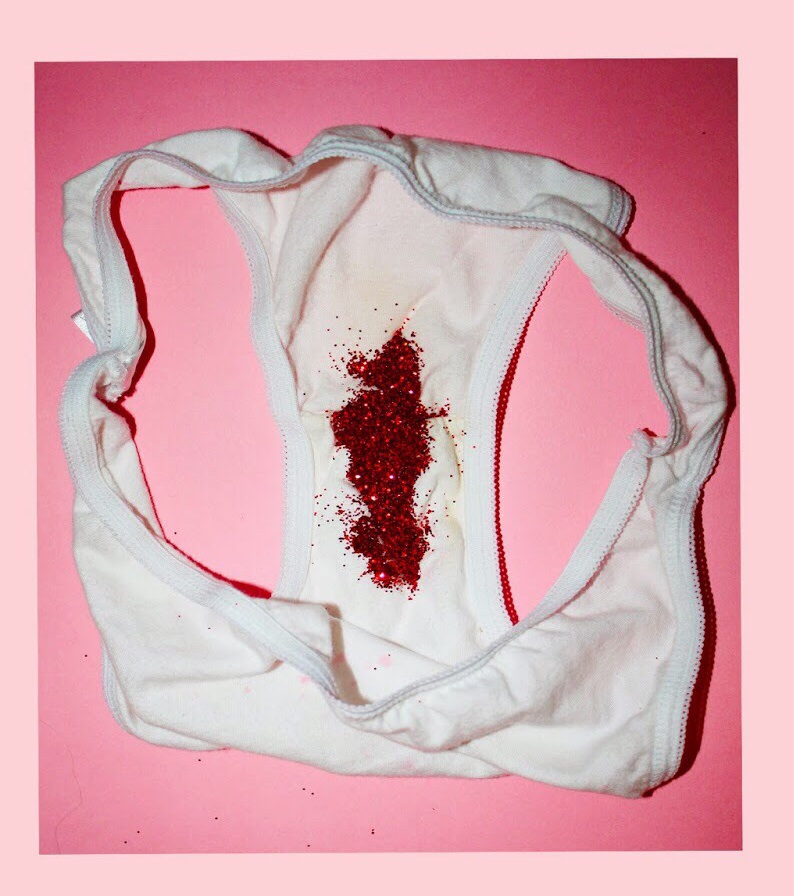 I was right behind her so I whispered in her ear:
"This is just between you and me. No one else has to know…"
I scared the shit out of her because she thought it was a prelude to a sexual assault. A currently-in-use maxi pad dropped out of the pantleg of an inmate who works with me. The sight would have embarrassed everyone there, not just the dropper so I clomped my rubber work boot on the atrocity before anyone saw it.
"No, no. Your pad. Your pad? It dropped out of your pants. It's under my boot. Go get me some gloves and paper towels and I'll get rid of it."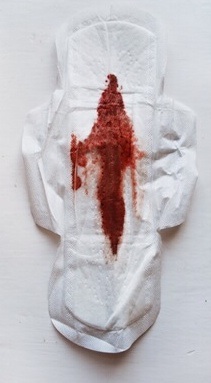 She nodded and dashed away, returned with paper towels.
"Shit, I'm staining right now," she said and dashed away again to find someone who would give her a tampon or a pad.
My stealth has improved here and I managed – without one person seeing – to dispose of the third world rag. Boots, too. No one knew but us.
Any woman who says she never had a menstrual mishap is a liar.  It happens to women outside the prison often but even more in here because we can't get any supplies. Without menstrual supplies, every woman here stains her underwear routinely. The red splotch is the York CI logo.
If you're in custody but off prison grounds  – like a court trip, a funeral, hospital – you can go as long as 18 hours without getting any hygiene supplies.  I was sitting in lockup with a woman whose monthly came on and none of the marshals would bring her so much as Kleenex. Sure, like men, they made big promises about what they could do for her vagina – "I'll bring you a pad on my next tour" – but they were all talk. She bled through her underwear and her pants. To reduce her humiliation, another shackled inmate trudged closely behind her as we boarded the bus. But that protection lasted only until her strip search back at the prison. She had to peel off underwear and jeans with a sticky, oily slick between the legs and redress without the benefit of a shower. The guards stripping us gave her new clothes but the blood that had smeared onto her rubbed off on them.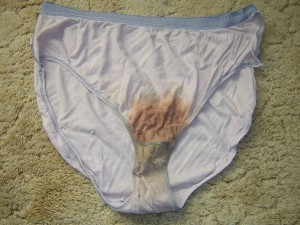 I had been in that jam when I was in seg; none of the guards would give me supplies.
"We're out!" they would sneer and when they walked away I would wrap the crotch of my Hanes-Her-Way with toilet paper. Until I ran out of that. My underwear was muddy with blood.
Menstrual mayhem in a prison must file down the male guards' steely nerves. Guys on the outside refuse to buy the stuff for their wives but in here they receive twelve daily ding-dongs on the intercom asking for maxi pads. And sometimes – get this – they even have to deliver us a tampon in our cells.
I'd expect them to have such an aversion to the whole mess that they would just surrender as many as each of us ask for but some of them protect the supplies like it's their time of the month. It's easier to negotiate a hostage situation than to get a tampon from some of these guys.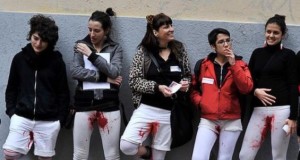 When I get a stain, I chuck the pair of underwear immediately. So when noticed yellow stains along the elastic lines of my underwear, I shrieked:
"Someone's been wearing my underwear! And bleeding onto the elastic! I would have already thrown these out!"  Inmates have been known to pick through other people's laundry to steal smaller-sized T-shirts and pants to shove their ample asses into them. The thieves have no business with smaller sizes  – we're talking camel toes that have become ingrown, breast and back fat that drive against the fabric – and when I see them sausaged up I think to myself: That shirt is probably mine. Taking my underwear and putting it back was not above anyone.
"Why would someone wear your underwear? Why would you even assume that?" Charity laughed at me.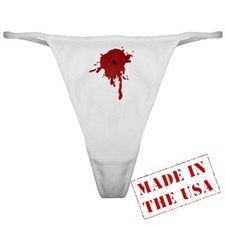 "Look, those are blood stains and I don't bleed up here or down here."
"Those are sweat stains," Charity informed me.
"Sweat stains? People actually get sweat stains?" I thought the only person who actually had sweat stains was Al Bundy from Married…with Children.
"You've never seen a sweat stain?"
"No," I confessed.
"Everyone has sweat stains."
"Not really," I countered. "My mother had this crazy thing about washing clothes with soap and water and I picked up her bad habits when I started doing my own laundry. No sweat stains," I told her. "Sweat stains belong to the unwashed masses, not me."
"You are the unwashed masses now. Your underwear says so," Charity reminded me in sing-song.
"I know." I chuck the stained underwear not because the inevitable spots are unsightly but because it reminds me that I am just like everyone else in here, that I have been reduced  to a life form that cannot manage its menstruation. Whoever said death and taxes are levellers had to be a guy. If it were a woman, she would have included stained underwear on the list.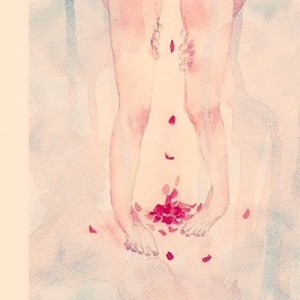 As uncomfortable as some C/O's  get about the Red Panty Death, other male staff – like my supervisors in Food Prep – are actually quite sensitive, refined and gentlemanly about blood flood. Once I heard Green Bay whisper to NY Giants:
"Betty doesn't want us to know that she had an accident. She's trying to hide it but I'm sending her back to her cell so she can change."
"Oh, that's good," NY Giants approved.
But Betty had no accident. She must have delivered one hell of a performance as a woman without a rag because she got Green Bay to send her to switch clothes, a trip that allowed her to steal pounds of margarine in the same panties that Green Bay had dispatched her to change. Betty exploited the menstrual mayhem to rob the place. I don't know whether to be proud of her or disappointed. One thing I do know: she couldn't have pulled it off if we had more and better supplies and bloody accidents weren't a daily expectation.
READER POLL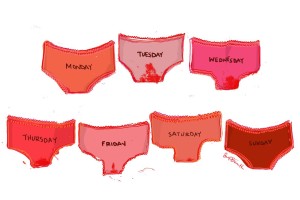 From medcitynews.com: New Design of Women's Underwear Could Disrupt Feminine Hygiene Market
Can these new underwear solve the problem of sanitary supplies in women's prisons?
No. Even if prisons ordered something that new and that expensive, the female guards would swipe them and wear them. The inmates would never see them. (53%, 9 Votes)
No. They cost $200 for seven pairs. No correctional facility will buy them. (47%, 8 Votes)
Yes. Then inmates can stop complaining about what they don't have. Inmates complain a lot, huh? (0%, 0 Votes)
Total Voters: 17

Loading ...