Oh, Sandy
"Yo, Patriots, don't we gotta be evacuated or nothin'? Go back to our cells?"
Hurricane Sandy was thrashing everyone else in the state – and the seaboard – but if you didn't have access to a TV or radio in here, you'd never know, even though York CI is almost beachfront property. At least on the maximum security side, there aren't many trees to lurch and spasm in the wind. To me, right now, [Hurricane] Sandy looks like heavy rain.
"Prison is the safest place you can be during a hurricane…" Patriots assured us. He fills in for Bengals on Friday mornings and he might be right. When society shifts into every-man-for-himself mode during a disaster, inmates are some of the few people who someone's looking out for, mostly because we can't – and no one want us to – flee. We've already taken cover in an impenetrable bunker when we were sentenced. Generators wait for years to be called into action to keep our 'home' humming. My life – crappy as it may be – was totally un-interrupted by Sandy. Even though I couldn't move, I still escaped the storm. Don't let anyone tell you there isn't an upside to incarceration.
We were lucky to work but Patriots might have the Freaky Friday curse. Man-made disaster has struck every Friday he's come in when Bengals was off.  One kettle broke as it was stirring 200 gallons of American Chop Suey. I had to run alongside the kettle, back and forth, with a piece of cardboard to catch the Chop Suey castoff so it wouldn't pile up on the floor cause a worker to slip and bust her ass.
Another Friday morning brought with it a broken pump machine that sprayed a steady stream of 212-degree black-eyed peas into a black inmate's eye. If I made up a story like that, people would say it was over the top; it was almost like someone set it up.
Now, in a natural disaster, he came in to cover for Bengals again to supervise us as we made 1000 gallons of chicken tetrazzini.  If I were him, I wouldn't have tempted fate.
But this Friday morning was calm. Three kettles rotated silently, spinning chicken and green pepper strips in sauce made from dry milk and butter. No other creature in the facility was stirring. Food Prep probably was the least-disrupted, smoothest-running place in the state.
"Bozelko, can you pull out two racks of chicken and prep 'em?"
"Sure," I agreed and went inside the walk-in cooler. I pushed the metal rack on the cooler door, cleared the vinyl curtains and had just come through when:
THUNG! THUNG! THU..THU…THU…THU…NNNG!  rang out at 20 decibels, followed by an inmate voice from some far recesses of the kitchen:
"Some shit is broke."
And the kitchen went dark.
Power usually goes out without a sound. It's the silence from deleted TV screens and extinguished fluorescent bulbs that helps alert you that something happened. Not this time. No one lives to describe the noise of Armageddon but I'm guessing it sounds like this.
"RECALL! Everyone back to their units!" Patriots boomed. "Bozelko, back that chicken back in."
"How're they gonna force an evacuation of the tetrazzini?" I asked him. "You have three kettles to pump and chill."
"Bozelko, we don't have power. No pump machine, no chillers."
What Patriots meant was that 600 gallons of a hot, creamy meat-and-vegetable concoction were going to crust over in their containers unless he scooped it out, by hand, into the garbage. Another disaster. I felt really bad for him but I had to trudge back to my housing unit like everyone else, for the opportunity to hide from the storm with my cellmate and not move for days. That's how Sandy finally struck me.
I was looking more glum than usual when I walked to Mr. K's desk in the unit. Before I could even say anything, he shot instructions at me:
"Quick, quick shower. PTA only [inmate-speak for 'pits, tits and ass'] and you gotta get back in your cell fast."
"Have I lingered before?" I asked him. Storm or no storm, I always scurry inside.
"No, seriously, Bozelko. Because the fuckin' back-up generator blew, all of the doors are unlocked. Scaring the shit out of me.  You guys can come out and do anything."
"I thought prison's the safest place during a hurricane."
"Not for us it's not."
THREE IDEAS IN CRIMINAL JUSTICE FROM SEPTEMBER 11 – 17, 2017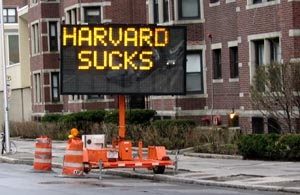 1. Van Jones wrote an op-ed this week for CNN blasting correctional administrators in Texas and Florida for failing to move prisoners during the recent hurricanes. But it is also worth considering how many more prisoners were properly moved this time around  than during previous hurricanes. The New Republic and Houston Press reported what happened to inmates s during Hurricanes Katrina and Rita, respectively, but those stories didn't appear for months, years, while this time many news outlets ran stories of evacuations, or lack thereof.
2. So, basically, Harvard University doesn't like felons. Last week included two stories of the Number 2 school in the nation rescinding offers to women convicted of felonies because of their crimes.
The New York Times and The Marshall Project broke the story of Michelle Jones, a woman who served more than two decades in an Indiana prison for killing her 4-year-old son. While behind bars,  she became a published scholar of American history, which is almost impossible. Her academic work was so good she was accepted into Harvard University's vaunted doctoral program in history — until two American Studies professors raised questions about whether anyone who had committed her crime deserves to be admitted – and whether Fox News would drag them for accepting her.
Then the Institute of Politics at Harvard's Kennedy School of Government decided to take back an invitation to former prisoner and Wikileaker Chelsea Manning to become a Visiting Fellow because Mike Pompeo, Director of the CIA, flaked on an appointment to speak at the school and criticized the decision.
And in case anyone needed a reminder, here's the scoop from Business Insider on why Princeton is really better than Harvard.
3. If you've got a warrant out in your name or are undocumented, Motel 6 will drop a dime on you, at least to Immigration and Customs Enforcement (ICE), the Phoenix New Times reported this week. The irony in this story for me is that Motel 6 knows it's not family or luxury lodging; many people who stay there probably have a real need for privacy, and not just because they might be cheating on their spouses. In short, if Motel 6 keeps out the "riffraff" they'll lose their clientele.