Manually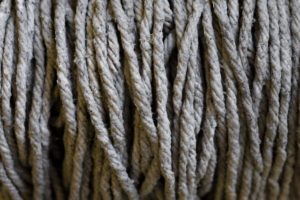 I get that my lack of street smarts make me an easy mark, not for the other incarcerated women, but for the guards who see me as a novelty.
Their targeting has included tampering with my mail, teasing, and even an assault, but the coup de grace was drafting me into service in the prison kitchen. They knew I would turn my nose up at 3:30 AM wake-up, twenty-one dollar monthly wage, and the daily crusting of dried onions, tomato paste and lye that would infuse me with terrible odor despite several showers.
They tried it once and I simply told Mr. Potman in the food prep unit that I preferred to spend my time writing. He let me go.
Then, at around 10:40 AM on a Wednesday a few weeks later, over my lunch of a chicken salad wrap, another kitchen supervisor approached me and informed me that I'd been selected to serve.
"You're Bozelko?"
"Yep," I said and nodded.
"You're in the kitchen," she advised, throwing her thumb behind her where women lugged hotel pans and wore white hair bonnets and houndstooth pants that are as much a kitchen staple as flour or salt.
"Oh, I didn't sign up for work. I write. I'm in Wally [Lamb]'s writing class," is how I let her down. She seemed to take it well but I was called back to her desk in the kitchen after lunch for an extra helping of Hobson's choice.
"Work or you get a ticket," she threatened.
While most inmates don't face solitary confinement for refusing to work, I would've landed in the hole. Eventually I would've surfaced, but the disciplinary record would have prevented me from participating in the writing class for at least six months, until I could apply and be re-admitted, if at all.
So I did what any draft-dodger would do in such a dilemma: I cried to my family for deliverance.
"You have to get me out of this. If I don't go work there, I won't be allowed in the class!"
"You have a choice to make, then," my mother explained to me over a $5.00, fifteen-minute phone call.
"But it isn't really a choice!" I cried into the receiver. I was two years in and seasoned enough to know that sitting in solitary confinement and then being banned from the writing class would have been too stultifying for me to sustain myself.
For the first time in my life, my survival depended on submitting to this super-low wage grunt-work. In a world where no one could force self-incrimination, I had to make an explicit confession of downward class drift, which was, after all, what the prison guard corps wanted. I decided I would start the job until I mounted a successful campaign for reassignment in an academic setting like the hairdressing classroom.
The SNAFU in my plan – and the plan to humiliate me – was that I ended up loving this work. Not only am I finally getting my constitutionally guaranteed exercise – activity I had been denied – by tossing crates of fifty eight-ounce milk cartons on top of meal delivery carts or unloading 25 boxes of frozen collard greens, what I'm doing was more homo sapiens than writing in my cell.
Little about human existence is more zoological than being stored in cubicles and peered upon, pointed at and poked for fun. The fact that you're scribbling profundities on a pad like a character from Peanuts, or eating ramen on the toilet and then standing sentinel while someone else uses that same toilet when your meal is done doesn't mean you're not being warehoused for someone else's enjoyment and employment.
Manual labor provides that small degree of freedom, but it's more than that. It's a curriculum in mattering. I enter the kitchen at 4 AM to piles of spices and powders on pallets and, by 10 AM, when most people's days start flirting with coffee breaks, those ingredients will have morphed into thousands of cooked meals, chilled, stored and awaiting distribution, because of me.
After feeling frozen in failure, I watch my progress in real-time as I turned the terra cotta color of the tiles dark and glossy in a games of industrial tetris, a yarn mop as my joystick.
Outside of my work assignment, I grab any offer of back-breaking labor; messier or more uncomfortable tasks were better, like shoveling blizzard drifts off a trafficked walkway.
"That's good enough!" the C/O yelled and expected us to hand off our responsibilities to chemical ice melt for the final clearing. I kept going. I wanted to see cement, not out of perfectionism, but to remind myself that I existed.
I'm not sure how I derive such self-worth from propping up an exploitative system rooted in convict-leasing and slavery.
It wasn't until that knife went missing  and disturbed my routine of mundane accomplishment – rotating out the food samples we frozen for eventual testing in case an inmate came down with food poisoning, lining up the ingredients for the next day – that I even began to question why I am so amenable to this work. We had to stay late and look for the blade that went loose on compound of oppressed people looking for ways out of invisibility.
I overheard a few of the supervisors telling their wives and children why they didn't know when they'd be home and counter what seemed like extreme fear on the other end of the line that their husbands and fathers were in danger of being shanked.
Though we never found the knife, no one got hurt, and the administration concluded it slipped down a drain. But I discovered that even my factotum status probably had a positive impact on others; civil servants arrived home to their children on time and convinced them of their safety when I did my job well. It wasn't the difference that my bloated ego once demanded I would make in the world, but it's worked for me.
Until today, when I was mopping and I paused to wonder about the real value of what I was doing,
A sophomore year sociology course taught that oppressed people internalize the ideology of inferiority; they have to if they're to avoid the choice of suffering or dying in revolt. Eventually they internalize the negative values assigned to them. Even gladly. I looked at the mop handle and remembered that, by the time oppression gets internalized, it doesn't need to be recognized or understood to do serious damage. Was getting me to swing this mop cheerfully part of the plan to ruin me through coercive correction?
"What are you doing to me?" I asked Giants with great suspicion as he walked past me to the ovens with a sheet pan.
"Making you the catfish you like, why?" he answered. "You want tartar [sauce]?"
THREE IDEAS IN CRIMINAL JUSTICE FROM JANUARY 22 – 28, 2018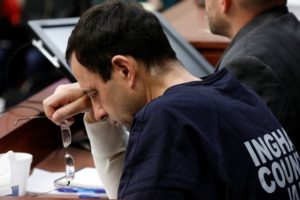 By far, the biggest criminal justice news of the last week was the sentencing of Dr. Larry Nassar, once renowned as a sports doctor, now renowned for one of the biggest sex abuses scandals in history. He was sentenced to 40 to 175 years in prison  after more than 150 women and girls said in court that he sexually abused them over the past two decades. The sentence may be just, but a comment made by the judge during the hearing is highly problematic. When she sentenced Nassar, Judge Rosemarie Aquilina said:
"Our constitution does not allow for cruel and unusual punishment. If it did, I have to say, I might allow what he did to all of these beautiful souls—these young women in their childhood—I would allow someone or many people to do to him what he did to others."
The judge was advocating for prisoner rape. Now do you see why it's so hard to prevent or punish?
Even though it's been two weeks, no one knows if the prison strike planned to start two Monday's ago, on Martin Luther King, Jr. Day, in facilities in Florida actually went down or not.
John Wetzel, Pennsylvania's corrections director, makes the rounds at criminal justice conferences claiming he's a big reformer. But it's probably bullshit. A new lawsuit alleges that Secretary Wetzel and the Department of Correction have been keeping inmates in continuous solitary confinement for decades.
EXPLAINER
The Prison-Industrial Complex