Everything I Wrote in Seg
Above photo is from the traveling "Inside the Box" exhibit which featured a 10-foot-by-12-foot replica solitary confinement cell. This cell is based on one from Wisconsin but it could easily be one I stayed in. In Connecticut, no pencils are allowed anymore in segregation, so for the 75 days (aggregate) I spent in there, I wrote nothing except when I was supervised  to write legal mail with a pencil I had to give back. It's part of the punishment to be beckoned by that blankness and not be able to do anything about it.
THREE IDEAS IN CRIME AND JUSTICE FROM JULY 31 – AUGUST 6, 2017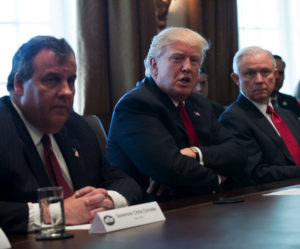 Yeah, the Trump-Russia grand jury was formally announced, Martin "PharmaBro" Shkreli was convicted on three of eight counts against him and Michelle Carter, the teenager who texted her boyfriend encouragement for his suicide, was sentenced to 15 months' incarceration.
But that's just old news, continued. More important stories emerged last week, I think.
The Chris Christie-led panel issued an interim set of proposals Monday designed to fight the nation's opioid crisis. Members unanimously urged the president to eliminate barriers to Medicaid coverage (which would mean keep the Affordable Care Act, not repeal it), make more naloxone available to more drug users, and to provide more training for doctors.  The panel also wants to expand "Good Samaritan" laws protecting those who report overdoses. The recommendations are everything the Trump Administration isn't about.
Attorney General Jeff Sessions gets most of his policy ideas for the Department of Justice – policies like returning to mandatory minimum sentencing, resurrecting civil asset forfeiture – from the Task Force on Crime Reduction and Public Safety. The problem is that one knows exactly who's on it.
More than half of the mayoral candidates in Detroit are ex-offenders. The mayoral primary, which will be held Tuesday, August 8th, will determine the two final candidates, regardless of party affiliation. It's unlikely, but theoretically possible, that Detroit would have to choose between two candidates, each convicted of felonies, to lead the city.