Covering the Spread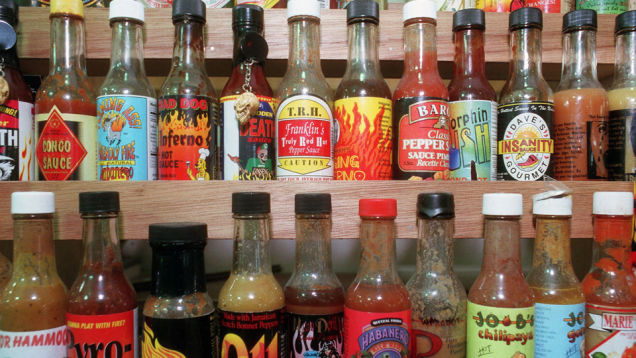 I was reading the New York Times, a hand-me-down copy that arrives to its first reader about a week after publication because of mail-room processing. The section with their blurby stories contained a prison ditty: a warden and a guard at Sampson Correctional Institute in North Carolina forced inmates to simulate sex acts and to rub hot sauce on their own genitals. They've been suspended. The staff members, not the genitals.
Like any other prisoner who caught this news tidbit, I felt strongly about victimization of persons similarly situated so I decided to take action, proactive steps toward protecting myself. I bought only non-caustic condiments by bubbling in the circles next to ketchup and ranch dressing on my commissary form and avoided a Louisiana hot sauce purchase. I won't let my supplies meet the guards' demands.
I doubt that abuse's presence in prisons would shock anyone on the outside if the prison guard stereotype has taken hold in their heads. The traditional cinematic depiction of a correction officer is male, a dick (untouched by Tabasco) discompassionate at best, outwardly cruel at worst. The stereotype didn't come from nowhere; no prisoner leaves custody without a taste of abuse by guards, be it verbal, emotional, sexual or physical. The abuse may not be directed at one person but rather the whole prison population, but it's still there.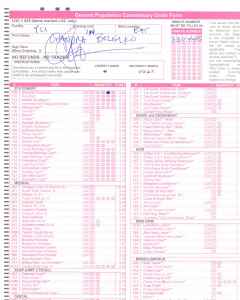 From what I have witnessed, I conclude that the prison guard occupation attracts two types of people. First, the vocation calls the LSE crowd (low self-esteem), those who have been bullied and abused themselves. They have allowed their own victimization to contour their character and ambition. These qualities found expression in jobs were they could wield power over others whom they would perceive as weaker than they. When I watch these guards interact with prisoners, spewing utter disgust, incessant degradation and put-downs, filled with rage up to the razor wire, I want to ask them: "When you decided to become a guard you did know that you might come into occasional contact with a prisoner, no?" Some correction officers act like they were working on Wall Street and the warden plucked them off the trading floor to baby-sit women in prison when, in fact, theirs are positions they sought, that they covet, because they can mistreat the less powerful.
The other correction contingent comprises itself of true public servants. They choose to spend eight to sixteen hours every day sitting with the people whom no one in society wants around. They expose themselves to sundry hazards- namely us- because they believe that, regardless of what someone might have done, abuse is never part of a prison sentence.
Prisoners live out most of their days between these two extremes of supervision. Sometimes the two types of guards cancel out the others' effects; sometimes they just temper each other so that any inhumanity or lack thereof loses its impact. But the worst type of abuse that spins out of the ying and yang of the prison guard corps is indifference. The indifference, though not explicit, is not subtle either. The staff here often make sure that inmates know that they don't matter.
In the precipitory prelude to Blizzard Charlotte's dumping twelve-plus of the wet, packed stuff on the state, a woman in the prison cafeteria began to seize. When a guard saw her convulsion start, he followed protocol and asked her "Ma'am, are you all right?" when he knew that she was not. Then he announced a "code white"- a medical emergency- on the prison compound's radio waves. Nurses, lieutenants and other guards ran into the dining hall as they have been trained to do.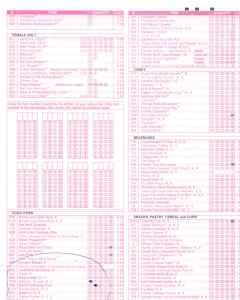 As medical personnel tended to the prisoner, one lieutenant- a female with the face of Karl Malden – blasted the guard right in front of the inmates as we ate breakfast. Public castigation of staff is a rare and rightfully so because it starts rumors and marks the guard as a soft target for false complaints, but the lieutenant still yelled at the guard that he should not have declared an emergency like that, not in a way that would make prison employees run in slippery weather to care for an inmate, ill or not.
"They can fall and she will survive a seizure!" the lieutenant shrieked at the guard, her implication clear to her inmate audience: You don't matter. She would have allowed the inmate to seize the whole day long as long as none of the non-inmates remained safe. I wanted to remind her that it was possible – even obligatory – to keep everyone on the compound healthy. She didn't really have to choose.
If harm had actually come to the prisoner from unintentionally slamming her head on the linoleum during her spell, I don't doubt this lieutenant would have twisted the language in any incident reports to defend a guard's inaction or blame delayed response on the snow. I guess there's no harm in foul weather.
Learning that you do not matter is probably the most devastating abuse that a prisoner endures and it's totally contrary to rehabilitation. A woman's knowing that she has a positive value in others' eyes enables good behavior; she trusts the environment that assigned her this importance and acts accordingly. She knows that she will lose her value through bad behavior but if she works to maintain others' estimation of her, she will keep her position and increase her own value.
When women feel devalued wantonly, they distrust their environments and start believing that continued proper behavior will not protect them in the long run. The flip side to this distrust is that they convince themselves that proportional punishment will not follow bad deeds; somehow feeling devalued makes women think that they can get away with anything, so they bust rules, break the law and end up in prison at the mercy of guards undergoing the same phenomenon because they were somehow devalued when they were young.
Two days after the seizure in the chow hall, I learned my precise value to a group of guards. Charlotte had coated the prison buildings and the ground with a thick, glittery enamel in white.  A co-worker in food prep and I walked back to our respective housing units after our shift. Five guards packed snowballs and threw them at our backs when we passed, betting which guard could hit one of us 'mates.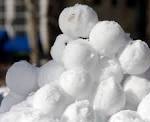 "More points for the little one. She's harder to hit," one called out. I was the "little one."
"The big one's hard to hit. She's not walking a straight line," another guard yelled about my co-worker, who is not big.
"Do these people know that there are criminals up in this motherfucker?" she asked me, referring to the inmates in the prison and expressing her understandable desire for revenge. Her message was clear: We may not matter to you but we outnumber you and many of us have no consciences at all.
Icy ball after icy ball detonated on gritty pavement around us and we scrunched our necks down each time like the scaredy-cat shoulder move would protect us. We had no choice but to keep walking as they bombed us – it would be misconduct even to turn around. Yet not one snowball hit either of us and I doubted that these were intentional misses. They didn't become guards because they were good athletes.
"I'd love to force them to rub hot sauce on their balls," I said referencing the Times' blurb I had read. I forgot that my co-worker had not been exposed to the news tidbit about the warden and guard in North Carolina.
"Wow. You've never even been in a fight, right? I didn't know you were that gangsta," she said, nodding her head, half-impressed and half-assessing just how crazy I was after the spontaneous hot sauce plan.
"Well," I said, "I'm learning."