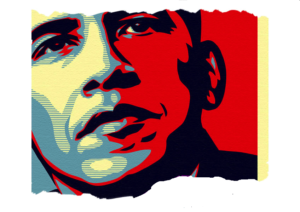 November 5, 2008
"You seen? We got a black man as president," Terri asked me as she was waiting for the C/O to unlock the door of the tier remotely. Most inmates get election results well after the general public since they lock up in their cells – and away from communal TV's – before the last results are announced. 
"Yeah, I heard on the radio. I mean, in January we will," I explained.
"Why?"
"Obama's not president yet. He was only elected. That's why call him 'President-elect.'  The election doesn't make you president. It just chooses who goes through the process of becoming president in  January."
"No matter. He gettin' us out," Terri told me with one decisive nod.
"Oh no, he…he has no jurisdiction over state crimes, so he can't."
"A black man is president," Terri said, pressing her index finger and thumb together and pushing them toward me in that what-don't-you-get gesture. "He's gonna free the slaves and we outta this bitch."
Sixteen years ago, four presidential terms ago, I was walking behind Witherspoon Hall to class, happy that [Bill] Clinton won the election. He went on to create a criminal culture where everyone who got arrested went to jail for a long fucking time. Fifteen years after I voted for the Comeback Kid and he swung the election, that tough-on-crime shit he allowed trickled down to me and I'm here, giving basic civics lessons to people because he didn't shore up education spending like he should have. You never really understand how you can become the law's landing strip until it touches down on you. And runs your ass over.
Congress and [President] Bush passed the Second Chance Act a little over six months ago – right after I didn't get a first chance – so they've started doing something. Maybe Terri's right. Maybe Obama will finish it. Maybe we are outta this bitch with Barack up in the Oval. It's funny how disempowered people finally have hope just because the man in charge is black. Is that all it takes?
THREE IDEAS IN CRIMINAL JUSTICE FROM OCTOBER 30 – NOVEMBER 5, 2017

↑↑↑↑ Last week = the one time I've sided with the prosecution and cheered them on. ↑↑↑↑
And there are too many juicy criminal justice topics in this Manafort indictment mess.
Former Trump campaign manager Paul Manafort's business partner and indicted co-conspirator in laundering millions of dollars, Rick Gates, was represented by a public defender because his attorney wasn't there (because he hadn't been hired). One of the burdens on public defense systems is being the stand-in until wealthier defendants retain counsel. Of course, they don't have to investigate or draft any motions for these clients (not that they do that for their poor, qualifying clients) but hours of public defense time is spent standing next to  for defendants because judges fear having anyone without an attorney next to them, even if that lawyer does nothing. Contrast this with the fact that, last week, a Louisiana Supreme Court refused to hear a case and a concurring opinion actually found that a suspect who said "Get me a lawyer, dawg" to police didn't ask for counsel; instead Warren Demesne asked for a "lawyer dog" – like Tulane Law has a night school program for pugs who then get admitted to the Louisiana Bar. If the lawyer were a public defender, I hate to break it to you; he'd have been better off with the dog.
Your lawyer can take the stand against you if you lie to her and she passes the lie to the prosecution. It's the crime-fraud exception to attorney-client privilege (e.g. you can tell your attorney which banks you robbed but you can't confer with her on which branch should be next) and Mueller et al. made sure Paul Manafort's lawyer was required to take the stand and testify last week because they're sure he's taking the adage that 'the law is a shield, not a sword' to an extreme to get his hired legal help to peddle his bullshit for him. Using the crime-fraud exception was strategic, not in terms of prosecuting Manafort, but in warning all of the high-priced lawyers who will accompany their clients to upcoming interviews with the Mueller team (no one's coming in alone like they do in the movies) that passing on a client's lies won't fly in this investigation.
File this one under "Don't push it." Manafort offered to put up close to $12 million in assets to avoid house arrest. With aliases, multiple passports, places to land overseas and a bunch of money that even the government says it can't track, he was lucky to get house arrest in the first place. My guess? If they cut him loose off the bracelet, then it isn't because of any way in which he secured his bond. He's cooperating.