Hair Didn't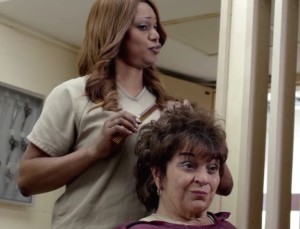 "Just take your hair out of the ponytail," my cellmate begged.  She longed to see "what [my] hair looked like."
"I can't," I told her.  "I look like Jennifer Aniston circa 1995."
"Circus who?"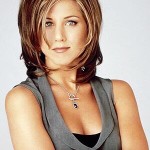 I don't suggest that Ms. Aniston did not look good in 1995; she did.  But on me, in 2008, the look was not so good.
Since 2000, Kyle White highlighted, lowlighted and layered my hair at the Oscar Blandi Salon in Manhattan.  But now a prison cosmetology teacher just butchered my locks.
"As good as anything you can get in your fancy New York place, huh?" she asked as she flourished the protective beauty cape off me like a toreador.  "Do you want long layers?" she had asked me when she connected its velcro around my neck.  I thought we spoke the same language, the phrase "long layers" meaning "my hair, exactly how I envision it."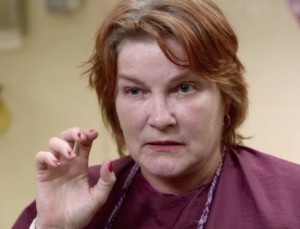 We lost something in translation because the short ones of all these long layers stopped right around my ears.  The long ones flipped out, off my shoulders.  I half-hoped Joey and Chandler would come in and read the outdated copies of Glamour Magazine, maybe even sing their theme song "I'll Be There For You" because I needed someone to be there for me for this haircut.  This was bad.
Years ago, the question of who would  cut the prisoners' hair repeated itself as if from a parrot.  The Department of Correction hit that bird plus the albatross around its neck – womens' lack of vocational skills –  with one stone of a cosmetology school within the prison's school.  Within this program, someone could use the scissors and prevent the population from getting too mangy and learn a trade for future employment.
Aside from being scissor scholars, students in the cosmetology program study a textbook and log 2,000 training hours to get a cosmetology license.  At least they used to, back when the course taught how to dye hair.  When someone stole the dye and used it for unimpressive prison tattoos, administrators feared gang symbols would decorate inmates' limbs and incite violence or, even worse, relentless trash-talking.  So they banned the dye supplies.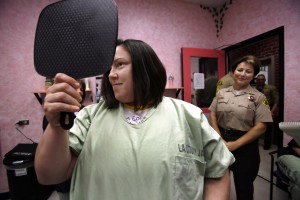 Departing dyes left only haircuts, perms, dreds service (which would have been better on me than what I had) and nail polish behind for our use.  A "haircut with style" costs $8.00 although that's what I paid for a haircut without style.  By order of the warden, students paint only the standard white-tip/pink bed French manicure on our nails.  Again, gang warfare limits our looks because colors signify "security risk group" affiliation.
The result of all these limitations is that none of the students really know what they're doing.  This lack of knowledge descends directly from the fact that they're not allowed to learn anything.  If you couldn't use the turn signal, the defroster or the emergency brake, you wouldn't know what you were doing while driving, so it's not entirely their fault.  However, no salon I patronize would hire any of these women; I saw that when I walked into the classroom in 2008.  Apprehensive about the students' tousling my tassels, I insisted that the teacher cut my hair and still got a hack job.  A little trust might've brought better results, but I doubt it.
It's true that a prison blocks beauty for us. But we block education for ourselves.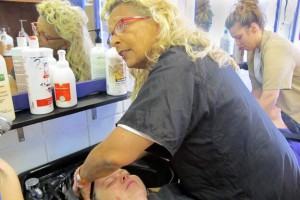 Everyone could blame the overly-anxious, underly-reasonable prison administrators for limiting the available lessons in the cosmetology school, but the inmates deserve the blame for this.  They steal the sample bottles containing OPI's Cajun Shrimp color polish as guards scurry and search them out.  It's not the color that the guards want to corral; the glass bottles may appear in housing units in the same way broken beer bottles turn up in bar fights.
One woman stole a flattening iron and had it in the mental health unit of all places.  Women in the mental health unit can use pencils to attempt suicide; I can only imagine what they would do with an electric cord and two metal plates hinged together, covering wires.  The metal hair clips walk out of the school and never even activate the dinger on the metal detector.
If no one stole the dyes and the nail polishes and hair clips, then supplies and equipment would have grown, and their skills along with it.  More than iron bars make a prison; we build walls with bad behavior and keep out things as niggling as nail polish and hair dye and as grand as cosmetic innovation and our own success.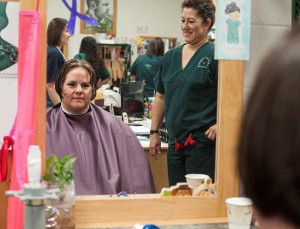 Eventually, I had to let my hair down. Not only did I need to get more comfortable here because I'm obviously staying, my hair grew too heavy for the skimpy Goody elastics  from the commissary because I avoided haircuts for so long.  I needed to return to the scene of the cosmetic crime committed against me.
Deb, a talented, already-licensed- from-a-legit-school "hair technician" enrolled in the cosmetology course more to teach than to learn (some female guards who are her clients installed her there), deftly snipped five inches of overgrowth.  Mine is a haircut that I can sweep into a ponytail or not.
"Thank you so much.  I appreciate what you've done," I told her.
"Nothing to it," she said. Other inmates were waiting for a trim but she couldn't get to them. They bitched.
"I can do one head at a time!"  she shouted in an un-salon way. Before she could move to the next 'customer,' she had to check in her shears to show that no one took them and stabbed someone.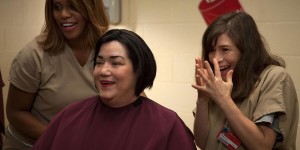 THREE IDEAS IN CRIMINAL JUSTICE REFORM FROM DECEMBER 7-13, 2015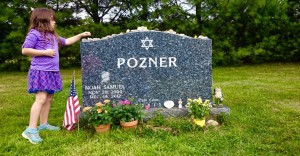 Is the only thing that separates a perp and a cop the decisions each one made in his past? From the Washington Post: Freddie Gray and William Porter: Two Sons of Baltimore Whose Lives Collided
The Prison Policy Initiative announced this week that we don't really have 2.2. million people behind bars like news reports claim. We have 2.3 million people, 451,000 of whom haven't been convicted.
What Kind of a Person Calls a Mass Shooting a Hoax? asked The Trace three years after the Sandy Hook shooting.