Hoe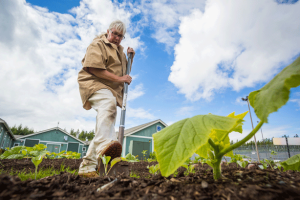 A woman walks outside.  Woodchucks, rabbits, squirrels walk about her, unfazed, like she's Snow White.  A hawk circles overhead, distant watchman.  Baby skunks teeter and shift.  Cardinals and bluebirds flit from branch to branch in budding maple trees, hitting piccolo notes.  It's a scene of complete idyll, a flawless paint-by-numbers job depicting God's majesty.
Then a sociopath enters the frame on her way to work in the kitchen and stomps at the skunks to frighten them into spraying another woman, an inmate who finds a rock bedded with the lillies donated by the chaplain's mother last Easter and tries to bean one of the animals in the head with it. This is a prison, after all.
Even if you can avoid getting into a fight when you do time in Connecticut's only women's prison, Mother Nature will bitch slap you herself as you walk the line with fowl and fauna; the natural world is as settled in prison life as surveillance and bad food.
This prison [York Correctional Institution] is a stone's throw from Rocky Neck State Park, a beach that has become such a destination that, from Memorial Day through September, beachgoers' traffic tie-ups consume all roads that lead to correction in Niantic and make staffers late for work.  We're so close to the beach that the scent of the tide wafts here during the day and the smell of smoke and embers from shoreline bonfires is so strong in the evening you might wonder if a convicted arsonist is at it again.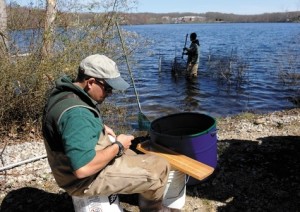 The natural surroundings aren't an accident. In 1918, the prison was founded as the "Connecticut State Farm and Prison for Women," built on an agricultural model.  Really it was a home for what people called "wayward women," meaning pregnant without a husband or prospects of one.  The only freshwater basin on the compound is called Bride Lake.  Mother Nature castigated women then, too, telling them:  "Clean up your act and get hitched."  All the single ladies – at least the fun ones – came to the Farm to work in gardens, growing vegetables and flowers, in barns tending to chickens and pigs, cows and horses because they had sex when no one else wanted them to do so.  The State of Connecticut wielded the reformatory tool of honest manual labor over the daintiest and dirtiest mademoiselles.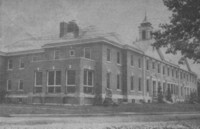 "Ho's with hoes," as some old-timer staff members call that period in the prison's history, worked when the crime plopping women onto this patch of beachfront property was limited to licentiousness.  When licentiousness spread out and picked up prostitution, public drunkenness and bad checks, things grew less pastoral and more penal, eventually causing the agricultural model to go out of style.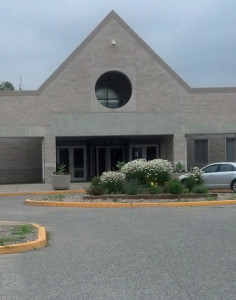 When the hookers and the drunks and the bad checks nudged women into a lesson in feminism – recognizing that anything men can do women can do better – they learned their lesson by doing better – killing, assaulting, robbing, stealing big, the agricultural model went fully underground and the State of Connecticut split the prison in two around 1995:  the "East Side" which was where the "Farm" once operated and the "West Side" where the incorrigible creeps would be housed in cinderblock buildings with green steel roofs and kept away from gardening tools that can be used as weapons.  That's where I've lived for most of my stay.
Because gardening is supposed to reduce recidivism, one remnant of the agricultural model resurrected itself on the West Side in 2009 – a garth just beyond a fence that sprouted up amid construction.  For awhile, no one could see through the chain link's wire-bounded, diamond-shaped peekholes because vented black tarps hung on the fence like drapes to block view of the prison's vegetable patch, "The Farm" redux. It's like the warden didn't want anyone to see the activity that's supposed to motivate women from reoffending when they leave.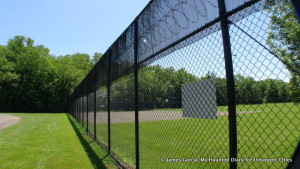 From my cell on the second floor of Zero South, I can see the garden.  Yesterday, a lieutenant – one known for his dalliances with inmates – pointed here – there – over there – to three nodding inmates who, I assume, are going to till it and seed it, stake tomato plants.
The garden's bounty, at least in theory, is supposed to feed inmates fresh vegetables during the summer.  Twice the chow hall served us a tomato and cucumber salad with chunks of raw zucchini and yellow squash which was delicious.  The only thing that enters a prison fresh is the youthful offenders; every foodstuff is processed, packaged or frozen so the chlorophyll taste of verdant leaves hadn't graced my mouth for months.
I would've expected the garden to produce more produce than appears on our trays; the summer months probably produce enough vegetables to provide more than two salads for each woman. but I need to remind myself why we don't get everything we're supposed to, especially when I watch that female C/O from third shift shake a little brown bag from her uniform pocket, walk into the garden and walk out with the sack lumpy from the tomatoes she just stole. This is a prison, after all.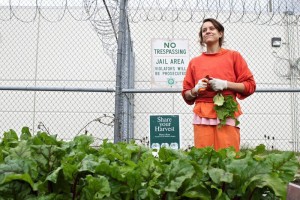 The guards aren't the only problem. From my cell window, I can see the inmates steal so much that they interrupt farm-to-table; nature's bounty can't reach the stainless steel, six-seat tables in the dining hall.  The prisoners who work in the garden feel entitled to the fruits of their labor, especially if those fruits are vegetables they can't buy from the commissary.
A prison garden – like the original "Farm" – isn't about final product; it's about the process of growth, the metamorphosis of roots into leaves, a germinating seed into a flower.  Just like the hawk above, it's a metaphor lost on many prisoners because it's almost too symbolic to be real.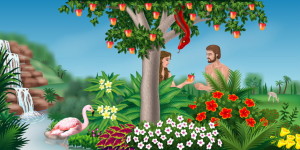 The symbolism found me. While things do grow inside, the garden has always been the site of sin. Why should prison be any different? It's where mankind's two lead fuck-ups were first required to wear uniforms after they ate the apple that was supposed to land on humanity's chow hall table. The garden is where Eve, the original bride, may have had sex with Satan (appearing as a captain or a lieutenant, I assume). The garden and Nature brought out Human Nature which, judging by my natural surroundings, is depraved and corrupt. The combination of shame and plants has always spelled disaster yet we made it the seat of this place and expect it to reform women. We should have known it wouldn't work when the women in here over the past 100 years went from bad to worse.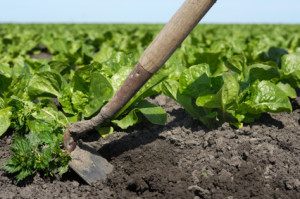 I thought that the garden was headed towards its last harvest when accusations surfaced that an inmate had taken her manual labor too far and serviced a guard guarding the garden with a hand job in the tool shed (almost too cliché for me).  Personnel shifted to allow the garden to spring eternal just like the connection between wayward women and an allegedly purifying plot of land that started this place.  Ho's with hoes.  Some things never change. This is a prison, after all.
THREE IDEAS IN JUSTICE REFORM FROM APRIL 11 – 17, 2016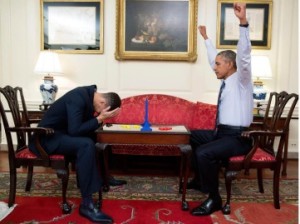 President Obama met with musicians Alicia Keys, Nicki Minaj, Busta Rhymes, Common, Janelle Monae, Ludacris, Chance the Rapper, J. Cole, Wale and DJ Khaled at the White House on Friday to discuss ways to continue the administration's "My Brother's Keeper" initiative and spur criminal justice reform in the United States. The musicians who met with Obama have been working on efforts to help younger generations of blacks and other minorities stay on the right path. But thinking that only black celebs can help black youth out of trouble isn't racist. No. Not at all.
Manson follower Leslie van Houten was approved for parole by the California State parole board after serving 46 years. van Houten's victims' families vowed to fight her release by asking Governor Jerry Brown to block it as he has done in the past with other Manson-ites who were granted parole. I have mixed feelings about the parole board's decision but what is the point of vesting the board with the discretion to release prisoners if that discretion can be overruled by the governor, the very person whose power the board was supposed to counterbalance?
Huge corporations like Google, PepsiCo, American Airlines, Facebook, Uber, Starbucks, The Hershey Company and Coca-Cola agreed to hire more people with criminal records last Monday, which will likely mean that each business will hire one to two people with felony records. That's all it takes to say that you're felon-friendly. These companies join Target, Walmart, Home Depot, Koch Industries, Bed, Bath & Beyond who have all removed the question about criminal convictions from their initial job applications. And still hire very few people with records. Don't believe the hype. (BTW, why wasn't Flavor Flav invited to meet Obama at the White House?)