Shade and Freud, Part One of Four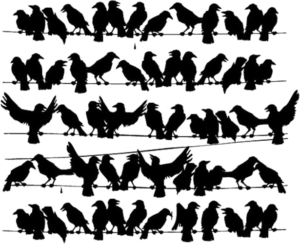 One thing that overcrowds every prison is unsubstantiated rumor. It can be about someone, anyone in here. They call this virtual – and sometimes downright ignorant – grapevine "inmate.com," I guess because we can make the dumbest stuff go viral pretty quickly, even though no one ever clicks a mouse – or knows what they're talking about. For accurate facts, this wire is for the birds.
Whenever tittle-tattle reaches my eardrums, much of it sounds outlandish, if not for its content, then its accessibility. How would inmates ever know this stuff about other people from the outside?  I mean, I'm the only one in here who does research and it's not about this nonsense. I can't fathom how these facts smuggle themselves inside this place.
Despite my disdain for it, inmate.com has created for me a new motto, words I doubted I would ever utter, especially since my standards on evidence became more stringent after my trial: I have no idea if that's true, but I believe it. I am becoming an uncritical thinker, which would make me a match for Keisha, my cellmate.
We were assigned to the handicapped room that is isolated from the tiers and close to the staff desk. The handicapped room was apropos for Keisha. She screams and shakes people down for junk food and then break into a dance routine. She cries herself into hysterical laughter. Freud wouldn't have a field day with her; he'd shit in his diaper and cry for his mother, two things I myself was on the verge of doing with her.
When Keisha moved in, I knew she was here for stabbing another woman in the chest and puncturing her lung (she lived) but scuttlebutt was that she was a prostitute on the streets who'd murdered a number of johns to get the remainder of their money, a la Eileen Wournos. I will say just this: I believe it.
In her past sentences, because Keisha's had many, she'd pummeled guards, spit at them. She wants to brawl with all.  It's almost like it's her default mode. If she says: "I will kill a bitch" once, then she says it ten times a day.
Naturally, she believes everything she heard on inmate.com.
When her anger officially turned on me, it was because I had refused her an extra egg in the breakfast line. They aren't mine to give away.  So she did the only reasonable thing and threatened to kill me to the girl assigned to distribute the juice cups who reported it, which I never thought was a bad idea. One of the good guys, C/O Roman, wanted to lock Keisha up but a ludicrous lieutenant, Booz, refused to sign off on it.
The buzz on Booz was that he was losing his house because he was underwater on a subprime mortgage, some peculiar dirt because these guys certainly earn enough. But, given how much of a dick Booz is, I believe it.
Yet another supervisor, Lieutenant Smith, stood by as Booz was listening to what happened.
"Why don't the two of you just bang out back in the room?" Smith asked me, his overly intricate facial hair shape-up reminding me that I am not at home here. No man I have ever met would try to turn his facial hair into art.
"I don't bang," I said flatly.
Smith is new so there's no intel on him but I don't need any.
Then, throughout the rest of the day, as Keisha intermittently threatened me and threw her plastic bowls at me in a cell merely feet away from the C/O's desk where they could hear everything and see something, one guard would peer in our 5-inch window and ask her, after losing every trace of the tough-guy schtick he uses with behaved inmates:
"Please calm down."
She didn't.
So they pulled me out of the cell, told me to sit at one of the four-man tables in the housing unit's lobby.
CTO Walters [Correction Treatment Officer] came in, one half of his backpack slung over his shoulder as he departed for the day.
He's supposedly a bodybuilder who's show name is "Chocolate Thunder" but he seems more to me like an apple with legs. The unsubstantiated rumor about him is that he moonlights by posing, either nude or close to it, for women's calendars.
"Umm, excuse me, Inmate Bozelko. Why are you out of your cell?" he sing-songed at me.
"The C/O's told me to sit here because, well, my roommate is kind of wilding in there," I answered him and pointed to the handicapped room.
"Who's your roommate?"
"Keisha D."
"Oh boy. Oh Lord. All of this drama is making my uterus hurt. Please!" he yelled at me. And to the guard at the desk:
"Listen, DO NOT let her back in there because, if anything happens, if she (pointed to cell) does anything to her (points to me), we are liable."
He then put on his shades and fled fast, uterus, backpack and all. I will never be able to prove it, but I swear, I swear he was smiling as he left.
Lieutenant Potash must have passed Walters on the walkway because he came in so soon after the walking uterus left. Potash is all thunder and no chocolate. Unsubstantiated stuff about him is that he had undergone severe discipline for allegedly using his DOC badge to make obscene citizens' arrests of regular citizens, one he normally couldn't get his hands on. Supposedly he was acting like a legit cop, pulling over women who were driving but subjecting them to bizarre questions and searches. I don't know if it's true, but I totally believe it.  If you saw his hunchbacked anger, 80's-style glasses frames and acidic attitude, you'd believe it, too.
Whenever I think of this story about Potash, I laugh hysterically and think: These DOC dudes kill me with their craziness.
"Bozelko, what're you doing out of your cell?" Potash boomed at me.
"The C/O's told me to sit out here because my roommate is out of control."
"Yeah, well, it's about to be count time so get the fuck back in there or go to seg," Potash yelled, like I had asked to hang out with the staff or wasn't following their orders.
Now I thought: These DOC dudes are going to kill me with their craziness as I pulled the curved metal plate that served as my cell door handle and walked back inside where Keisha was dancing in her underwear to music piped into her ears from my radio and headphones.
For Part Two of Four, click here.
THREE IDEAS IN CRIMINAL JUSTICE FROM AUGUST 7 – 13, 2017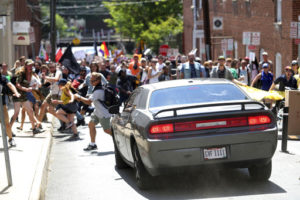 Taylor Lorenz, tech reporter for The Hill, reported that Charlottesville police officers suspected that James Alex Fields, Jr. wasn't malicious in his intent when he plowed his Dodge Challenger into a crowd of protestors in at the "Unite the Right" rally on Saturday. The cops who talked to Lorenz claimed Fields was scared because people were acting violent around his car and he panicked. Their chief, Al Thomas, said at a press conference that Fields' actions were "premeditated." I don't know how you view that but, from my experience, police don't usually sympathize with a murder suspect or explain his actions in a quasi-exculpatory way to a reporter, especially when the viral video of the crime shows he floored it into people who were actually a good distance away from his car. My guess is that there are some Alt-Right cops down in Charlottesville.
Before President Donald Trump failed to condemn the attacks adequately and instead tried to say that "all sides" were responsible for a terrorist's ramming his car into a crowd of people, the Cato Institute reminded us that you don't need to have committed a crime to be impeached. Read their explanation here.
The difference between jurisdictions on what constitutes a larceny is startling, so startling that I'm sure that shoplifters target certain places that define the crime in the most generous way. For instance, for a larceny to become a felony in Connecticut, the value of the item(s) stolen has to be more than $1000. The same misdemeanor/felony threshold in Florida is $300. If you were going to steal, where would you do it? Don't think people are above long-distance travel to commit crimes we usually dismiss as minor and simply short-sighted. One of my cellmates drove from Connecticut to Pennsylvania because she thought the penalties for larceny were less severe there and she had heard she could find more malls to hit than she could at home. In case you're wondering, she got caught down in the Keystone State but didn't get sentenced to term of imprisonment like she did up here.