Saving Face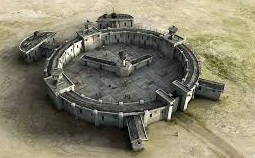 Because poverty is less a bottom line than it is a culture I can look at my inmate account balances – all under $100.00 – and still consider myself non-poor. I search daily for the real lines that separate rich and poor and whether there is a gap between them, a space pushing the lines apart, an area filled with fate, education or fraud.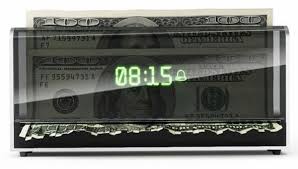 There is a reason for the rich-poor gap and this is it: people in a culture of wealth save; even if they save a tiny bit from the small amount they may have at the time. A culture of poverty mints people who might be able to save but just don't because they see money and possessions as ephemera; no matter what, nothing will last. This is no case of Easy Come, Easy Go. Rather it's Rarely Come, Easy Go. This mindset makes disadvantaged persons greedy at times in order to keep what will loose itself from their grip momentarily. Other times, they so disconnect themselves from possessions that you would think all of them undertook a life of Buddhist asceticism. It's like a material world doesn't exist around them. Their grip on physical reality is so slack that they drop stuff and break it all the time. My stuff.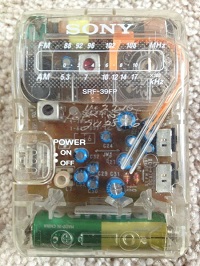 Of all my cellmates, those whose lives have been muscled by extreme need – the poorest – dropped and broke the most of my property. The only breakable items an inmate can own are "electronics"- TV's, hairdryers, radios, CD players, booklights, fans – all higher end purchases on the commissary scale. Which means that people who have no money in their inmate accounts have no electronic equipment. So they use mine and break it. TV? Smash! Radio? Clatter clatter clatter! Headphones? Snap! Fan? Thung! Hairdryer? Crash! Other inmates who can afford electronics might need to borrow something from time to time but they take care of my bailments. I know that none of the breaking was intentional because my cellmates were as much beneficiaries of working equipment as I was. They're careless because they conclude that nothing remains.
They also know that no one can force them to replace the broken parts because no inmate can purchase electronic equipment for another inmate.The prison prohibits anyone from buying two of anything electronic; anyone who saved sufficient funds to buy a Noah's Ark of electronic equipment might be a target of others, the less fortunate inmates who will threaten, assault, annoy or pluck the heartstrings of women who can afford to buy two of something. Administrators would never know if multiple purchases were the product of prisoner persuasion or even payment for hired hits on another inmate. To remove all question, the rule remains one hairdryer, radio, etc., per customer, so anyone whose inmate account balance is in the black need not wear a black hat in declining to buy electronics for someone else. "You know I can't do that," we say and shrug.
It was probably one hundred degrees in our cell. Neither of us could sleep with my fan splitting the difference between us. Groggy, Taffy dropped my five dollar alarm clock from a six-foot-high shelf- crack!– while I was half asleep.
"Just put the parts on the counter. If it's broken, I'll get another one," I said, half my mouth still frozen from the pillow's pull on it. When I came down from my bunk to examine my fiver timer, the black and yellow hands both fell down to the "6" like the arms of a fatigued weightlifter no matter where I set them. 9:15? 6:30. Noon? 6:30. As the inmates say, that shit was broke.
To replace the clock, I needed to send the correction treatment officer or CTO a request form, await her summoning me to her office where she would complete the form to indicate I what I was unloading.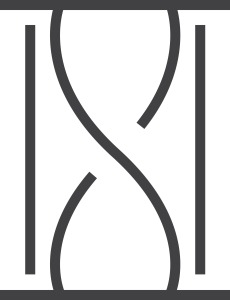 "Item?"
"Alarm Clock."
"Quantity?"
"One. I thought we couldn't have two."
"Description?"
"Alarm Clock."
The CTO looked at me.
"They sell only one kind," I replied.
From the CTO, the form would travel to the property office and collide with my order of a new alarm clock. Seeing that I had properly surrendered my first alarm clock, the property officer could approve the purchase of a another alarm clock but not a second one.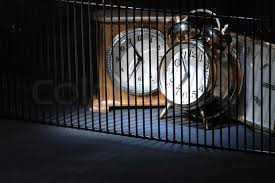 Taffy cracked my clock on August 1. Because of the CTO's unplanned absences, lockdowns and miscommunications, I filled out the form and surrendered the clock on October 22. Etched on the side of my new alarm clock – along with Bozelko, C# 330445 – is November 14, the date of sale. It took almost four months for me to spend $4.88 plus tax. That's as frugal as it gets.
Between the clock's breaking and its replacement were 106 days that I count among the worst of my 2275-day sentence. Many correctional realities conspired to make those 106 as bad as they were: depression, new housing in a racial menagerie with no air conditioning, my injured calf, a bed with a dent in it that went "whap!" whenever I moved. But it was really the lack of the alarm clock that was killing me.
Even though my daily 3:30 AM wake-up had warped my circadian rhythms enough that I could wake myself for work without an alarm, I woke up at all hours thinking it was 3:30 AM because I didn't have the clock. Once, so convinced that it was my regular hour, I rose, donned my work uniform and waited for the guard to open my cell door remotely – typically a four minute wait. I sat in the dark, awake, like an asshole,  but ready to go. If I had Little Larmie (I named my clock at its wake) on my TV stand, I would have known I was climbing down from my bunk at 1:30 AM and waiting in the dark for two and a half hours, convinced it was only minutes.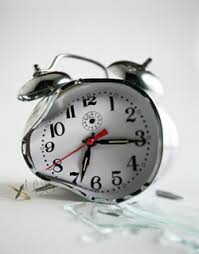 Besides that, without Little Larmie, my sleep became even more fitful. I became increasingly despondent and anxious because time matters when you're doing it. There's a phenomenon unique to prisoner's mind that holocaust survivor Viktor Frankel wrote about in his book Man's Search for Meaning: months and weeks strobe through while hours and days seem practically interminable. To remain minimally sane, an incarcerated person needs to know the time just to reassure herself that it is passing.
In a life confined, certain things happen at certain hours to denote an ordinary day. Doors unlock for rec at 8:30AM, then 1PM, then 6:30PM. When we don't hear the clank of an unlocked door at our entryways as the clock hands slide into place, we know that something is afoot, maybe a fight, a lockdown or an impending search. When I look at the clock and it reads 9:01AM, 1:27PM, or 6:55PM, I know something's up if my cell door has not opened up and I need to stay alert.
Not knowing what time it was left me assailable, unprepared, bad statuses in a maximum security prison. Without Little Larmie, I was really lost and my confusion ticked its way into everything I did. I misplaced papers, broke an irreplaceable comb (no longer in the commissary's offerings), kept forgetting to order a new toothbrush so I had to brush with bristles that went every way except toward my teeth. I asked other inmates and staff what time it was but everyone here stays a miser with their up-to-date information; they refuse to divest themselves of even the pittance of what's on their watches. They're so impoverished and cheap in here they won't give you the time, even if they broke your booklight.  Time was the one thing I watched them take care of.
I longed for Little Larmie. When he was around, I would listen to the Patriots play on the radio (TV broken by another cellmate – the Smash!) and watch Larmie's red second hand pulse around and around. I watched the consistent jerkiness of Larmie's minute hand as it pushed or tugged the hour hand along with it while I edited briefs. Larmie was my most reliable companion in here.
Supposedly we perceive time as moving more slowly through traumatic stretches in our lives. I believe it; I did a year in seg between May 2 and May 30. To that extent, every prison sentence should feel like it takes forever but sometimes time goes too fast and we need clocks to keep us grounded. To do time means you twist it in your mind until you totally deform it, puzzling yourself to the point that you can't live without an imposed daily regimen.
My regular delivery was absent when I picked up my commissary on November 14, but the supervisor asked: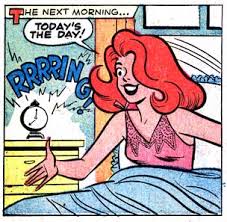 "Bozelko, you got electronics here. You want 'em?"
So excited about my impending reunion with Larmie (well, at least his sequel), I said breathlessly: "Yes!" I waited as the inmate behind the commissary counter ground my name and the date with the etcher into Larmie the Sequel's side like I was about to be handed Powerball winnings.
Since Larmie the Sequel began sitting on my shelf, things are better. I'm writing more, I'm in a better mood, less anxious as his hands circle his face at various speeds. It's almost as if I can't feel better in here unless I count up all the time I couldn't save.