Kids These Days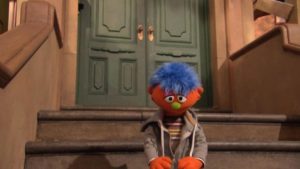 "My dad's in jail. I don't like to talk about it. Most people don't understand," the doll said on the news. The announcer went on to say that one out of 28 kids have a parent behind bars which was why Sesame Street was introducing the blue-haired, orange-skinned Alex, the son of an incarcerated father and newest puppet on the block.
"I mean, that's kind of interesting, no?" I asked all the women in the TV area.  "They aren't making that character out of nowhere. They either got a lot of feedback that kids watching couldn't identify with the stories or they read some demographic data that says that this was a good idea. We're talking millions of kids."
None even responded.
I'm not an abolitionist but if there is any argument that every prison should be razed to the ground it's the effects that separating children and parents have on little ones. It is pure violence yet it looks as calm and procedural as these ladies sitting here in the rec area, ignoring another one of my pathetic goads to get them to talk about current events.
I waited for a legal visit once when another inmate came in and told the visits officer she was there to see her daughter through DCF [Department of Children and Families]. There's a window where you can see visitors before they come into the visiting area and I turned to spy the cutest little girl I had ever seen. A small red bow wrapped itself around her tiny, dirty blonde ponytail and her shirt, a navy Ralph Lauren polo shirt dotted with white polo ponies, topped off jeans and Nikes.
"Is that your daughter? She is so cute. I say that to a lot of the inmates but really mean it when I say that to you. She's spectacular," I told the mom
"Thanks. Yeah, I know. It's the last time I'll see her for 14 years. They're terminating my rights."
"What?!"
"I can't have contact with her again until she's 18."
And with that, the door opened and mother and daughter reunited like it was any other day and went into the play area, DCF supervisor lurking in the corner. They sipped non-existent tea and stirred invisible macaroni in a toy kitchen, both remaining composed about the fact that a system was killing each of them to the other. They're dead to each other. For fourteen years.
Then [Attorney] Ruane arrived and we were escorted into one of the private rooms where I burst into tears. Literally. My face exploded at the thought of the conversation that was happening between parent and child in the play area.
"I get it. You wanna get out of here," Ruane said as he unpacked carefully labeled folders. He works with his son, sees him every day.
"No. That's not…" I shook my head. "You wouldn't understand." To this day, I can't remember one word in any of those folders and my freedom was filed in there.
I hadn't seen the mother here before and I haven't seen her since so she's not a lifer; she'd be living in this unit, watching the news with us if she were. She probably did something to kick off the termination proceedings, but how bad could it have been if she isn't even doing the type of time I am? And DCF allowed them to say goodbye – would they do that if she posed danger to the child? Sure, a social worker stalked them from across the room, but would DCF permit that toddler to connect with a person who had beaten her or neglected her in a dangerous way? I assume there's some theory of trauma that would prevent that. Let me rephrase: I'm sure there's a theory of trauma – why didn't it prevent this?
I bet that wasn't the case but they still took her daughter away, to what appears to be an upper-middle class family that already loves and dotes on her. The girl will be okay but she won't be the same.  Doubt will follow her everywhere she goes, even after she gets wind of what happened to her fourteen years into the future. No accusation or conviction can extinguish a child's love for and pride in her parents, but criminal charges make that love and pride smart in unending waves.
Why wasn't I good enough to make you good? And if you didn't do it, why didn't you fight or fight harder? How did you take care of me when you can't take care of yourself? I ask myself those questions every day. This entry has more queries, question marks and open ends than anything else I've written so far. And answers? There are none. I'm tenacious and introspective enough to find them if they were somewhere. They're not.
Accepting that you're a fuck-up is easy; no one knows how bad you are more than you do. But accepting that the person who you thought was perfect – and who was supposed to perfect and lead you – is more than just clay-footed and may have some very real problems navigating the world is excruciating. They call this adulthood, but it's really just abuse.
In front of a blaring TV set that had stopped reporting on Alex, I zoned out remembering all of this: the polos, the puppets, the parents, the pain.
"Winks, what's wrong?" someone asked.
"I don't wanna talk about it," I told them and headed back into my cell with my forefinger pressed against my lower eyelid. They can't understand.
THREE IDEAS IN CRIMINAL JUSTICE FROM OCTOBER 9 – 15, 2017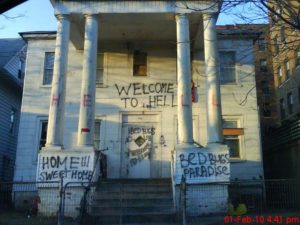 It's really happening now…Our "law-and-order" president and his administration are quietly cutting funding for halfway houses. I refused halfway house placement because, to me, it was just moving prison to the street and allowing people to wear their own clothes. However, for someone who doesn't have a place to live once they leave custody, halfway houses provide essential transitional living space. This is a guarantee of crime.
I attended the John Jay College of Criminal Justice's Smart on Crime conference this week which had embattled Manhattan District Attorney Cyrus Vance, Jr. on the agenda. Conference attendees figured that he wouldn't show up because he would have to face some questions about accepting graft guised as campaign contributions after giving the Trumps and Harvey Weinstein passes for obvious criminal conduct. Vance did appear at the conference and simply told people during the Q and A session (which was not recorded) in the audience that everything he did was legal. I have two thoughts on Vance's reply that everything he did was legal. They are: 1) no shit, that's the problem; and 2) he laughs at this as a defense when he prosecutes. Maybe he needs to open up to the fact that he's more like his targets than he wants to admit.
And the Supreme Court of the United States just accepted (or granted certiorari to you legal eagles) a case, McCoy v. Louisiana, where a defense attorney ignored his client's claims of innocence, refused to investigate an alibi defense and admitted that his client committed the crime over his objections. A Yale Law School clinic wrote a brief in support of Mr. McCoy and they argued that McCoy's attorney switched sides and fought for the prosecution. The issue of attorney disloyalty needs to be addressed and outlawed by our highest court but I doubt it's likely. The same court has already approved of conceding guilt on a client's behalf in capital cases like this one. Plus, the standards of effective defense are so low now than nothing an attorney does is cause for reversing convictions. You should follow this case because if you think defense attorneys protect their clients. They don't.