Doctissima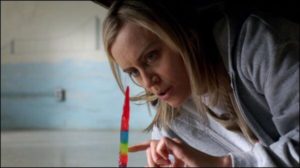 School started.  Wesleyan's first female cohort – one southeast Asian, 7 white, 8 African-American, and 2 Latina – has already suffered attrition, but not your typical dwindling.
First, one inmate was forcibly withdrawn when her roommate accused her of anal rape after both of them ingested contraband painkillers that the roommate had smuggled into the facility in the same anus that was so inhospitable to  the Wesleyan student's homemade dildo made of melted Jolly Ranchers.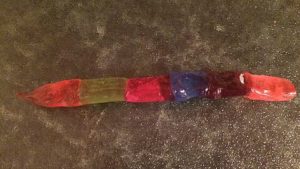 Then the state of New York whisked away another inmate for outstanding warrants. Two of the eighteen were gone before they finished reading the course syllabus.
The remaining sixteen attended class intermittently (despite Wesleyan's mandate that NONE be skipped) and handed in their assignments on their own schedules even though there was little competition for their time as we're all locked down at least 16 hours a day.
Then the third casualty registered: an inmate student had the home address of a staff member in her belongings. She was banned from the prison school, banished from education and enrichment.  She was eventually reinstated for future attendance but, until that happens, fifteen hold on with grips looser than Gary Busey's hold on reality.
C/O's suffer from a stereotype that betrays the extent of their education. Many have bachelor's degrees, even master's degrees, and they choose to guard prisoners because the wages and benefits are better than so many other jobs and they need to pay off their student loans. As far I know, none of them attended Wesleyan.
I can tell that they resent the Wesleyan students even though prison education should, at least in theory, make their occupational lives easier, make inmates less likely to return thus making them look more effective. It's easy to see free education for a child as an advance on future returns of success, but the investment in education in an adult, one who has never studied and never applied herself and may have taken another person's life, looks like an undeserved prize.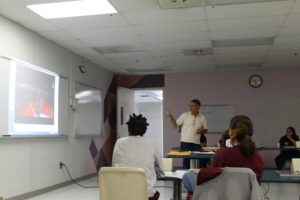 Especially when so many of them are academically unprepared for higher education. When women were applying to the program, one came to me and asked me to read her entrance essay.
The reasons why I would benefit from higher education. Where should I start? was the opener to the essay. That's as far as my patience would let me read.
"Not there," I told her and handed the cheap prison pulp she wrote it on back to her.
I should have been less of a bitch about it and sat down with her immediately to review the structure of the academic essay but I've done this before in other situations and it's really hard. Too many students here aren't primed for education. That doesn't mean they're dumb or undeserving; it means they've been cheated educationally and it shows.
I hate to admit it but I wonder if maybe the old, bigoted arguments against affirmative action – some people just aren't capable of this kind of higher education – when applied to educational and socioeconomic deficits merit more consideration than liberal arts enthusiasts give them. The judges who decide cases on affirmative action in universities rarely see the realities of these deficits like I see them in prison; affirmative action decisions are made on purely theoretical grounds, especially in the Supreme Court of the United States.
Would Dr. Allan Bakke (the plaintiff in the seminal affirmative action case Bakke v. Regents of the University of California) have sacrificed his chance to attend UC Davis Medical School to perpetrate a sexual assault with a weapon made of melted Jolly Rancher candies? Of course not, because even as a rejected applicant, crime was never an option for him. He had recourse that these female inmates never will.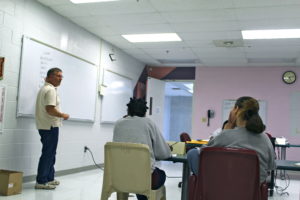 Affirmative action has for so long been touted as the way redress historical wrongs in education that we forget that it cannot correct the compounding of past prejudices and current offenses in offenders. Maybe women in prison – 90% of them poor, 68% entering without a high school diploma – can't absorb the enormity of the opportunity, nay the gift, of a free Wesleyan education because of their dysfunction-studded backgrounds.
As I sat with women and explained utilitarianism, I wondered if maybe Wesleyan was too late. Watching the students made me think of a children's museum – a place where inexperienced minds grow curious about the world through interactions that are, essentially, simulated experience. Not real.
The analogy wasn't totally misplaced; economists have long argued that investments in education after pre-school don't nourish the souls of students as much as education at a very young age. Many of the women enrolled in Wesleyan's program never had that advantage and we're compensating for that now with papers on environmental ethics. How do we expect them to develop a full grip?
This always put me in a bad position when I'm correcting or reading their written work.  Like when they write "could of" instead of "could've." I've given speeches to women in here about contractions and homonyms and they don't listen. Every colored pencil correction I press into their papers gets ignored. When I remind them about the grammar, they recoil and stay away from me. I'm completely willing to accept all the blame and admit that I have no teaching skills, that how I am instructing them is all wrong. And I know that intersections of various types of oppression have induced so many of their choices in life. Correcting them – either in ways that were too harsh or they couldn't understand – could cause another choice, to quit, to stop learning.
So I choose not to correct certain errors and misunderstandings with the hope that my green light will let them keep going even if it is in the wrong direction. I can read strings of "could of"s and hand the paper back and assure her "Great job!" I am such a liar.
I'm not alone. Many of them return to the housing units with grins above their inmate ID's and an "A" at the bottom of their papers. The people grading the papers aren't 'teachers', they're established academics  and I think they had no idea how to teach basic sentence structure; their bailiwicks were theory and, until they came to the prison, every student with whom they interacted knew what persona non grata meant, not how it felt. Women at York know how it feels and that's it. Ultimately I think both my and the professors' permissive grading and comments might be a disservice to them, done in the name of educational quality. Prison is such a fucked up place that even your good deeds are harmful.
It's really another form of oppression, I know. In being easy on them, I'm treating them like an inferior class, like they couldn't ever reach a certain level of competence. Treating prisoners just like everyone else sometimes means you have to exact more out of them. Demanding that they meet certain standards necessarily implies that you think they are capable of it. I believe that they can become intellectually versed but I act like they never would when I hand back a paper and say: "Yeah, looks great," when I know it isn't. I often wonder how much I actually help the women with any of my tutoring.
And if I, someone who lived with them for years, someone who understands them somewhat and knows they need to have high standards impressed upon them for them to improve, can't help them, then who the hell can or will? Particularly when the way they behave towards such charitable demands is bizarre, criminal, unworthy?
Nelson Mandela once said something about education's being the most powerful weapon in changing the world. Maybe he said that because he never saw the damage that a Jolly Rancher dildo could wield against free college courses. On second thought, he spent 27 years in the joint. Of course he saw a Jolly Rancher dildo or its equivalent. He just saw past it.
THREE IDEAS IN JUSTICE REFORM FROM AUGUST 29 – SEPTEMBER 4, 2016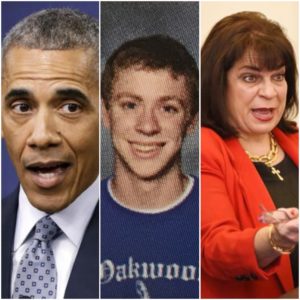 People are going home…but to what?
One hundred and eleven more, making 673 total are going home – President Obama commuted another 111 sentences on Tuesday, 325 in the month of August 2016 alone. I'm taking bets on how many pardons and commutations he'll grant before he goes home. Meanwhile, the United States Department of Justice released a report that slammed the Bureau of Prisons on its re-entry training and reported that 16.4 % of the inmates released in Fiscal Year 2013 were back in custody by 2015. The Office of the Inspector General said that many inmates don't complete the reentry course. I wasn't in a federal prison but I didn't finish mine, either. Not preparing people to leave, it's…it's a thing in prisons.
Brock Turner is going home. He left the Santa Clara County Jail's custody and I actually feel bad for him as I do for anyone who walks out of custody coated in society's hate. What he did that night behind a dumpster to an unconscious woman is the stuff of stomach acid and heaves, for sure. But I know how lonely and scared that person who's going through a criminal prosecution feels. I don't wish it on anyone for anything. It's probably a character flaw to feel that level of sympathy for certain people, but hey, what did you expect six years in prison to do to me?
Nationally known prosecutor Angela Corey is going home. She was defeated in her primary election in her bid for another term of State's Attorney in Florida's Fourth Judicial Circuit Court. Corey earned a reputation for her prosecutions of high-profile defendants such as Marissa Alexander, the abused wife for whom she asked for a 60-year prison term after Alexander shot in her husband's direction (and only got 20 years, which was later reduced to three); George Zimmerman, who was tried for second-degree murder for shooting and killing Trayvon Martin and whose trial she lost; and 12 year old Cristian Fernandez, whom she tried as an adult for killing one half brother, sexually abusing another half brother and never being part of a whole, intact family.  Her replacement isn't much better, but still… Bye, Angela.