There Is No One Like Me – Mind Your Manners

Thousands of white sylph pieces pack a Lucite bin in Main Dining. One of the supervisors always puts it away before a meal and drags it back out after. It doesn't make sense.
On my first holiday in the kitchen, I finished my baptism-by-oven heat of packing hundreds of Thanksgiving meals into Styrofoam trays and delivering them to the women who weren't allowed to eat with everyone else because they were sick, or new, or relegated to solitary confinement. For the rest of the workers on the line, I plotted how we would fit turkey, gravy, green beans, potatoes, stuffing, bread, cranberry sauce and pumpkin pie into a tray with only three sections to it by drawing schematics over and over again.
We can't put the gravy in the big section if the pie is there. But if the pie is by itself in one of the three, we'll have to put the potatoes, turkey, stuffing – and gravy over all three – in the big section. Green beans in a small section. Pie in the other small section over the cranberry sauce.
In my drawn instructions, potatoes were the round mound, stuffing the wave mound and the beans were a pile of sticks and they effectively guided the ladies I worked with to get the trays right; no one bitched that her pie was gravy-drenched. So I was feeling a bit bold. I asked the supervisor who hides the nappies when he scurried into the back with the tub of them:
"Can we leave those out? You know, for the meal?"
"No one wipes their mouth in here."
He nailed that.
"It's Thanksgiving. Maybe someone wants to put one on their lap."
"Lap?…How long have you been here?"
"Two years in December."
"Nobody here puts a napkin on their mouth, okay? They definitely don't put it on their laps. They put it in their pants, wrapped around something they're not supposed to have. They use it to boost shit outta here.  The best case I can hope for is that they just let the napkin alone and let it fall on the floor where you guys bitch about sweepin' em up before you mop. That's why I don't put 'em out."
"Then why do we buy them and put them in a big bin? If there's no chance they'll be offered, why waste the money?" I queried. It had to be asked.
"Cuz it's fuckin' DOC [Department of Correction]."
I've long asked why there isn't an etiquette training program here, a mandatory one. I'm not talking about fish knives and copies of Tiffany's Table Manners for Children – we can't tackle those topics if we're stuck with one serving-cum-eating platter and a spork –  I'm talking about appropriately firm handshakes, napkins on your lap, not commenting on the acne on the face of your conversation partner.
The best manners come out when you have to deal with others who don't have any. That advice works only when you know what bad manners are and that's rare in here. Most of the inmates call manners "home training" which makes it sound like social grace is a work-from-home scam or Ikea assembly instructions. Sometimes I think the reason why wealthier, more educated defendants fare better than their indigent, undereducated counterparts isn't a prejudice by courts but a fact that their manners are better. They nod appropriately at the judge. Sit up straight next to their lawyers. Others look down, grumble, fumble because they don't know any better and they get read as disrespectful, incorrigible. Bye.
Not one teacher or administrator takes me seriously when I mention an etiquette program, but what are manners besides how you interact with others? They're really the core of rehabilitation, an educational system that is far more personal than any academic curriculum.  Of course, there is some protective effect of being ill-mannered. You can't be a an elite-level con artist if you're not smooth.
I've seen my manners deteriorate in here because there's no peer pressure to keep them up. Thanksgiving buoys them because I insist on proper table etiquette for that day alone. It reminds me of how my mother would dispatch me and my sisters to set the table and decide how we would fold napkins would fold. Roses. Simple triangles. I don't have those choices anymore.
"Happy Thanksgiving. Can I get a napkin?" I ask whomever is working behind the serving line every year.  No matter who it is, he or she always replies:
"Happy Thanksgiving, Ms. Bozelko. For you, sure," as the supervisor hands me a small wad of soft pulp.
Once I reach the table with my tray, I spread out the one-ply like I have for the last four Thanksgivings – I never got a napkin before I worked in the kitchen – into a sheer, white scarf across my lap.
"Ohhh, shit. I see what you doin'," someone at my six-man stainless steel rectangle said when she spied my serviette.
"You do? Do you want one? I have a few more." I held up a napkin for her.
"Nah. You finally getting ready to fix yourself a real meal back in ya cell wit' chow hall food. I see. I see what you doin' Ma.  That stuffin' is blazin' in a [ramen] soup. That's why I be puttin' my shit up in a bag," she said, pulling a small translucent baggie out of her pocket. "I don't need no napkin."
The title of the post may have confused you. It's the lyrics and title of a song by Chiddy Bang. Read them here.
THREE IDEAS IN JUSTICE FROM NOVEMBER 13 – 19, 2017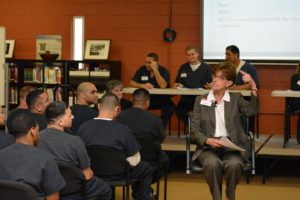 Prisoners in Texas get etiquette lessons, as this story from last week reports. Colleen Rickenbacher, above, teaches etiquette and manners to male inmates at the Cleveland Correctional Center in Texas. Through the class, the students also develop post-incarceration employment and business plans, most likely because someone who oversees that particular  facility sees the connection between success and navigating social situations politely.
Not one but two corruption trials ended in mistrials last Thursday. Both the Democratic Senator from New Jersey, Robert Menendez, and the New York Correction Officers' Benevolent Association former president, Norman Seabrook, walked out of their trials in little better shape than when they went in. But the prosecutors were in worse shape because these hung juries are part of a larger pattern of losses in corruption cases. As much as I would like to blame this on prosecutorial incompetence because you can't enter a criminal courtroom without seeing them bumble about, this isn't the prosecution's fault in either case. Criminal corruption statutes have been defanged for so long that it's hard to get a public official convicted of any malfeasance. Read why here.
It's bad enough that we allow state-sanctioned murder in the form of the death penalty. It's worse that we don't know how to pull it off our societal sin. The State of Ohio tried to execute Alva Campbell on Wednesday and failed when execution workers couldn't find a vein. Liliana Segura did some fine reporting on the event for The Intercept here.