T and A in A&D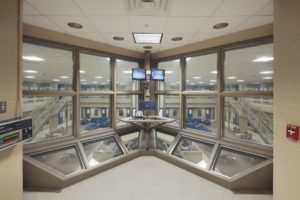 In here, the sign of seasons' turning is waiting in a line. One in the fall to get a coat. Another in the spring to hand it in. The good coats are the army-green barn jackets and they usually go to the long-term inmates, women like me. The low lottery numbers catch the nylon ecru short ribbed jackets. Anyone wearing one of them is clearly in the lower prison caste because no O.G. wears those swingy, cream-colored jokes. I went coatless all winter when one was thrown at me when I came through the doors of A&D [Admissions and Discharges] in December 2007 and the autumn coat waiting lines had long dispersed from the building.  I used it as a pillow instead because you couldn't buy a pillow back then. Now, for my sixth jacket, my unit had been called the day before for the line-up, when I was at court, so I left work early to dodge the fate of flimsy, light-colored winter gear because I don't need something soft and superfluous to rest my head. I bought a nylon bag of air, labeled "pillow," years ago.
"[C/O] Boxman such a motherfucker. I hope they tell his wife how he be fuckin' [C/O] Questionable Taste up in here in A&D on third shift!" First-in-Line announced. She must have just been yelled at by him before I joined the queue.
"Oh, shit. He fuckin' her? I knew it. And they doin' it here in A&D? That's nasty." Third-In-Line declared.
But I was laughing, hard.
"That's hilarious."
"You think it's funny Questionable Taste a damn home wrecker?  How they get you is how they leave you," First-in-Line instructed me without turning around.
"No, I mean someone having sex in A&D."
"It's nasty, right? This shit look dirty," Third-in-Line checked with me as she looked to the floor and the walls, made a sour face.
"It's funny. Intercourse in Admissions and Discharges? That's hilarious. I had no idea the staff was so euphemistic," I told them before I broke back into giggles.
"What that mean?" Second-in-Line asked.
"A euphemism is a polite way of saying something out of bounds in normal conversation. So…you know. Admissions….discharges. Instead of saying 'sex.' Like sex is a series of admissions, get it? Followed by a discharge…?" I explained, haltingly.
Between the kids they had, the prostitution charges they racked up, this crowd in line had way more sex than I ever could and they still didn't get what I was saying. I felt like Steve Buscemi in [the movie] Fargo when he's trying to explain the old "in-n-out" to the outcall girl with him in the nightclub. They were nonplussed  by my wit and uninterested in the language lesson.
Originally, I thought the name they gave to the prisoner loading dock – "Admissions and Discharges" – was odd, like anyone was giving consent for us to enter; we're wanted at the prison's front door – which happens to be way in the back – as much as we wanted to arrive there. It's not like that second-shift crew, headed by the C/O who sits diagonally in the corner of the front desk, is psyched to unlock the doors and let our shackled feet short-shuffle in.
Then I thought "A&D" was just a nod to the mental health epidemiology within, which is extensive and screaming for remedy. I read that the Cook County jail in Chicago is the largest mental health provider in the state of Illinois. It was reasonable to assume that,  through using that name, they were treating us like patients. But any medical etymology is purely accidental.
"Admissions and Discharges" was the terminology used by English workhouses in the 13th century until not that long ago, places like the one where Dickens' character Oliver Twist dared to ask for more. It was England's welfare program; poor people had to turn themselves in to get food and shelter and live in government custody. Workhouses were prisons without the prosecutorial prelude. And all you had to do to be admitted to inpatient welfare was have nothing and be hungry.  So the place didn't turn into a hotel, they enforced hard labor as a incentive to avoid getting yourself in such a jam that you couldn't handle your own business anymore.  In short, to get your gruel, you did grueling labor to align yourself with (former prisoner himself) Saint Paul's rule that 'He who shall not work, shall not eat.' When they thought someone had a chance to fend for themselves outside, wardens got even more Christian and tossed them into the warmer weather.
The same thing happens here every autumn. As chill reluctantly admits itself to the air in September and October, and sleeping in a tent on any patch of land whose owners aren't around to call the cops won't work anymore, women intentionally place themselves in justice's way and turn themselves in for shelter and food.  Proposition a police. Surrender themselves on an old warrant. All to get meals and dry, warm lodging for the winter because poverty's a crime.
Now you can get the food and shelter without being in physical custody. I don't get how modern society has liberalized itself enough to recognize the dignity inherent in being free yet still allows people to exist in such indigence that they're willing to give that liberty up in order to survive the winter. And, if they're lucky, score a green coat in the style the fashion industry calls a "work jacket." It makes me wonder if the person who chose them for the modern workhouse knew that.
"That what you call sex? Additions and discharges?" Second-in-Line asked me and shook her head and said "Motherfuckin' white people."
"Admissions. Admissions and discharges. And no, I don't. Well, maybe, after today. I'll call it 'gettin' a little A&D'." And then they started laughing with me.
THREE IDEAS IN CRIMINAL JUSTICE FROM SEPTEMBER 25 – OCTOBER 1, 2017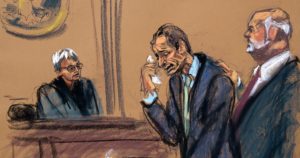 Former New York congressman and mayoral hopeful Anthony Weiner is going to prison. He was sentenced to 21 months in prison last Monday for sexting a teenager, although his real crime is enabling the rise of Breitbart News (no one paid attention to Breitbart until they broke the "grey underwear" story).  Here's  what former prisoners wanted him to know about the public service venture he's headed into.
Hannah Kozlowska, a 2017 John Jay/Harry Frank Guggenheim Criminal Justice Reporting Fellow, a fellow Fellow of mine, reported for Quartz on Walmart's extortion of shoplifting suspects. If you get nabbed for allegedly boosting something from the retailer, you get a chance to take a 6-8 hour course which costs you several hundred dollars. Or you can choose to have them call the police and get arrested, whereupon you get another chance to pay several hundred dollars in bail.  The program was created because, in many districts, the majority of calls to law enforcement were from local Walmarts so it might save taxpayers money in reduced police costs, but it will also make Walmart and the private company administering the program a lot of money.
James Holmes, the man sentenced to life in prison for the 2012 Aurora, Colorado movie theater shooting, was moved to a federal penitentiary in Pennsylvania because Colorado corrections officials didn't feel he was safe in the state system. This comes after fits and starts over Colorado's failure to disclose Holmes' location to victims' families. I understand the need for transparency in corrections and I agree that victims and their families are stakeholders in the process of justice, but I do not understand why the victims are so invested in knowing where Holmes is sleeping. Is it fear because they think he's likely to escape? If so, how would knowing where he was in custody help prevent that? I know these people have been indelibly harmed by Holmes' actions, but too many times the whims of victims run the system.