Pero…like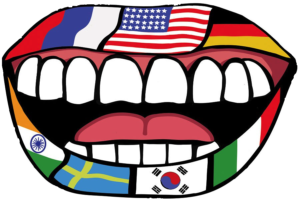 The real world's advantages don't exactly translate in here. Every aspiring college freshman and job applicant in the world brags that she's bilingual, but it isn't an advantage in here. They ask you about it a couple of times throughout your risk assessment period. It's not that they're looking for translators, like I thought when they asked me. I could've said:
"Well, I passed the Spanish civil service test in 1991…" but I acted almost like I didn't understand the question because I didn't want to be drafted into the interpreter corps.
But they wouldn't have asked me to translate anyway. It's not like York [Correctional Institution] or even other prisons care about accommodating inmates and breaking down language barriers.   Aside from a few paragraphs on old bulletins hanging in the plexiglass-covered announcement boards and the sign announcing the north and south sides of the numbered buildings – as if women couldn't have figured out that the "S" in 1S meant "Sur," especially after juxtaposing it against the "N" of North/Norte – there is almost no accommodation of strictly Spanish speaking-women here. I remember reading something about how inmates in a DC jail were complaining about an Eighth Amendment violation [alleging cruel and unusual punishment] because no one working in their medical unit spoke Spanish. I can see the same conditions exist here, where speech means security.
A prison asks you what language you speak because they need to know who to watch. Spanish – or any other language for that matter – is a secret code in an American prison because so few of the C/O's speak it (or admit they speak it),  making me like a secret decoder ring…that, thankfully, no one knows to consult.
You would think that a group of prisoners who had a private communication system might use it to escape or reform the place. No. In here, the women with the keys to the kingdom use them to scratch someone's car or pick out ear wax.
The inmates who can speak boldly in front of anyone without detection, instead gossip and slander other women in Spanglish crossed with Valley Girl, trailing sentences as they pulled off the coup of talking about people behind their backs and in front of their faces with  "pero, like…." which translates to  "but, like…". "Pero…like" justifies baseless bullshit because they leave the end of this slanderous sludge open. It's like they know that what they're saying is so false that it needs to betray all languages they know, not just one.
"Sé qui ella dice que no es uno prostituta, pero…like…"
I know she says she's not a prostitute, but…like…
And they use "but…like" to talk about my keister, my butt. Apparently, I have Butt Implants. And supposedly I stole money from an employer to pay for them. According to them, I'm fake and so is my ass. My ass landed me in here.
Normally, I would laugh at their bullshit but overhearing this hit me in the body part where it hurt most. I don't even know what to call it. Falling shy of badonkadonk, it's a bit of a bubble butt. Maybe half a teardrop or a hot tamale losing heat. At least it would have some utility if it were a shelf butt. Shelf or not, my ass is big, it protrudes and always served as convenient drop spot for an insult to me.
I felt like I would never match the physicality of so many of the uber-rich, perfected young adults who roamed the Princeton campus. I saw their limbs as so lengthy, WASPy, tanned in Oyster Bay. Although I hardly came from a poor background, my haunches seemed like vestiges of Slavic peasantry; they reminded me of an Eastern European weightlifter while the other students looked like Nordic ice dancers.
Feeling like a huge red arrow followed me, trained on my ass, made me compensate for those low feelings. Convinced I was attractive only for my brains, I assured myself that my mind outweighed any heavy butt. If it was all about the brains, no bubble, then any thought that entered my mind was right and should be voiced. Pissed over a date being late, I'd blast him. I reamed men for perceived slights or even joking with me like a friend and not a love interest.
When I wasn't being an intolerable pain in the ass to boys I liked, I spent my remaining college years trying to minimize my gluteus, even consulting plastic surgeons. If they could correct my ass to perfection, I would attract men physically as well as intellectually and they would never leave.
"Can you get rid of this?" I asked each one and he – always a "he" since I subconsciously sought a message of correctability from men – would pull up on each buttock. Items in my rearview are actually smaller than they seem because my legs are so short. My femur compares to the length of an average woman's forearm.
"I can take some off but you have a lot of muscle. It's just the way you're built." Fundamentally defective yet again.
"¡Carajo! Huelo su coño desde aquí. Se lo chingó ala guardia. Por la mesa, I bet."
Fuck! I can smell her pussy from here. She fucked that C/O. On his desk, I bet. 
Like the Butt Implant theory, both of these allegations were easily proved false if I cared to do so, but…like…I didn't want my nether regions dominating all of their conversation.
"No digas 'coño'. Se escucha vulgar," I said.
Don't say 'pussy'. You sound trashy. 
"Whaaa? Puta. Fuck outta here! Why she never tell us?" shouted one of them, Flaca.
Whaaa? That bitch. Fuck outta here. Why didn't she tell us she spoke Spanish? She betrayed us by not telling us information we wouldn't have needed if we had any class.  Wherever women are speaking Spanish in a prison, there's at least one Flaca within the group. It means skinny. Digo culo piqueño pero, like… I would say 'small ass' but, like…
"Yo hablo, pero…like…pueden besar mi culo in Inglés."
I speak it, but…like…you can kiss my ass in English.
THREE IDEAS IN CRIMINAL JUSTICE FROM APRIL 17 – 23, 2017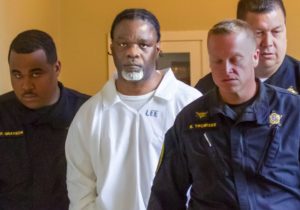 Last week was about life and who gets to take it. Ask yourself what you would do/want done if you were any of these people:
Another aspect of the "CSI effect" – expecting that every shred of evidence in a criminal case is capable of forensic analysis – is expecting that every shred actually gets tested.  On Friday, the State of Arkansas executed Ledell Lee before DNA testing could be conducted to examine his claims of innocence. Think about that: because the expiration date on a drug was fast approaching, a state government decided it was acceptable to kill someone without double-checking his guilt. This was also Justice Neil Gorsuch's first vote, he was the deciding factor in SCOTUS' allowing people to put the needle in Lee's arm, proving that, in the United States, homicide is acceptable, depending on who commits it.
Keep in mind that one man, Arkansasan Gov. Asa Hutchinson, could have saved eight lives – including Lee's – in less than 10 seconds if he had the temerity that Virginia Gov. Terry McAuliffe had on Thursday when he commuted the death sentence of Ivan Teleguz, convicted in the murder-for-hire of his ex-girlfriend. McAuliffe was convinced of Teleguz' guilt but saw that his sentencing was unfair (the prosecutor casually suggested Teleguz was involved in another murder during the penalty phase of the trial) so he spared his life. If you had the chance to save a life, wouldn't you do it, too?
No, it wasn't a murder. Aaron Hernandez, former New England Patriots TE, ended his own life last Wednesday, a few days after his double acquittal for murder. Reports surfaced that, for the first time in court, Hernandez was speaking to other people, blowing kisses to his daughter and generally acting like a human being instead of a prisoner. A little over a year ago, another former NFL player, Lawrence Phillips, committed suicide after coming back from court where he also felt human, and acted, according to others, like "a kid on Christmas morning." When you aren't forced to endure mass prisoner transport, chained to other people in filthy buses and vans (which most assuredly neither of these men were) then I guess trips to court can be okay, even good, and better than your life behind bars, and your crash into correctional reality hurts so badly that you use all of the autonomy you have left.