Nuts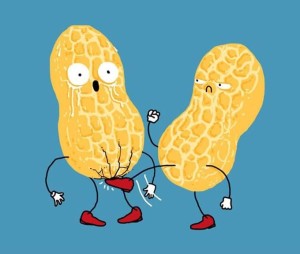 Walking into the first shift in a prison kitchen is the equivalent of scanning the first page of a daily newspaper.  When you walk into prison kitchen first thing in the morning, bulletins, news from all frontiers (in prison, a frontier is a housing unit) converge and fly at your face.
"You know Frisky got kicked in the balls, right? You heard?" Hope asked me.
"No. How would I know that? And why am I supposed to care about this?" I asked as I was putting on my hairnet to start opening boxes of chicken. Then I accelerated into panic. "Wait, is he saying I did it?"
Even though we're technically not allowed to exchange words,  Officer Frisky and I have a contentious relationship. He says not so nice things about me and I return the favor. It's been a multiyear volley. When you think about it, it's all kind of petty. Sometimes I wonder if it keeps me going because it's probably the most reliable thing in my life now.
"No, he was helping take this bitch to seg in Davis Building and she kicked him in the balls when she was on the floor."
"Who did this?"
"J. M.," Hope said matter-of-factly.
"I don't think I know her," I replied, searching my memory's facebook.
"Yeah, you do. She worked in the warehouse. You glad?"
"That she's going to seg? I…I mean…that's guaranteed. But I don't know her, so no, I'm not glad that she's going there."
"No, you gotta be glad that someone got him," she said.
"Not really."
"C'mon."
"Noo. How does this vindicate my side our dispute? Who wants to see another person get hurt?" I posed to Hope who was now surrounded by other workers who wanted my expert editorial on this event that had nothing to do with me. If they had microphones, each one would have extended their arms for comment.
"I mean who gets happy at another person's physical pain?"
"We do," Hope said and lowered her eyes at me to tell me I shouldn't have asked that question.
I suppose this could've been a set-up, that someone wanted to manipulate me into saying that I was glad Frisky took one below the belt and then run to tell him that I threatened violence against him.
But this went deeper than that sneaker went into Frisky's crotch. They wanted me to react gleefully to the news that my nemesis got booted in the balls as proof that I'm just as base as they are. They demanded evidence that privilege provides no protection from becoming craven, nasty. That their upbringings, decades of having their figurative dicks kicked in the dirt – backstories where someone told them it was okay to delight in other people's misfortune, actually better than okay, it was a covetable emotion – didn't forge inferior morality on them. If I even so much as smiled, it would have confirmed that everyone everywhere is, at heart, a corrupted, angry shell, even Chandra with her accurate grammar and her straight teeth and her clumsy dap.
A supervisor noticed the crowd and bellowed:
"Everyone back to work!" and workers dispersed but he stayed in front of me.
"Just admit that you think it's funny," he said with that nudging tone.
"I don't think it's funny."
"Not even a little?" He did that inch-wide thing with his fingers that's universal sign language for teeny-weeny.
"No! Not even a little. Is this story even true? I don't even know if it's true."
Now I was getting defensive over not celebrating another person's victimization. I was getting as involved in this sack attack as if I were the perp. That's what prison does to you. It enmeshes everyone so we share each other's guilt. It's not solidarity; it's sickness. A mass mental illness.
"Deep down you're glad it happened. I know," he said and put his hands up to say "You don't need to confirm what I said because I'm convinced of it."
I said nothing else because it's futile to fight a false perception in here; the place is based on misapprehensions.    For years, I've lived in an environment where it's inconceivable that you wouldn't wish harm – or at least enjoy hearing about it – on another person with whom you have a disagreement.  Somehow I haven't succumbed to it.
Some might say that's because I'm strong, but maybe it's because I don't get what's supposed to happen to me in here. Maybe there's something wrong with me in that I'm the one who shudders at America's Funniest Videos when I watch a guaranteed cervical injury and everyone else stomps and laughs riotously.  Maybe other people's pain is a carnival and some pathology makes me scared to get on the rides. Maybe I'm behind the curve on this one and I should be yukking up these headlines of mild violence as evidence that the human condition affects everyone equally.
Who am I kidding? That's nuts. This place is nuts.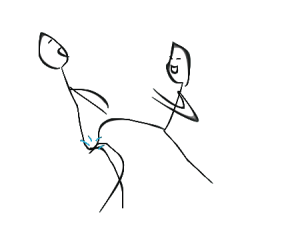 THREE IDEAS IN CRIMINAL JUSTICE FROM AUGUST 15 – 21, 2016
The biggie: The Department of Justice announced Thursday, August 18th, that the federal government would not renew contracts with private prison management companies for a number of federal facilities.  It's debatable how much impact this decision will have, but it's also too bad that these companies blew the chance to give the government some competition. If private prisons had done this right, the conditions and treatment in public prisons would have bobbed on that rising tide and been good for all prisoners.
The announcement might reveal a crack in the Obama Administration because the Washington Post uncovered, just days before, the fact that the Obama Administration gave a $1 billion, no-bid contract to Corrections Corporation of America (CCA), the biggest private prison management company, to build a Central American asylum-seeker detention center.
A federal judge in Kansas ordered a special investigator after prisons there and in Missouri recorded conversations between inmates and their lawyers and turned the recordings over to prosecutors. As it turns out no audio was recorded, so defense attorneys are worried that body language and facial expressions deserve Fifth (right against self-incrimination) and Sixth  Amendment (effective assistance of counsel) protection. Mark my words: this case is going to have wide-ranging implications, and not just because CCA, is at the heart of it.
Notice a theme here?