First and Last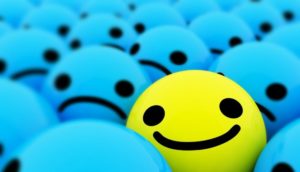 It would make it easier she had some redeeming feature. She's not nice (she's here for overdosing a teenage boy, letting him die, and then attempting to show remorse by saying she was glad that it didn't happen to her family). She's not sane (see description under 'nice'). Hard-working? Nah, she sits around all day taking other inmates' pills because she's prohibited from working outside the unit. Good-looking? Nyet. She looks like Quagmire from Family Guy with hips as broad as beam. Former stripper, my ass.

To this day, she freely admits that she tried to kill another inmate by putting battery acid in her coffee because she was mad at her and didn't want her around anymore. So she tenderly split open a Double-A (which takes strength and dedication) and drained the liquid out into a cup of instant coffee and non-dairy creamer, a combination probably more lethal than the acid, but it's the thought that counts. Rumor has it that she tried again when the acid didn't work, using bleach-based scouring powder.
And nothing happened to her, besides a seven-day stint in seg. No charges for attempted murder. No real punishment. No message sent, except maybe one: Adrienne* will get away with murder, especially if it's only attempted.
No woman on this compound can explain why the staff allows Adrienne to break so many rules so whoppingly. Their permissiveness has gone from merely suspicious to out-and-out conspiratorial on some of the C/O's parts. Other guards remain as baffled as the rest of us as to why she goes north or south of consequences when they should zoom right at her.
You can't analogize prison life with real life. I can't explain why wearing a white T-shirt outside my cell can set the place in a tailspin. All I can say is that some things in prison are forbidden and the reasons for it are unbidden.
Adrienne's specialty is the forbidden, a fact never forgotten as she cruises her tier in a snow-colored Hanes and none of the staff members say a word.
I still doubt I'll ever be able to convey to people on the outside the stronghold Adrienne has, except through examples that they wouldn't really understand.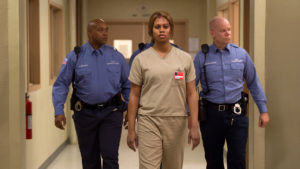 For instance, in here, if you're on your way to seg, consider yourself arrived. By that I mean that, when they cuff you and trail you with a camera, you're going no matter what injustice or error started your trip. Once during a "chronic sweep" – a posse of guards that rove the compound now and again to pick up women with severe discipline records in the same way that tape collects lint – the posse picked up the wrong Inmate Columbo. There are two here: S. Columbo and M. Columbo, and they mistook S for M. Even though someone might have realized the error mid-transfer, trading S for M on the way to the restricted housing unit would be unheard of. S would sit in seg while the fine detail fact-checking took place and M was rounded up. No seg trip ever stops for any reason to let someone go. Unless it's Adrienne.
As the legend goes, while C/O's escorted Adrienne to seg once, one on each side gripping an arm, trailed by a lieutenant and someone with a camera, she somehow caught the attention of a deputy warden through the window of his office. He came out and ordered his men to let her go. Take her back. Two opposing orders but that wasn't why the Deputy Warden's command shocked everyone. The Let Her/Take Her awed everyone because no one ever short circuits a seg-walk. Never. This was the first time it would happen, as only Adrienne wields serious power in here, and the last straw for people who expect any fairness in this facility.
Everyone – inmates and staff alike – assume that Adrienne's got the goods on some higher up. Different names get tossed into the theory and we're all probably right.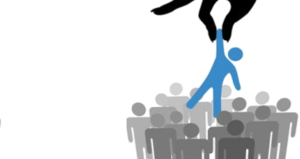 But Adrienne's reign teaches a more important lesson than just that the brass has clay feet. She proves that the worst inmates get the best treatment. I have yet to figure out why this happens. I think it might be the same type of phenomenon where adults allow a bully to push around younger smaller tykes. They know what they're witnessing is wrong and they undoubtedly have the power to stop it but they are either too scared of the bully themselves or they're so secretly sick themselves that they like what they're watching.
I think that's what's happening in here. Some of the C/O's are scared of Adrienne – after all, her offenses aren't making fun of someone's hair or pushing someone off the jungle gym; Adrienne would kill someone without compunction. Other guards like the fact that she terrorizes the rest of general population because they hate us all.
I don't begrudge anyone a little leniency. Mercy is good.  But it can veer into favoritism, preferential treatment, which is anathema in a well-run prison. What's good for one is good for all – that's how a good prison runs.
But this place isn't a good prison if you watch who gets the partiality. For the most part, women here for the most heinous crimes are very well-behaved and remorseful, a fact that only compounds the tragedy of their actions since they clearly were out of character and precipitated by illness, trauma, rage. Regardless of how we comport ourselves, the guards make fun of us for what they think we did to get here, except for that extreme exemption for people who took others' lives and couldn't give a shit less about what they did.  These chicks run the joint. Once during a lockdown I saw a few women just wandering around on the walkway. They strolled into the garden. No one should have been outside the unit and these people were meandering. I know each of their convictions and counted them up: Felony Murder, Murder 2, Manslaughter, Capital Felony Murder, Capital Felony Murder.
When a C/O came to pass out the lunch trays since the rest of us couldn't even leave our cells, much less the structure they sat in, I cocked my thumb toward my window and asked him:
"So, what exactly does someone have to do to get fresh air around here? Would a Criminally Negligent Homicide conviction free me a little?"
He ran to a bigger window in the rec area and saw the Kill Squad roaming around. Shook his head.
"I know, Bozelko. No one stops them."
When they're actually inside and among us lesser sinners, they issue commands to guards…who actually follow them. They ask for extra. They get it. They wear uniforms tailored in ways that would have lieutenants running after the rest of us, screaming "Those are altered!" But no one says anything to them.
When one of them (an inmate who killed a woman in a gang-inspired fight) tried to make her own psych records on the library computer to show her girlfriend how much she'd suffered in life, they brought her to a shrink (which was apropos because it was nuts that she thought medical records were written in dialogue like a screenplay), but anyone else would have been in the hole, with no U-turn. When it comes to privileges, murder means more. I don't suggest that women with homicide convictions should be denied, but they shouldn't be deified, either; none of us should be, especially if we're misbehaving. Regardless of what they do in here, the incorrigible lifers pretty much get what they want.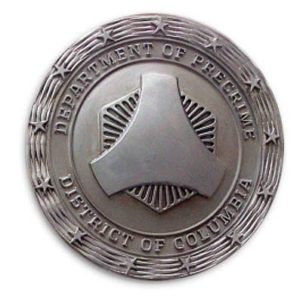 Except Adrienne isn't a lifer. Yes, someone who killed a child and continues to try to whack people has only a 17-year sentence for manslaughter. And she gets special meals brought to her from the outside, gifts, declarations of love from C/O's at her door (not even kidding – there's something wrong with those guys).  And she'll skate on post-prison consequences for her behavior. Unlike sex offenders who leave prison to civil commitment – a Minority Report-style Precrime confinement – because some turnkey decided that they're constitutionally incapable of reform and rehabilitation and will reoffend, Adrienne gets cut loose a little before 2023.
Adrienne's not going to reform herself. She pumps out daily a trove of evidence similar to that used to justify civil commitment of sex-offenders, namely proof that she will never change. Yet when her sentence ends, it will do just that: end, mostly because she killed a kid instead of screwing one. I don't condone any crime against children, but it looks like the very worst among us get away with murder and are exempt from having to redeem themselves simply because they're murderers.
I guess she has one redeeming quality: by herself, Adrienne shows how backwards this system is. She's the alpha and omega of correctional corruption.
* Names have been changed to protect the innocent – as well as the author when "Adrienne" gets out.
THREE IDEAS IN JUSTICE REFORM FROM MARCH 6 – 12, 2017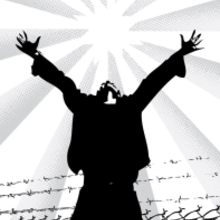 Clean slates come too late. At least 166 men and women were exonerated in 2016, six more than in 2015, which also was a record year, announced the National Registry of Exonerations on Wednesday. There were more exonerations than ever before in cases involving guilty pleas, or misconduct by government officials, or where no crimes occurred at all. And most of the defendants were black.
We have a two-tiered justice system. The Los Angeles Times and The Marshall Project teamed up in investigating the "pay-to-stay" jail system in Southern California. Wealthier inmates can pay for upgrades into cleaner facilities with more amenities, or, well, just amenities. The reporters found "more than 160 participants who had been convicted of serious crimes including assault, robbery, domestic violence, battery, sexual assault, sexual abuse of children and possession of child pornography" were in the VIP section of SoCal jails. The payers include "a hip-hop choreographer who had sex with an underage girl and described his stint in jail as "a retreat;" a former Los Angeles police officer who stalked and threatened his ex-wife; and a college student who stabbed a man in the abdomen during a street scuffle. The highest bill — $72,050 — belonged to a man responsible for a drunken freeway crash that killed one of his passengers and left another injured."
Everything old is new again. A bipartisan coalition of senators introduced a bill to establish a National Criminal Justice Commission – a complete knock-off of one that former U.S. Senator/presidential candidate Jim Webb proposed twice, once eight years ago and once six years ago –  and two of the new bill's sponsors [Sen. Thad Cochran (R-MS) and Sen. John Cornyn (R-TX)] voted on with a "Nay." This just goes to show that the more you understand this system, the more you realize change is necessary. People come around over time.
Oh yeah, and "Gary from Chicago" got a "hisself" a publicist.