8:46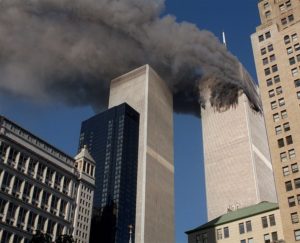 At 8:46 AM, the minute the first plane hit the North Tower of the World Trade Center on September 11, 2001, York CI holds a moment of silence, a minute to honor people who died on this day. I thought the place was unfeeling enough not to conduct a memorial like this at all, much less include the inmates in it, but they do. I suspect it's because the C/O's compare themselves to the brave souls we call "First Responders" and feel some comity with them even though denying a confined woman a tampon – or even giving it to her freely – doesn't really compare to running into tons of melting, burning steel that are about to collapse on your head, just so you can free someone else who's been imprisoned by it.
If I haven't heard the 8:46 AM announcement on the overhead in, then I hear it from the kitchen supervisors' belts; their radios announce when it's time to pay our respects. The control room transmits the request for one minute where
no
one
talks.
And the 1000+ women here haven't been able to pull it off once. Ever since I've arrived, the 60 seconds of silence gets hijacked and driven into some foolishness.
2008:   "Yo, the TV gotta be off for it to be silent?"
2009:   "I don't give a fuck about no planes. I'm gettin' my shit [commissary]."
2010:   "Is medical [building] open?"
The ten-year anniversary should be different, I thought. Advance notices that this shut-the-hell-up moment was coming, I decided, might minimize the interruptions. Because prison is noisy, silence might be jarring for some women in here if they don't understand why the human sound that surrounds them the other 525,599 minutes of the year has vacated the space around them. Especially if they're PTSD'd out, any change in the atmosphere might trigger their hyper-vigilance, panicking them, causing the careless decision to open their mouths at an inopportune time.
"Okay, listen, listen up. It's the 10th anniversary of 9/11 this year, remember? And we do a moment of silence at 8:46 to honor the people that died. So, around that time, let's pay attention to our surroundings and, if everyone's being quiet and not talking, then let's not say a word until we know that moment is over, right?" I announced to the other food prep workers. The kitchen's been under renovation for months and we were just sitting around.
Amongst the vacant stares and less than diligent nods came:
"Somebody always fucks that shit up."
"I know, but I think it's because they forget that it's coming if they haven't heard the announcement. So I'm announcing it now, ahead of time, so that people remember: don't interrupt the silence."
And I interrupted their conversations three more times with reminders.
"Remember: no talking."
And when the minute-hand lapped the stubby hour-hand and stretched straight out to the "9" on the clock, I prepped people again with a one-minute notice, until that thin sliver of a second- hand did its round.
Then I held one hand to my lips and the other up in the air like I was asking for help, which I was. Please show me you can do this.
And it worked for about 25 seconds until Tracey, the "new" lady who's been here twenty times, came in from the hallway.
"What's going on?"
When fifteen sets of glaring eyes set upon her, she realized.
"Oh, it's that thing she was talkin' about?"
This, for me, wasn't about the tragedy of 9/11 or the fact that people perished for no reason other than criminal masterminds, full of rage, beat the United States aviation system at its own game. It was about our potential. It's really no wonder we can't get any respect. We're incapable of honoring anyone's valid instruction, memory or humanity. This realization telegraphed itself from my pursed lips and rotating head. But I still never said shit.
"You tried," [Kitchen Supervisor] Bengals said, reading my disgust, only after we'd firmly hit 8:47.
"If they can't shut their traps for one minute, when they get multiple advance warnings from a pain-in-the-ass like myself, how likely do you think it is that they're going to have the willpower to stop using drugs, not beat the piss out of someone or just generally rise to the challenges of being a good citizen?"
"It's not likely at all," he conceded.  "But you already knew that."
THREE IDEAS IN CRIMINAL JUSTICE FROM SEPTEMBER 4 – 10, 2017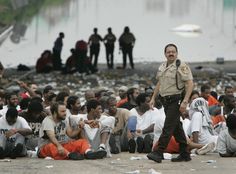 Prisons and hurricanes are a bad combo. Check back next week for a diary entry on what it was like to be in prison during Hurricane Sandy in 2012. But the storms are upon us now, causing some serious problems.
The New Yorker ran a pretty interesting piece about inmates in Texas during Hurricane Harvey, using the inmates' own words. Note that prison locks don't work when the power is out and people were excited to have Port-A-Potty's delivered…so they could eat again.
Grady Judd, the sheriff of Polk County, Florida, threatened to take into custody anyone with an outstanding arrest warrant who sought shelter from Hurricane Irma's path. Most of the warrants in the county east of Tampa stem from unpaid traffic tickets and other low-level offenses and the people who would be pulled in on them posed no danger for anyone in the hurricane shelters. Given the fact that state and local authorities are at a loss of how to evacuate all the prisoners who need to be moved, I think it's safe to say that Sheriff Judd is less concerned about public safety than he should be. Taking someone into custody when you may not be able to guarantee their safety isn't a decision to be taken lightly.
Seven thousand prisoners in Florida had to be relocated in buses and vans from unsafe facilities that likely couldn't withstand Hurricane Irma's forces. The Connecticut DOC can barely handle transporting about 100  prisoners per day, and only to court and back to confinement. I can't imagine what it is like for the Florida inmates going through this. They have to be shackled and cuffed and ride in vehicles with no shocks, probably for hours, only to arrive at a place that will, necessarily, be overcrowded with little space for them to sleep. If I had the choice between prisoner transport or having my roof  blown off, I might just stay put. Seriously.
And, even though it's an older piece, it's worth reading Alex Chemerinksy's article on how Louisiana lost 6,000 prisoners from the Orleans Parish Prison during Hurricane Katrina.