Impatient Warning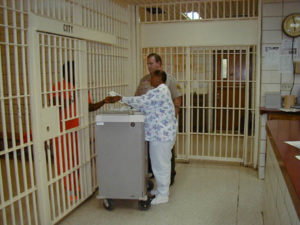 ADVANCE ONE STEP
"Rachel* had a miscarriage, you know," my cellmate said from behind me in line. Rachel, one 25 year-old woman on my floor, was lined up behind my cellie. Two months into her pregnancy, a fetus emptied itself out of her and into an industrial-flush toilet without Rachel's ever seeing a physician.
I'm not sure exactly what she paid for two other inmates' Haldol and Thorazine pills to keep her knocked out all day so insanity-making idleness couldn't reach her. Whatever the price, Rachel got more than she bartered for after bingeing on anti-psychotics at abortifacient doses. At first blood, she asked to go to the medical unit where nurses told her that the doctor was out and was the only person who knew how to use the ultrasound machine. So they let her bleed. To quell her rising anxiety, Rachel took more Haldol and Thorazine, spotted tablets, tye-dyed by another woman's saliva.
This upsets the usual paradigm of correctness in corrections, namely that the state is always right and the prisoner is always wrong. Unless you ask one of us, in which case, we are always right and the oppressor is wrong. The seesaw evened out on this one, though. Here, the nurses and Rachel all contributed to her misfortune of having to wait for large doses of Motrin to deal with her pain and continued bleeding.
"What should I do?" she asked Terry.
ADVANCE ONE STEP
"When you get out, get a lawyer and sue these motherfuckers! They let your baby die! Whadya think, Bunkie? She's got a good case, right?"
"I don't know. Maybe one of those pro-life groups will help you," I said, looking straight ahead. We're not supposed to talk in line.
"I didn't get a fuckin' abortion!" Rachel cried.
"Yo! Quiet in the common area!" a C/O shouted.
"No, you had a miscarriage, a spontaneous abortion. You're thinking of induced abortions. Pro-lifers don't like either one," I explained quietly, still looking straight ahead like I was talking to an imaginary person.  "The enemy of my enemy is my friend."
ADVANCE ONE STEP
I feel sorry for Rachel but, quite frankly, not that much. It might be that I've been here for five and a half years, watching heartache on repeat.  Or maybe I've refined my understanding of cause and effect in the House of Consequence. Should they have transported a pregnant, bleeding woman outside of the prison for a full exam? Of course. Is it their fault this woman took another person's psych meds while pregnant? That's on Rachel. Actually, on second thought, that's their fault too, because they run Med-line, where the pills that probably caused this event were spirited away and sold to Rachel.
One of the worst parts of needing medical attention and/or medication in prison is Med-line. In the morning and at night, a guard escorts two nurses (their names are 'A through L' and 'M through Z') to each housing unit to dispense all pills that could somehow be abused. All psych meds, anything that can be stockpiled sufficiently for suicide attempts, gets dropped into the palms of the begging inmate who then swallows it and opens widely for a mouth check. Of all the degrading aspects of prison life, this has to come in, at least, in my top three. I'm getting over shitting as a spectator sport, bleeding all over my hirsute self, negotiating for a maxi-pad like its NAFTA, but this: lining up to be infantilized, like it's something worth waiting for, is one of the biggest tortures for me. I'd do two weeks in seg in exchange for the chance to be trusted with my own healthcare. 
ADVANCE ONE STEP
When I first got here, 'A through L' went all Johnnie Cochran and told me:
"I peek so you can't cheek." 
They used to make me bob my head in all different directions to do these mouth checks.
"Head back!"
"Lift your tongue!
"Bow forward!"
ADVANCE ONE STEP
One even gloved up felt up the insides of my cheeks, mouth-fisted me like we were in some kind of German porno.
But they're obviously not doing that to everyone if Rachel was able to put herself in such a fix that she's just spent the rec period curled up on the floor, hugging her knees, and crying about her child, one who will never be.
Allowing this woman to take someone else's Med-line pills and inadvertently erasing her child while no one in the medical unit rushed her to a local hospital for an ultrasound pointed out who was wrong. The nurses who failed to secure a timely sonogram are the same stiffs who're monitoring me like I'm a medication magician but seem not to catch on when other Med-line diversionary tactics unfold – inmates pretending to drop pills, feigning choking, jumping down the nurses' throats with insipid questions like the woman in front of me who's asking:
"Is this pill pink or peach?" as she puts it up to the nurse's face as she hides another pill under her finger around her water cup. The nurse knows the deal; the inmate's hiding something but she plays along as if the color of the pill matters. It's not like the inmate would even know if she's getting the wrong med.
From my place in the Med-line, I can see that inmates are not always the ones in error. In fact, it's not a case of prisoners being right or the staff being right, black and white.  As backwards as it sounds, prisoners and staff work together very well to be wrong. Our hijinks – like trying to get high off pills that were in someone else's mouth, prescribed for them – work in tandem to cover up and augment the incompetence and neglect in this place. We know victimization so well that we take it over and do it to ourselves. And they let us. 
When it's my chance to present myself to "A though L' like an imbecile, I step forward and announce woodenly to both the nurse and the cheeky inmate as she steps away with some sedating drug under her forefinger, about to be placed on the prison black market so it can ruin another life:
"You're both dead wrong."
*Names have been changed
THREE IDEAS IN CRIMINAL JUSTICE FROM MAY 1 – 7, 2017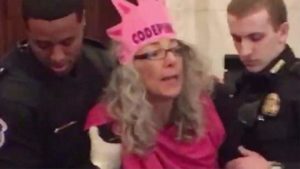 CODEPINK activist Desiree Fairooz, a woman who laughed during a Senate hearing to confirm Jeff Sessions as Attorney General and then caused a scene as she was being escorted out, was convicted by a jury on Wednesday of "disorderly or disruptive conduct."  Unlike many media reports that say she may go to jail for laughing, the foreperson of the jury was very clear that Fairooz wasn't convicted of laughing, but for her conduct when Capitol Police tried to remove her from the hearing room. According to jurors, the way the law is written means "there's almost no way that you can find them not guilty." Lesson here: use your Fifth Amendment right not to speak around police at all. Even die-hard justice reformers talk to police, argue with them, ask why they're being arrested. But, as you can see, even that can be a crime under our country's ever-loosening laws. Fairooz's crime was asking: "Why am I being taken out of here?" and then saying: "I was going to be quiet, and now you're going to have me arrested? For what?"  If she hadn't said anything she would never have been tried, much less convicted. I know she has a right to question why she's being taken into custody, but in an era when police don't follow procedure and respect rights, maybe it's wise to fall back on the Fifth. Jail time is unlikely for this woman but still, take notes on this one: SAY NOTHING TO COPS.
The decision was rendered earlier, but it hit the news this week. Even though a defense lawyer was seven minutes late for trial after a court-imposed lunch break and the trial court started without him, the 11th U.S. Circuit Court of Appeals held that the defendant, a man named Alexander Roy, was not deprived of assistance of counsel.  In the United States, a court can try you if your lawyer is in the bathroom, passed out drunk or just running late and you will get no relief from an appellate court because of our "harmless error" doctrine, which basically admits that a defendant's rights were violated but says that, because the person is so guilty, it doesn't matter. The problem with the harmless error doctrine is that it forgets that everyone in the middle of a trial is innocent so any violation of rights, in theory, can harm them. By law, a defendant being tried can't be guilty but we always think they are.  Roy was being tried for possession of child pornography so people will say that he's not the most sympathetic case to make this point. That attitude shows how much we presume guilt in our defendants. That's what he was accused of doing. And what if he didn't do it?
The Sentencing Project released a study this week showing that a record 206,268 American prisoners are serving the equivalent of a life sentence. That's almost 10 percent of all incarcerated people. And approximately 17,000 of them are serving those sentences for nonviolent crimes. Chew on that for the next 1400+ days of the Trump presidency.
And, because we're talking about drugs here, note that anti-drug Trump cut the funding for the Office of Drug Control Policy by 95%. That's the office that's in charge of trafficked drugs, i.e. ones that cross the borders illegally.