Bipolar Is Bullshit, Part 1 of 2

It should just come with the mug shot and fingerprints.
Most people in prison with me have "treatment resistant bipolar disorder" noted somewhere in their medical records, meaning we had been diagnosed with the disease but medication (allegedly) never kept our behavior in check. It's safe to say that we all have it, at least in name.
And it's bullshit.
Bipolar disorder is over diagnosed at ridiculous rates. A study from the University of Texas Center of Excellence on Mood Disorders (a name that sounds like it was created by a classically manic person – we certainly don't need any centers of mediocrity dedicated to this, do we?) reports that rates of bipolar disorder overdiagnosis range from 4.8 to 67 percent, a range of over 62 percentage points. The Depression and Bipolar Support Awareness organization estimates that 6 million people have bipolar disorder – that would mean that over 4 million people have been misdiagnosed. If cancer or diabetes were over-diagnosed over two thirds of the time, public outcry would deafen doctors. But this rate of over-diagnosis is permissible in mental illness because bipolar disorder is a convenient stand-in for what we don't want to be aware of, namely trauma in someone's background.
Where bipolar disorder is over-diagnosed, post-traumatic stress disorder (PTSD) is under-diagnosed.   PTSD underdiagnosis is estimated to be as high as 40% which should be expected. One of the first studies targeting this problem with PTSD  found that patients who were under-diagnosed tended to be lower-functioning, less educated and younger than the people properly diagnosed. Criminal courtrooms and jails give you the most bang for your buck when you're looking for people who can't express themselves properly and explaining your past is what gets you a valid PTSD diagnosis. Shit, mistakes are practically guaranteed in here.
They're not necessarily made out of malice. At least initially, bipolar disorder and PTSD can mimic each other. Each disease drags depression with it. Post-traumatic hypervigilance can look just like hypomania. Both illnesses disturb sleep. Confusing them is easy.
Where psychiatrists get away with misdiagnosis murder is when medication fails to treat their diagnoses.  Real disease often responds to medication; relief arrives quickly to someone who's truly ill.
Doctors don't always look for alternate causes of irrational behavior in patients who are taking medication; instead they downshift into a psychiatric default and deem the bipolar patient "treatment resistant" which translates, as a practical matter, to "intractable" and "dangerous"  which is really unfair since there's no single definition of treatment resistance. It's not a clinical phenomenon; it's made up. The lack of standards for treatment resistance proves that psychiatrists can't believe they would ever misdiagnose a patient; the patient just can't heal herself of the illness they happened to pick for her. Are a diabetic person's insulin levels "treatment resistant" to chemotherapy? No, because it is the wrong medication for the disorder. I'm "treatment resistant" to sickle cell anemia medications. Want to know why? I don't have sickle cell anemia.
The inaccuracy in modern mental health treatment allows psychiatrists to be trigger happy. Because the connection between childhood trauma and adulthood crime has been proven so many times it's practically drawn with a black Sharpie, it's essential that a treatment provider inquire into the history of an allegedly bipolar patient who's in criminal trouble. Most doctors don't, but when they do, psychiatrists co-opt the language of PTSD and call traumatic events "triggers" for bipolar disorder. Scientifically, this doesn't make sense. External events can't cause organic brain disease that, according to the shrinks themselves, is often genetically generated. That's like saying a car accident triggered Lyme Disease. Nature doesn't work like that.
Understandably, mental health providers don't want to look beyond bipolar disorder to discern if their patients are suffering from PTSD. If doctors were to probe their patients' pasts, they would unearth some gruesome stories. They would find a woman who was raped by her uncle with a hot curling iron as a child. She's here. They would discover a man who lost four fingers at age three because his mother's whose alcoholism was so severe that she was not aware he was playing with the washing machine or being molested by her best friend from high school. he was in the cell next to me in Milford lock-up.
Psychiatrists would encounter Tom Cahill, an Air Force Veteran who was gang raped, repeatedly, for 24 hours when he was jailed for civil disobedience after protesting the Vietnam War. All three of these people were diagnosed with bipolar disorder even though the fact patterns of their lives – had they been properly explored – practically sent out engraved invitations to PTSD diagnosis.
People complain a lot about the phone companies and commissary giants profiting off mass incarceration but, for me, the biggest pigs at the correctional trough are the pill brokers. Big Pharma makes bank on bipolar disorder medications whether the diagnosis they treat is correct or not. Understandably, Abbott Laboratories, the manufacturer of the leading bipolar disorder medication Depakote, co-sponsors Bipolar Disorder Awareness Day with the National Alliance of the Mentally Ill (NAMI) because the more aware you are of the constellation of symptoms ascribed to bipolar disorder, the more likely you are to look for hope for your pain in a pill – one of Abbott's pills. Between 2001 and 2006, Abbott made $13 billion on Depakote alone, some of it from illegal marketing of the drug as a dementia and schizophrenia medication, uses for which Depakote was unapproved by the Food and Drug Administration. It looks like Abbott was trying to raise awareness of those illnesses, too.
If you went through our charts in the medical building, you'd find bipolar disorder somewhere in every single chart. I would lay odds on it. Bipolar disorder is the biggest red herring going.
And PTSD is the red-headed stepchild.
Read Part 2 of 2 here.
THREE IDEAS IN CRIMINAL JUSTICE REFORM FROM JULY 3 – 9, 2017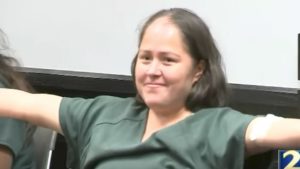 Maybe it's because she's a woman but I'm surprised that the right-wing media hasn't picked up on this story to buttress the Trump administration's 'bad hombre' narrative. Isabel Martinez, a Mexican national and mother of five, is accused of murdering four of her children and their father (a fifth child was injured). When she appeared in court on Friday, she waved and waived her right to counsel, saying that the people and her faith will always be her attorney. "Those are my attorneys, that's why I'm here," she told Gwinnett County Magistrate Judge Michael Thorpe, who replied with unprofessional sarcasm and then didn't order the psychiatric evaluation the whole scene was begging for. This is common with self-representation; defendants with severe disabilities and deficits ask to represent themselves and courts oblige, saying proceeding pro se is a constitutional right. Yet, when a defendant who has a chance at beating the government at trial wants to represent himself or herself, this constitutional right evaporates. I watched it happen myself.
New Jersey Governor Chris Christie has until midnight Monday to sign a bill that would require a "racial impact statement" to be considered whenever a criminal justice law is about to pass the legislature so that they don't extend the disproportionate effect of incarceration on racial minorities. New Jersey would be the fourth state to pass such a statute; it's at the top of the list of states that have decarcerated themselves in earnest, but the racial disparities in that shrinking population are getting worse, which isn't what you'd expect.  The statement probably isn't a bad idea, but it seems almost redundant. Are we not considering the impact other laws will have on communities of color? Wasn't this type of analysis already in place – how laws will affect the taxpayers who foot the bill for them – for every kind of law ? I argued that we also need to consider a  "gender impact statement" for laws. We should have a disability impact statement, too, right? I don't see how this idea is new. It shouldn't be.
The Daily Beast ran an interesting article on why new suspects are rarely charged when wrongful convictions are discovered. The United States has 263 overturned murder convictions but only 16 new suspects have been charged. The defendants who are charged later typically point to the evidence introduced at the first trial and tell the jury: there's your reasonable doubt right there. And they're right.