X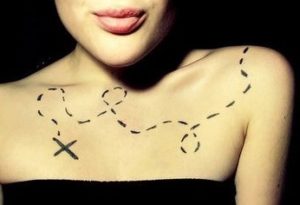 Prison Diaries is trying something new for the rest of January 2017 and the beginning of February 2017. As readers know, every post was written behind bars and reflects daily life in a women's prison. But I wrote something other than essays behind bars: a lengthy short story. Even though it's fictional, I think it's pretty representative of life in a modern women's facility. It's a lie that tells the truth.
I present to you "X".  It's a story that  will be delivered in six parts, one section per week for the next six weeks, so you'll have to return to read the whole thing.  See how prison taught me to manipulate people? Regular diary entries will return after the story.
X
"Some girls kiss and tell, some kiss and don't tell but this one, she misses the kiss but still tells," he angled his head and warned the empty room as he rummaged papers for the magnet.
The recent deposit into the SHU had arrived minutes before, hucking and hiccupping sobs, the ones so deep she exhaled to the bare bottom of her ribcage after each head jerk and hick to prevent herself from hyperventilating.  Operations Captain Rick Ralston had escorted her in himself without guards, lieutenants and cameras as witnesses, a deviation from which was the standard procedure for taking women already in custody into even more custody. The camera memorialized any injuries, attacks or lack of them.
Ralston had rolled solo on this one, such a notable exception that it was easy to identify that morning which prisoner had reported having sexual relations with Murray Caples, technically a senior officer having put in eight years at Hampshire CI. The incident paperwork accompanying any inmate "SHUED" in for allegations of sexual contact with staff reported only "Placed on Administrative Detention Status pending investigation," and never detailed the names of the inquiry's targets.  Unless it was already in the gossip pipeline, the identity of who was in hot water remained unknown.
Usually, all it took for him, Correction Officer II David L. Stamper, to get the news was a little flirtation and a Fruit Coolata for one of the warden's secretaries, Wendy, the one whose front tooth was turned a good 45 degrees and thought that heavy teal eyeliner under the eyes worked anywhere other than a Helmut Lang runway. It wasn't Stamper's good looks that seduced flawed women, but his good luck.
What made Officer Stamper different was that nothing set him apart. The son of a Sicilian butcher whose family sliced off the –elli off of Stamperelli and a Welsh home health aide, one would have expected some dark ethnicity to exude from David Stamper. Rather, he was the archetype of the American standard. Brown, non-descript hair, brown eyes, a body in exact proportion. He had gained a few pounds since he turned 35 but even those were evenly distributed and in keeping with his typicality as a now-starting-to-age white man. Other than that, Stamper lacked the usual targets to ridicule: no bumps on his nose, acne pits, cowlicks, surgical scars, hirsuteness, brown or crooked teeth. In some ways, Stamper was flawless yet his appearance was nothing close to perfect.
Growing up, when the usual adolescent self-consciousness catches otherwise self-possessed children, Stamper felt left out and he never understood why.  The reason for this feeling of isolation was that, unlike his peers', Stamper's confidence never waned.  What should have been a boon to David Stamper ended up being a liability since he never learned how to compensate for any flaw. The fat kid became funny to attract positive attention, the plain girl morphed into a bookworm in pretension that she couldn't care less about looks. Without anything to compensate for, that ambition to inclusion never developed in the only Stamper child. He hadn't the will – or even the need – to make himself anything other than average.
This became a problem for Stamper when he hit his teens because un-special people receive un-special attention. Differentiating himself, if only to get into a girl's pants at a local house party, required something, so Stamper learned to hone in on what he lacked – defects, incapacities, blemishes. He would find another person's Achilles Heel and the commit the interpersonal counterpart of driving a grocery cart into that heel, disabling people as they went about their business and making that assault look like he was simply going about his.
Stamper knew exactly how to make Wendy spill the pill immediately; he would refuse to drag his gaze away from that rotated incisor, making Wendy think that he longed for her lips, for a kiss that would never come. Not that he would ever tell her that; Wendy's lips and twisted chopper always ended any dearth of details for Stamper.  When he saw that hopeful, keep-it-cool-because-he's-going-to-ask-me-out-any-second-even though-he's-married-because- he-likes-me-that-much half-smile he thought to himself Good, now the gore will start to gush.
But Stamper wouldn't need to go to Dunkin' Donuts the next morning.  Inmate Alana Larkin's being brought in by Captain Ralston without his goon squad told the tale by itself: this was the bitch that could take down Caples.
Like Stamper, Caples was married but, in the rest of their existences, they were opposites. While Stamper was the equivalent of a simple gold wedding band, Caples was a chunky rendition of the ring, overdone with tracery, misplaced filigree and failed flourishes of faux jewels. Where Stamper did not know how to compensate, Caples overcompensated. Stamper was lackluster flawlessness and Caples was dazzling disaster. Despite desperate attempts at attractive maleness, Caples would always remain a vision of revulsion: five feet five inches tall and 263 pounds of pure adiposity, clouds of Axe cologne followed him like Peanuts' Pig Pen and his dirt, so much that people around Murray Caples often pulled their shirt collars over their noses to block the waft.
Although of unidentifiable nationality, Caples hair was thick, black, curly and sprouted, it seemed, from every pore, getting caught inside a heavy gold chain with a medallion dotted with red, blue and yellow-colored cubic zirconias, custom-made in the likeness of the Department of Correction seal.  Instead of adopting the traditional high-and-tight crewcut preferred by correctional ranks, Caples improvised his cut by going Kid-n-Play but instead of the sarcastic four inches of afro sported by the rapper, Caples kept a mass of curls that, like its owner, never reached much height. With the gloss of Clinique for Men Moisture Surge cream painted like egg wash over his ruddy facial pudge, he looked like a tomato topped with a toupee, all with a single stud earring in his left ear, one he would borrow from his wife's jewelry box. Once he strutted about the compound with a dangling pearl on his ear. A 27-year-old man who looked 42-ish, Murray Caples was more omega than alpha male.
Like most other people, Stamper never really liked Caples that much. He annoyed almost everyone with the pseudo team ethic he tried to ply with the other guards. When Caples was around, high fives went all around, even for routine chores like searching a cell or taking an inmate to the SHU.
"High five. Let's get'em," he would say to the other guards like they were about to take the field. Stamper always thought that the bunker mentality was fine when it caused guards to protect each other; the 'us versus them' mindset never bothered him as long as the 'u' and the 's' in 'us' never got too close. A lot of the other guards viewed the corps of officers as a family especially after the son of a guard at a nearby men's prison was killed, shot execution style in the head at the highway exit that led to Hampshire. No one at Hampshire knew the guard, much less his son, but they acted like their own nephew had been killed, that he was lower-case 'f' family. And Hampshire's corps of officers was a family, a trunk and limbs of complete artifice, people with low self-esteem like leaves, feeling like they belonged until shorn from the taproot of state employment.
Stamper had to admit that, as much as Caples and his rah-rah bullshit irked him, he had his back that one November night before real video surveillance coated the prison compound.  In the rawness of mid-evening in mid-autumn, Stamper had led inmate Deja Dyson into the facility's greenhouse, pulled her elastic waist jeans over that sprinter's ass of hers – glutes built not from any Track and Field event but from evading the city of New Windsor's 5-0 – pushed her nappy neck down and thrust inside her several times. Dyson had been laid down – by the courts – about nine months before, not enough time to stiffen the Kegel's and just enough time to contract them to perfect pressure.  All it took was three Marlboro's, a king-size Kit Kat and the last half of Stamper's Pepsi Big Gulp to reel Dyson in.
That night, he knew she came, maybe even twice, because he noticed her breathing changed and sweat dewed the skin of her back as she wiggled her elastic waist back over her Flo-Jo ass. Deja made no noise but inmates experienced in the art of staff seduction knew that cries of passion always attracted brass. "Instead, they just bite their lips as their clits explode," his partner told him during his orientation as a guard years before.  Most of the time, orgasm was an unintended benefit for inmates and Dyson knew that. Stamper knew that she would never tell.
But that sprinter's ass proved inimical. Her glutes were so taught that when Stamper's key ring bumped against it with each grimacing push towards his own orgasm, the key ring opened. The Okay's Key Safe belt-loop key holders the guards wore were designed like carabineers; they required someone to press down to open the clasp so that no one could just grab a prison guard's keys and make off with them.
Deja Dyson's maximal gluteus had knocked the clasp open and pushed the key ring up.  Stamper's key's fell to the lawn-covered greenhouse floor; the protection of the greenhouse kept the grass green, springy even when the ground froze and the drop of his keys was a minor touch, rather than the metallic crash to a sidewalk that prompted guards to look behind them when they heard it.  Stamper never noticed that he dropped his keys until Caples sauntered up to him.
"Lose something?" Caples smirked.
"No," Stamper answered assuredly until he felt his right waist. Unit keys – check. Van keys – check.  Storage keys- where the fuck are my keys?  He panicked despite the fact that his keys hung off of Caples' bulbous fingers in front of him. It should have been good news, but, in a prison, what once was lost but now is found can still cause a well of problems.
Losing keys in a prison is like leaving a loaded gun on a kindergarten playground. Prisoners use them to escape, to lock up the guards.  They hold the round ring in their palms and thread the pointed key ends between their fingers to make barbed fists that they can swing with a little more oomph at the state's wards or at the state's employees. Looking for a lost key in a prison is like looking for a match in a tinderbox – any move you make to find it sets the whole fucking place ablaze. Stamper's not having to report his lost keys was a godsend.
"Jesus.  I didn't even know I lost 'em. Thanks. Where the fuck were they?"
"Greenhouse," piped Caples.
"Oh yeah… I… toured through there on my break… no one's ever in there… make sure everything's OK…" he trailed off.
"Stamp…" Caples nodded his chin at him. "Her pussy tight?
Half of being a correction officer is managing facial expressions. Prisoners catch every flinch, every fuck up, every eye movement.  They're cagey, super-sensitive to these cues so that they get away with things.  A wide-eyed look of surprise telegraphs to the inmates that they have gone beyond the expected, that the guard's guard was down.  Smugness of satisfaction indicates that the guard is ripe for requests for the forbidden.  "Just give me one piece…" the girls ask an officer whose son just won the Class M soccer finals when they see him eating microwave popcorn or a guard who just came from his divorce lawyer's office after receiving news that he had not worked long enough in the prison to have to hand over half of his pension in alimony to the woman who dumped him for an accountant. But inmates never see fear on officers' faces. They don't need to; that, they can smell.
After eighteen years on the job, Stamper learned how to trample the incoming soldiers of surprise and his face remained barren of any emotion at Caples' perversion.  At first he said nothing but squinted his eyes in puzzlement and cocked his head in that Am I supposed to understand this? pose.  Caples just leveled his gaze at him.
"Is what… I mean… what?" Stamper asked.
"No b.s. brother."
"What? Me… that I? No. Hell no. I don't get near those tuna farms. No fucking way."
With that Caples withdrew his smartphone as if he were in a commercial, the screen posed perpendicular to his torso.  A swipe on the screen revealed a video of Stamper's genital collision with Deja Dyson that Caples had filmed from the greenhouse window. Stamper had assumed that the windows were too dirty and fogged for anyone to see through, much less engage in cinematography….
Click here for the next installment…
THREE IDEAS IN CRIMINAL JUSTICE FROM JANUARY 9 – 15, 2017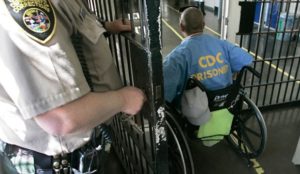 Prison are sending inmates with physical disabilities — including those who are deaf, blind or quadriplegic — to solitary confinement instead of providing them with the care they are entitled to under the Constitution and federal law according to a new ACLU report.  Sometimes they isolate disabled prisoners to save them from other inmates. Other times just to put them out of sight. Maybe it's just because there's no set procedure with how to deal with them…because many of them shouldn't have been sentenced to incarceration anyway. How bad does a transgression have to be for a judge to sentence you to being a sitting duck among potentially violent people and little access to protection from law enforcement?
Why were black Americans (especially in South Carolina) against the death penalty that was imposed upon Charleston church shooter Dylann Roof this week? It's a rejection of retributive justice, according to this oped by Ellis Cose.
With the inauguration of President-elect Donald J. Trump coming at the end of the week, are we headed to an era of "dehumanizing repression"? Decide for yourself here.