Ex Libris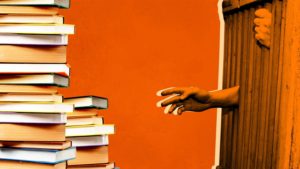 USES FOR BOOKS IN PRISON AND THEIR FREQUENCIES
DOORSTOP –  45% of the time
Stuffing a book in an open door's corner won't just prevent it from slamming shut (a book between the door and the jamb can do that), it'll keep it wide open. Mostly used during cell-cleaning sessions. Far and away the most common use for a book in here.
WEAPON –  2% of the time
Smack someone upside the face. Witnessed a bopping with a book once. Over the head.
ART/STATIONERY SUPPLIES – 5% of the time
Rip out the pages for origami, notepaper. When request forms run out and the staff tells us that we need to fill out a request form to request a request form, someone tears a sheet out of whatever book's nearby and makes do. Then I yell: "Hey, that's literature!"
FILING CABINET – 1% of the time
One cellmate filed her prison documents and legal papers, like with like, by stacking all of one kind in each chapter. Ingenious.
TRAY – 4% of the time
When someone prepares a commissary meal for multiple people and wants to distribute the bowls of rice and ramen (no plates in here, just bowls or trays), she utilizes the large expanse of an atlas to pass them out.
MEDICAL TREATMENT (BACK SUPPORT/COUGH SUPPRESSANT) – 6% of the time
Stack them under your mattress to raise your head. I did it when I couldn't stop hacking from bronchitis and it wasn't enough of a medical treatment to fall asleep with a cough drop between my lip and my teeth like I usually did when I was coughing at night.
WINDOW SHADES – 3% of the time
Stack 'em higher if you got 'em higher. Women pile up their books in their window to block the angle of the rising sun.
SPORTS EQUIPMENT – 1% of the time
They just kick the tomes back and forth like a flat soccer game. Sometimes they swat paperbacks at a scrunched-up paper ball like a badminton cock.
EYEBROW GROOMER – 3% of the time
Old hardcover books and some paperbacks were bound with string. They pull out one and thread their eyebrows. Never fails to infect their faces.
READING MATERIAL – 30% of the time
Well, okay, if you want to get creative about it.
THREE IDEAS IN JUSTICE REFORM FROM JANUARY 15-21, 2018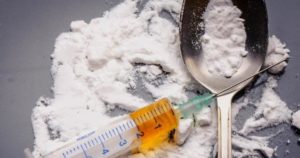 The "widespread rejection of proven addiction medications is the single biggest obstacle to ending the overdose epidemic" according to Maia Szalavitz, proponent of treating addictions as learning disorders, in an op-ed in The New York Times. Read it here. Not that addiction medications will matter much to the Trump Administration's "Only the Best" Office of National Drug Control Policy, which is a rudderless ship since the 24-year-old who was tapped as deputy chief of staff was booted when it was discovered he just didn't show up for his last job. Read about that here.
At least 30 states allow formerly incarcerated people to come back and be employed in prison (usually not the one in which they served their time). It's not a bad idea. The Daily Beast and The Marshall Project reported on this last week, here.
A record number of inmates died in Florida prisons last year, more than one per day. And they died younger than past years, which means wardens can't blame this on old age. Read about it here.