The Cards You're Dealt

I could tell she was trying to ear-hustle my phone call and knew I was about to hang up. S.T. had been eyeing me for the second half of the call.
"I'm broke and I'm hungry," she announced as she slapped down her last card and got up from the four-man table. Her Three-Five-Nine game was over. Her opponents remained seated, reading the backs of their cards.
Everyone played cards at York. The Department of Correction had printed and distributed decks of cards to all inmates at no cost; the back of each card displayed the picture of a murder victim in an unsolved case along with the phone number of a toll-free tip line that inmates could use to drop a dime even if we didn't have a penny.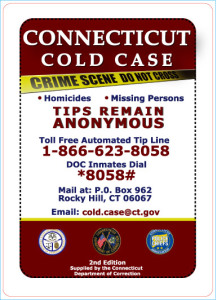 Prison does more than just punish crime; it can solve it.  I would advise anyone who wants to crack a case to stop going to cops and hitting 'em where they ain't; interview inmates instead.  Prisons contain a bevy of witnesses.  Most people who engage in serious criminal activity rarely run with a mainstream, law-abiding crowd; they hang with others doing the same dirt. That's why RICO was born.
Inmates were always wondering if someone was tipping off the "poe-lice" when she used the phones, puncturing the balloon of criminal intelligence and letting out all the solutions inside. S.T. spied me finally hang up the phone and head to my cell door. I knew something was about to go down so I hurried. But it still went down.
"Do you have a soup?" – a 25¢ Ramen noodle and powder broth combination that costs sedentary inmates 400 calories of their daily energy expenditure.  I avoided the soups because the expanding sizes of other inmates' behinds showed them clearly in the red and owing these soups for their ample asses. I also avoided the inmates who wanted them. My prison patience with inmate eating patterns had already grown slim.
"Sure," I said and handed it to her with no other conversation. I did not know her name, didn't want to.
"I'm S.T.," she offered.
"Yeah, nice to meet you.  I'm Chandra." I muttered without even turning to her as I closed my cell door behind me.
"I know.  I know your case with Webster Bank."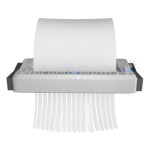 I shot at the door's handle to keep it from locking. She must have seen the newspaper coverage, I thought until I remembered that the Webster Bank arrest never made the papers.  Then panic flashed down my intestines as I thought I might have left my file in the inmates' TV area until relief reminded me that a lesbian-looking lieutenant fed my incoming file on Webster Bank to a shredder in the lieutenants' office (those jokers put on the shredder a label that read "Fax Machine to Wethersfield" – the location of Department of Correction headquarters – so unsuspecting new hires would shred what they meant to send).  She ground all the paperwork into wavy ribbons of justice denied; the file contained photos of the woman who ripped me off and somehow left me charged.
"We can't let you have this because it's photos associated with criminal behavior," the lieutenant told me.  She said it didn't matter than it was legal materials.  I didn't know that this rule never existed until captains handed me the deck of cards with victims' photos on them.
S.T. never found my file and read it on the low because I never had the file with me inside the prison. She knew about my case because she conspired in it. She was the wheel, she drove the perp woman in the photo to the bank to pick up bank customers' account information from one of the bank's employees who was selling it and setting her up for the eventual transactions.  He, as the bank,  made it easy for S.T. and her accomplice to steal.
"Her name's D.M.  She did you…" S.T. told me, meaning that D.M. had perpetrated the fraud for which I had been arrested.  The details that rolled off S.T.'s tongue showed up any suspicion that she might be a bullshitter.  S.T. was real. I needed her and she knew it.
"Need anything else?  How about some iced tea?" I inquired of S.T., trying to hide my smile.  My patience had returned because I didn't have to shuffle vindication fantasies anymore. I has just been dealt a straight flush: the name of the bitch who did me.
The way D.M. did me went like this. Flashback to a Christmas season, when I attempted to use my Webster Bank debit card to buy a Gatorade, Twizzlers and candy canes at CVS Pharmacy.  The card-slider thing on the customer's side of the cashier's counter kept reading "DECLINED" in its little green-blue dot matrix letters even though the purchase totaled slightly over six dollars.
I threw cash on the counter and ran outside to call Webster Bank's toll-free customer service line to hear an automated woman announce that my checking account was overdrawn, holding a balance of "negative seventeen thousand, two hundred fifty one dollars and forty-seven cents.  To speak with a customer service representative, please press Zero now."  I pressed "Zero" so hard and so often, I thought I would push the button straight through the phone.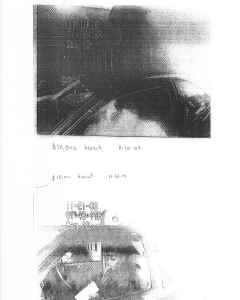 The Zero Lady serviced this customer by informing me that, within eleven days in November, someone had deposited $20,000.00 of fraudulent checks into my account and spent it, even conning someone in the Zero Lady's office to increase the single purchase limit from $2K to $3,500 on the cloned debit card the thief was using; she needed the limit raised to drain the account fast.  It was Christmas and all legitimate funds in the account were gone.  I felt like Donner and Blitzen ran over my lungs with what this vixen had done.
I sped over to my hometown bank branch and completed fraud paperwork with the manager who told me that the bank would contact me soon.  When I heard nothing from these moneychangers, I called the Zero Lady and she referred me to New Haven Police who casually mentioned a warrant for my arrest, charging me with two counts of forgery and one count of larceny in the first degree.
"Who the hell is she?" I asked each attorney when the prosecutor provided two photos of the alleged me – a black woman – negotiating the stolen checks on my account.  None of them knew who she was or cared to find out. Right after my attorney and I got the the perp's photos in discovery, Webster Bank mailed my welcome package: my new account number and starter checks.  "Thank you for your patience with us during the time you were the victim of identity theft," the letter read.
"What the hell is wrong with these people?" I asked my each attorney. None of them knew or cared to find out. The case had been pending for five years when I met S.T.   Flashback over.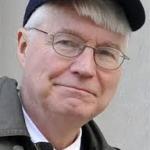 "Mouth, listen. I know who the black woman in the picture is," I reported to my attorney over the phone in an elevated whisper. She moved to dismiss the charges, not because the photo wasn't me but on the grounds that the case was too old and violated my rights to a speedy trial because it had collected dust in the prosecutor's office for five years. Identifying the woman in the picture should have held off a trial for me on the charges. Instead, it cheered the trial on. At the hearing on dismissing the case, Judge Jon C. Blue announced:  "You want a trial quickly; you will get it.  We start picking a jury tomorrow. Adjourned," he said, banging his gavel.  A new, higher-stakes game had begun.
Scrambling in preparation for a trial she thought would never happen, Attorney Mouth collected D.M.'s probation photo – she had been convicted of criminal impersonation and larceny – and it matched Webster Bank's photos of the African-American woman.  The bank still swore she was me, a theory seconded by the prosecutor – Webster Bank's dildo, because he was bald, long and the bank was using him to screw me.  The dildo actually had the balls to suggest that the photos were me, just wearing "black-face makeup and a prosthetic nose."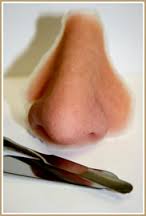 The trial ended with a hung jury but not after Webster Bank's attorney flung himself around the courthouse doing whatever he could, saying whatever he thought would work to keep S.T., D.M. and Webster Bank's manager off the witness stand.  The jury should have acquitted me but neither the African-American woman's identity nor S.T.'s testimony was ever presented to them. None of them knew or cared to find out. Even though inmates had essentially solved this crime in prison, the solution was never leaked, no one ever connected the truth from the inside to the outside world through toll-free call or testimony.
The statute of limitations left S.T. and D.M. and the bank employee beyond its reach; none of them were ever arrested for, much less convicted of, many of these identity-theft doings. Still, solving crime in prison appears to be in the cards for us because the Department of Correction printed another deck for distribution with the word "solved" stamped across several murder victims' faces. Someone's story escaped to the proper ears even if my Webster Bank case was never completely solved. My story is so American-justice, though: I never could have attempted to solve one case if I hadn't been jailed for another.
When I watch inmates' hands playing cards, slapping down those state-issued, cold-case cards with their questions that remain,  I know that mine were at least answered even if they were never avenged. That's the hand I was dealt.