No Chaser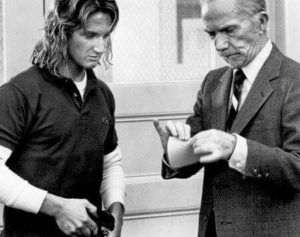 No other inmate believes me when I tell her I've never smoked a cigarette or pot. They all accuse me of trying too hard to appear pure.
"I think the fact that I'm telling you this in a maximum-security prison makes a Snow White schtick a little difficult for me," I defended myself. I use so many words that I sound like Mr. Hand talking to a Spicoli.
It's not like the potheads here are badasses. In a Connecticut criminal courtroom, the word "marijuana" couldn't be uttered without the phrase "low-level" accompanying it in the sentence so it's been decriminalized. I haven't, but weed has been freed.
I may be the only person who favors prison reform yet hates any type of permissive attitude towards pot.  I can't deal with stoners. Talk to a daily smoker and tell me that they haven't dumbed down. While it is true that there's scant evidence of marijuana-induced violence, I live in a vat of anecdotal evidence that potheads are screw-ups and lumps.
To me,  even in their resting states, they're as craven as heroin addicts but very few people will recognize that, especially since everyone in here treats pot like it's Diet Coke, simply because it's not crack. Many of them have sworn off harder drugs, at least in word if not in deed, but still fantasize about rolling a blunt the day they leave prison. They don't dream of reuniting with their kids, reconciling with victims, or even walking down a street as a free person. Fatties are all they want.
When your top thought is how you can chemically alter your interface with reality, you're an addict. Does it really matter that scientists say you can't be physically addicted to pot? I see women who are psychologically addicted to getting high. Several of them have been inside for several years. Now with reform underway, they'll emerge to a society that will make it easier for them to find this chemical release. In fact, the most common question I hear is "Can you help me get a medical marijuana card so I won't violate probation when I get out?" Even if possessing it is legal now, smoking it can get them packed back into prison if they are under supervision that requires drug-testing.
I support what the Connecticut General Assembly just did to marijuana for one reason only: decriminalization will unclog the courts. Most people don't realize that it's not just lazy lawyers or pompous prosecutors or cuckoo cops; the size of our criminal justice system contributes to wrongful convictions. Any system manned by human beings has a margin of error. When that system grows larger, the percentage of errors may not necessarily increase but the number of errors does. The fewer criminal cases we have crowding our dockets, the less likely people are to be confined for something that they didn't do. I don't support legalization because I want everyone lighting up.
I'm the adult child of an alcoholic. As a kid, I never understood why my parents needed to alter their realities. A child can't understand why temperaments change; they always blame themselves for what appears to be a parent's unhappiness. When you're the child of an alcoholic, booze can ruin your life even when you never touch a drop.
From watching my parents suffer from substances, I learned to like my dysphoria straight up. And I think everyone else should take it that way, too. At least if they want their lives to get better.
Almost every other woman I've encountered has a history of substance abuse so the mostly-discredited claim of  'marijuana's a gateway drug' actually works in here. So many of them are turnstiles already; they've used and been used in every way possible and their gateways are several thousand miles behind them. There's no drug user in this prison who skipped an intoxicant grade. If they've used drugs – heroin to dust to an excess of Merlot –  then they've smoked pot.   All that anyone needs to know about disenfranchised women and drugs, legal or not, is that they're a bad combination.
Don't even attempt to convince me that potheads are generally content people who just relax with a toke. Anyone who gets high with anything is just trying to hide their unhappiness. No one who's that happy needs to take the edge off their bliss.
No herb, no drink, no smoke can erase emptiness. Even if it's legal, smoking pot won't cure what ails them. After pot, it's just a matter of time before they move to something else. They just won't get arrested before that now. Only after.
Getting stoned will drain their ambition to rise out of the situations they live in and make it easier for inequality to chase them back into oppression. When poverty, a lack of education, and ever-present violence surround you, it's just dumb to get high so you can be "mad chill." No one who's really on these women's sides – like the decriminalization people claim to be – would want them stalled where they are with a dime bag, even if it's outside of prison and can't get them admission. When you chill, you stay where you are. That's the last thing I want for the women here.
Of course, there are brilliant, ambitious people who use pot. Bill Maher, who I love, admits enjoying ganja and he's not leaning on everyone else to get his work done. But for every Bill Maher, there are hundreds of stoned women around me who can't Google what ailments would qualify them for a medical marijuana permit. They have to ask me, Mr. Hand, and can't read my clear disdain for all of this.
I fully acknowledge that I would be a significantly duller pain in the ass if I were a bit more relaxed. I've wondered if pot would make me more socially-lubed and not the mass of high-strung seriousness I've been since the third grade. Just thinking about abandoning my self-imposed duties as monitor and arbiter of all things around me gives me flutters of panic. Who would do what I do? Just the thought of how out-of-control that scene would be scares the shit out of me. Pot's dangerous if it threatens my imaginary presidence over daily life.
I know there's evidence that marijuana has benefits for people's health. I don't doubt these scientific stats and I double my support for any effort to expand access to medical marijuana. If a remedy exists for someone's physical illness and pain, we shouldn't deny them what can make their lives both safe and livable. That's as cruel and stupid as these life-without-parole sentences in federal courts for possessing a pound of the stuff. When it comes to the wacky-tabacky, we can act a little whacked. It's better for you to get caught possessing a dead body, bloody fingers and a DNA match than a 20-pound brick of weed and a plan to sell it. If turning a hundred people into semi-responsive slackers is really worse than slaughtering someone, then everyone who teachers psychology would be doing life.
I think everyone's lives should be safe, livable, and, quite frankly, at least a little bit happy, but not happy because their souls have been marinated or smoked or peppered with herb. I mean happy in the raw, and none of these stoners has ever been anything close to that. That's why they're here.
THREE IDEAS IN CRIMINAL JUSTICE FROM MAY 15 – 21, 2017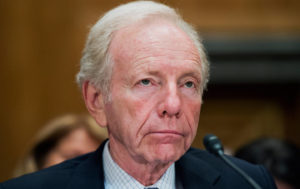 Rumors are that President Trump wants to name former Connecticut senator and Al Gore-running mate Joseph Lieberman to head the FBI, which is an unconventional choice for top G-Man to say the least. Lieberman, who would be 85 at the end of his term as director if he were appointed, currently works at a law firm that has represented the president for more than a ten years. He also has no experience in federal police work or criminal law. So he's compromised and potentially incompetent. Sounds like a fit for law enforcement.
Milwaukee County Sheriff David Clarke, the supervisor of a jail where four inmates died within six months, including one man who dehydrated to death after guards shut off the water to his cell as well as a newborn baby, says he is joining the Department of Homeland Security although the department hasn't confirmed that. Even though people perished on his watch, Clarke has remained silent on the matter. There are two ways to look at this: either abusing and neglecting inmates to the point that they died in his jail was okay with Clarke or it wasn't. If it was, then I really don't want him guarding anyone's life. If he disapproved of how his employees behaved, then that's just as bad because it shows they didn't respect him enough to follow the policies and ethos he established. Either way, he's unfit to lead.
For the first time ever, the murder of a transgender person was prosecuted as a federal hate crime. Joshua Vallum pleaded guilty to violating the Matthew Shepard and James Byrd Jr. Hate Crimes Prevention Act and was sentenced to 49 years in prison for the murder of 17-year-old Mercedes Williamson, a transgender woman who was his ex-girlfriend. "Today's sentencing reflects the importance of holding individuals accountable when they commit violent acts against transgender individuals," said Attorney General Jeff Sessions, like he cared that the victim was transgender. The New York Times, I think, made a bigger deal of this than it is. It's not that killing trans people was legal before. It's just that no federal court took jurisdiction and considered it an act of hate when a victim was transgender. I fail to see how this is a victory for criminal justice; it's not as if someone will think twice about murder because the potential victim's gender identity is not what's expected. There's no boon here for public safety or defendant's rights.  It's a victory for identity politics, which isn't necessarily a bad thing, but it won't change courtrooms or police investigations all that much.