Lawless America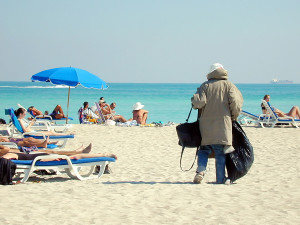 Only someone who's mentally ill wears two sets of thermal underwear, two sweatshirts on July 6th, I thought, like the homeless people you see wearing puffy parkas during heatwaves.
I looked down at my body, which was covered in two sets of thermal underwear and two sweatshirts on the day before July 7th. My court appearance had been continued so marshals brought me back to the central lock-up early and I was sitting, freezing, in the basement of the New Haven Police Department.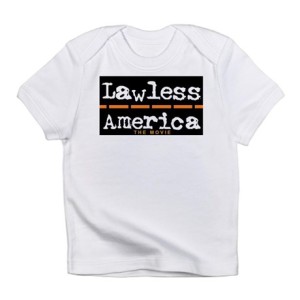 Marshals brought in a woman – 50's I guess, not polished – who had been arraigned within the last hour wearing black T-shirt with  "LAWLESS AMERICA" in that high-alert shade of yellow. Apparently there's some movie about judicial corruption and the producer is touring the country, promoting the film and riling people up and he was in Connecticut on July 6th. One of his acolytes got arrested, when she was decorated with probably the worst apparel you can wear in front of a judge in a criminal case, something labeling you lawless in a court of law. She was being held on a lowball bond.
It's a special, secret club of people who understand how corrupt and wrong the judges are and how little defense attorneys do for their clients. And the only admission to this exclusive league of people is being charged with or convicted of a crime. It's a perfect set-up for sustainable corruption; the only people who know the truth have diminished credibility.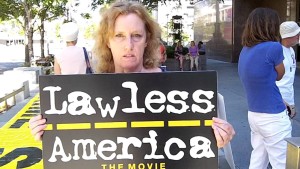 Only members of the club like me know that a $50 bond or other low amount is a judicial screw-job. Obviously, if a $50 bounty was appropriate, then the person isn't dangerous or charged with something serious, otherwise it'd be higher. If a defendant is low-risk enough to justify a $50 bond, then it's all the same to release her on a promise to appear. Most people know someone who can post $50 in bail for them but, once that bond is set, the defendant can't call anyone until she reaches the prison. There's no phone in lockup or the courthouse that she's allowed to use. As low as it is, a $50 bond guarantees you'll see the inside of a correctional facility at least for a few minutes and no one can accuse the judge of being unreasonable or abusing his discretion. It's only $50.
Lady Lawless was becoming increasingly agitated at her predicament, almost to the point of inviting medical sedation. She thought that arguing the facts to the marshals – that the Judicial Review Council in Connecticut co-signs outrageous behavior by the state's jurists, that they trample people's rights all the time in favor of corporations or the state. She sounded paranoid, looked deranged. And I've made the same claims she did at one point or another, almost verbatim. I wonder what I looked like.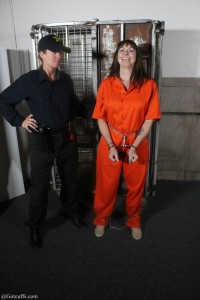 "I am an educated person. I should not be shackled!" she went on to the marshals who prepared her for transport back to York.
Trust me, not gonna work, I thought.
All of us knew that, if her antics escalated, the marshals would likely admit her to a local psych ward  – where, incidentally, she could make a phone call to someone to post her bond – and their procedures would delay our trip back to prison. Our homecoming can be delayed as long as four hours when an inmate gets hospitalized from lockup. Instead of getting back to the prison at 9 PM, we'd get in around 1 AM, after being on the trip since 7:30 AM the day before. No one wanted that, but Lady Lawless persisted.
"You can't shackle me! I'm the victim of a sexual assault! Don't you understand? Can't anyone help me?" she shrieked.
Index fingers of other inmates shot off in my direction.
"Can you help me?" she begged, sobbing so hard that help became a two-syllable word. The arms underneath her T-shirt were goose-bumped because she had dressed appropriately for a summer day.
"No," I said. I wish I had more comforting words but I had nothing. I felt sympathy for her but it was like sympathy-lite. I am so worn down by these events where someone is in distress and no one is doing – can do – anything of any effect to help her.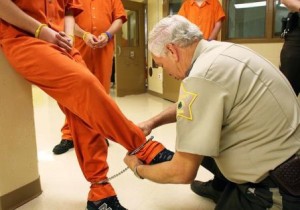 She started to struggle against the marshals who were trying to shackle her while she was standing which is rare because it's too easy for an inmate to boot them in their faces when they do that. It's much easier for the inmate and safer for the staff if she sits in a chair and extends her legs, but Lady Lawless was protester, a stand-up lady, and wouldn't sit down.
Sounded one 23 year-old inmate with a shock of pink hair:
"Let them put them irons on.  We're all victims of sexual assault so SHUT THE FUCK UP!"
Watching women behave inside the razor wire tells me that none of the statistics connecting childhood sexual abuse and crime are lying. Mass incarceration is just a round-up of victims of some type of abuse or neglect. When you see victims in the paradigm of powerlessness so many times, they start to annoy you.
Intellectually, I knew she was understandably scared like I was and that injustice was laced throughout whatever just happened to Lady Lawless somehow. It's possible that the judge who arraigned her had little sympathy for anyone but more likely he/she didn't like the fact that he/she was included in the system Lady was protesting. I don't understand how a person who gets charged in protesting judicial corruption can get a fair hearing since no one can preside over it except the people she's accusing of malfeasance. Her case is corruption incarnate.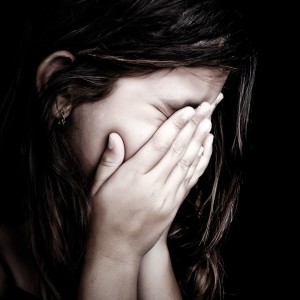 Even knowing that,  I was pissed at her that she had been victimized, either in the past or a few hours ago in a court of law. If she had just done something else different, I'm sure that she wouldn't have been here, asking me for something I don't have and can't do. The way we blame victims – Well, hon, if things had been different, they wouldn't be the same – that's our real lawless America.
"Can't you do something? I wanna get back," Pink Hair asked me.
"What can I do?" I asked back, pointing down to my shackles and raising my wrists, criss-crossed in a belly chain.
"She wouldn't be here if she hadn't worn that shirt. Might have had a chance if she wore something else," I lied to them. And to myself.
THREE IDEAS IN CRIMINAL JUSTICE REFORM FROM JUNE 13 – 19, 2016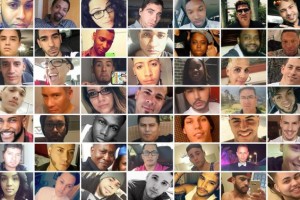 The mass shooting at Pulse nightclub in Orlando filled crime-policy wonks' inboxes with more unanswerable questions. They have to decide whether we should ban certain guns. They have to decide whether shooter Omar Mateen was mentally ill and what could have been done about it. They have to decide whether the FBI knows what the hell is going on. They have to decide what the death toll needs to be to trigger real discussion about how to prevent these tragedies. I'd be interested in knowing in how many people wouldn't be locked up if we had banned guns altogether, years ago.
'Tis the season. Three inmates escaped – one in Arkansas and two in Nebraska – to much less fanfare than the Dannemora escape and manhunt for David Sweat and Richard Matt that was ongoing at this time last year. Earlier this month, the New York Inspector General issued a report blaming New York correctional staff for the escape last year.  Already prison staff is in the crosshairs in the Nebraska escape.  And prison staff should be in a jam in Arkansas where a man convicted of murder and sentenced to 60 years was assigned to an off-prison grounds job. Usually, high security inmates aren't assigned to these jobs because of the risk of escape. My take? Huge screw-ups by staff in all three states. That's what prison breaks are: magnification of C/O mistakes.
Think tank In the Public Interest released a study on Thursday with statistics showing that recidivism among people who discharge from private prisons is higher than the rate for people who come home from government-run prisons. This is newsworthy because for a long time no one had any data that indicated that privatization can threaten public safety.