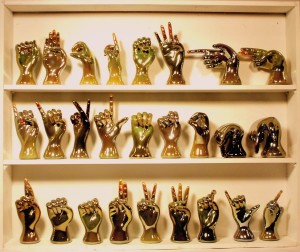 "Okay, here's what I know," I told them. "There's over 900 cups of peanut butter and jelly but only 300 cups of cole slaw."
"That doesn't make any sense. Why would they have three times more peanut butter than cole slaw?" Charity asked. She was right; the prison always served peanut butter and jelly with cole slaw.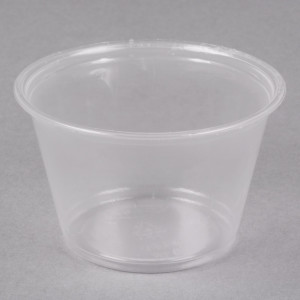 "What's…what's going on? Are we locked down or what?" my roommate Melissa interrupted. I repeated what I knew.
"Mmm. How many trays are there?" she inquired.
"Uh, I didnt see any uptick in the number of cases they took from the warehouse. About the same as always."
"That's not a reliable indicator," Charity pointed out, "because they can brown bag those peanut butter and cole slaw cups."
Melissa and I nodded in agreement. We were better informed about an impending lockdown than when we started the conversation.
A complete, five-day lockdown might not seem like much of a threat to women who are locked down 18 hours of every day, but it is. A 24-hour emergency lockdown means we can't shower, call anyone, receive visitors or do our jobs.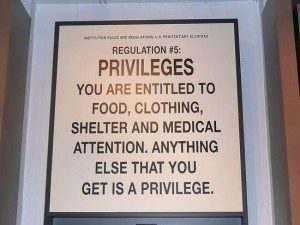 Inmates prefer to know what's happening so we can bathe quickly or warn loved ones so that they don't worry when the phone doesn't ring or drive two hours up I-95 only to U-turn at the prison gate because visits are closed. And, because we're not told anything specifically about these events – with some good reason since a necessary aspect of any lockdown is catching inmates by surprise with drugs or someone else's radio, so no one ever announces the event ahead of time – inmates train themselves to look for signs.
Because no one walks into the dining hall during a lockdown, food is prophetic in a prison. Prefabbed portions and a glut of styrofoam trays – as opposed to the molded plastic trays that serve as plates – usually indicate that it will be delivery, nor DiGiorno, because no one's going anywhere that day.
When easily distributed, non-perishable, fiber-filled cold cereal packets inundate the supply closet, that, too, implies you'll be sitting in your cell for a while.
Since I'm often the only person in the long-term housing units who works in food service, I am the Chief Lockdown Prognosticator. When they ask what's happening, I recount to the inmates the signs I've witnessed and how I interpret them. I am overly cautious and I warn people:
"Call your mother, just in case."
My accuracy rate is about 75%.
Inmates look for signs of not only lockdowns but anything because the prison posts no signs, meaning they announce nothing in here. Knowledge is power even on society's sidelines. Inmates, by design, should never have power, so they leave us ignorant.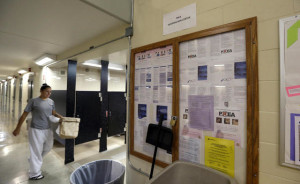 Inmates can exploit what they know to get what they want, so I get it that we need to be left in semi-darkness. In the poor light, we squint at the signs (C/O's lugging biohazard boxes into the gym where we get strip-searched and deposit our maxi pads and other female daintiness, cases of urine specimen cups for drug testing) and we guess, improvise with the facts we have. You might give us credit for creativity, but the net result of all of this lack of information dissemination  is that we're often making stuff up.
There's a real downside to the keep-away game we play with info because it leaves undereducated inmates with no idea how to learn the lowdown legit. That is, they know nothing of how to use established resources to secure what they need to know. Instead of checking the Inmate Handbook (which I admit is an abject piece of shit that lacks answers to the most cursory questions and is rife with typos that cloud any creditable facts within e.g., "court trip" is spelled "court trio") inmates rely on gossip channels for news other than scuttlebutt, like what the new parole statute means for them. There should be a reliable way to get real information that the women in here need but there isn't.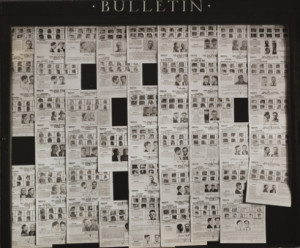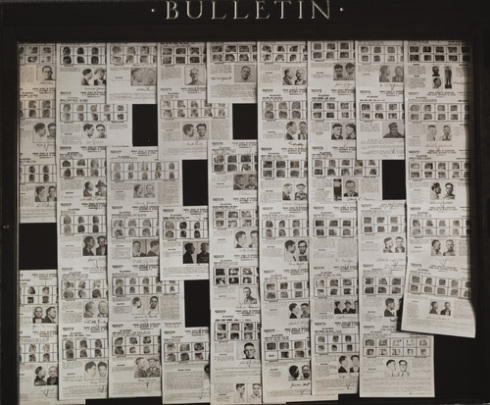 In lieu of a formal announcement system, misinformation flows around the compound on essential topics like deadlines to change one's approved calling list or who's not really infected with MRSA. Along this foul vine flowers frightening falsities like everyone on the max-security side is being transferred to Massachusetts or bizarre bulletins about how the guards stole a large donation of lobsters intended for inmate consumption. The inmate mind doesn't riot against these blatantly false stories; the fact that nothing anyone reports makes any sense never slows the transmission of bullshit. No one in here ever knows what they're talking about, yet word spreads fast.
Each floor of every housing units has a bulletin board, a stab at disseminating accurate information. The memos on these cork boards date back to 1996 and most are just updated lists of gangs  – "risk groups" – as if gang members don't know they're affiliated.
Instructions to write to the Correctional Ombudsman for help with facility problems continue to decorate our walls, descending from long, yellowing rectangles of Scotch tape even though the Ombudsman's office closed in 2010; depending on these signs, counselors still refer people to the Ombudsman even though he was axed three years ago. Even they don't know he's gone.
On the occasion that someone staples an accurate, newsworthy posting to the board, the words drown in passive verbs and stilted and incorrect nouns and even I, with my interpretive power, have no idea what they say. The announcements trail off into lists of distribution, people who get the carbon copies including the recipient "File" reminding the person who hangs it up to keep a copy of the goddamned thing.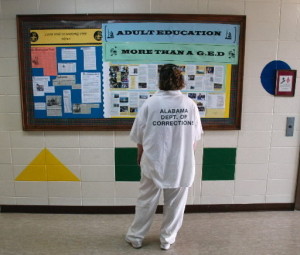 Sometimes File doesn't get his copy and no one remembers what was in the once public pronouncement. Getting the real skinny on anything ends up a fat failure. Prison, the place that is supposed to be the answer to our and society's problems, is all questions and no answers. Just misdirected inquiries and made-up stuff.
When I left Charity and Melissa to take my post-work shower, a muffled voice found me.
"Winky, how much does DataCon (the data entry office where inmates work processing spreadsheets and the like) pay?"
"I don't know. I don't work in DataCon, remember? I work in Food Prep. You asked me yesterday if I saw anything that would make me think we're about to be locked down."
"Sooo…who I ask about that?"
"Someone who works in DataCon," I answered very plainly. There should be something posted about this, but naturally there's not.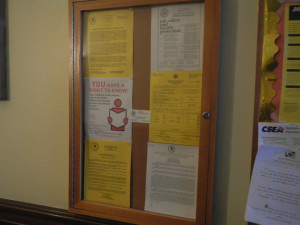 "Ooooohhhh…" she said. This was a revelation to her, that going to a legitimate source of information is the best way to learn the truth. "Okay. Thanks. Thanks a lot."  No one's smuggling grey matter into the black-and-white world of prison accuracy.
The next day I watched inmates pack into a freezer several cases – many more than usual – of frozen french toast. Amply adrenalized by the carbohydrate prophet before me, I rushed to my supervisor, Green Bay.
"Green Bay," I said as I cocked a thumb toward the toast. "What's happening? Are we about to be locked?"
"Relax, Nosy. No one's getting locked down. The french toast is for everyday use now. We're using it because we have to give a hot breakfast to every inmate that's going out on a court trip."
"Ahh, I think you mean court trio," I pointed out. He's never read our inmate handbook to see the typo that's perturbed me for years, so he was puzzled.
"I have no idea what you're talking about, Bozelko."
"It's okay. No one does."
THREE IDEAS IN CRIMINAL JUSTICE FROM AUGUST 1 – 8, 2016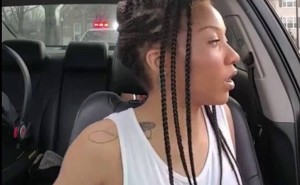 President Obama granted clemency to another 214 federal prisoners, making the total for his reign 562, more than the last nine presidents combined. He told reporters at the White House: "[W]e are not done yet."
The New York Times reported the results of a British study that says that mass incarceration might (nominally) reduce global warming because prisoners have smaller carbon footprints. You can't always get what you want.
A young woman in Baltimore County, Korryn Gaines, was shot and killed by police after a five-hour standoff in which she was holding her shotgun and her five-year old son. A later revealed fact – that Gaines likely suffered from lead poisoning which may explain her aggression – changes the story entirely. I think the Gaines story has huge implications for justice reform in that we don't know how many inmates also suffer from lead poisoning; no one has ever studied this. If defendants charged with/prisoners convicted of violent crimes were poisoned through no fault of their own, lead poisoning should be a more important and better-acknowledged reason for sentence mitigation.