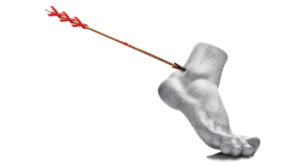 Every woman in prison the nymph Thetis. Wanting to make her son Achilles immortal like her, she dipped him in the River Styx. She held him by the heel and Styx missed a spot, leaving a tiny invitation at the back of Achilles' foot to anyone who wanted to take him down.
In here, we mother each other. I dip, you dip, we dip when we say: "I don't judge you [for your crime]" and "The only person who can judge us is God" and "People make mistakes" and "I know you're a good person," spraying an invisible coating that will deflect scorn we get from the CO's and in courtrooms, from people we'll meet in the future. Protected, our self-esteem never will never die if we listen to each other. Condemnation will wait forever.
Thetis never wanted to vanquish her own son. If she had, it would have been easy because she knew vulnerability's secret location, like we know what someone can be judged for.
Whenever rage rears its head it goes for the heel. Disputes over commissary or gossip or prison property rights devolve into accusations and name calling, using the words I hate: the conclusory nouns like 'murderer' and  'criminal' and any descriptors that invoke the crimes that brought women here. They call each other fucking thieves and robbers and forgers and the worst: they challenge others' ability to mother their children, as if any woman with children who's in here isn't in the same boat on the Styx.

"Who the fuck's takin' care a' your kids?" they shout at each other. Apparently, it's a mark of real exclusivity not to have one's kids in foster care.
While I'm screaming:
"Ladies, please! Let's not conflate the person and the behavior!" they throw each others' convictions, charges and arrest headlines in at each other, not even careful to aim for Achilles' weakness since once we bring up each other's crimes that impermeability isn't limited to the ankles anymore.  In fact, it's gone totally. What the protector giveth, the protector can taketh away.

I think it's telling that Thetis's son, Achilles, gets nailed by none other than a provider of judgment, the judge of the ancient world's Fairest of Them All pageant. Paris was his name and, in exchange for the opportunity to steal the world's most beautiful woman from her marital bed, he rendered a decision in Aphrodite's favor. Crooked bastard.
Of all the people who can condemn us morally, we do it to ourselves the most. The people who should judge least do it the most. Public enemy's worst enemy is herself. If society acts like this when they get pissed at us, we'll never be allowed to forget where we were.

As I am sitting in the back of the GED classroom typing this, Shirelle ran in, yelling, pointing to the hallway and devoid of any intent to work on her writing assignment.
"Motherfucking murderer, killer bitch! Dirty bitch. Go beat someone to death and stuff their body in a box you're too stupid to get rid of!
"Whoa. You alright?" Kelly asked her.

"This bitch killed a bitch because she was jealous and stuffed her ass in an air-conditioner box. She's a motherfuckin' murderer and I'm not takin' any of her shit."
I knew exactly who she was talking about. The chick with the body-in-the-box was my cellmate.
"Wait…what're you…aren't you here for murder?" I asked Shirelle, eyes slitted into Whachyou talkin' about Willis?
"Yeah, but I'm not that type of murderer, 'kay?"
"Well, then," I shrugged and sat in judgment, asking her to expose her heel like I was Paris, which I'm not because that motherfucker was murderer and a kidnapper.
"What kind of murderer are you?"

THREE IDEAS IN CRIMINAL JUSTICE FROM MAY 22 – 28, 2017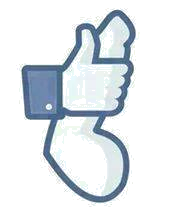 While some New York media outlets reported the arrest of three staff members at Brooklyn's Metropolitan Detention Center for raping inmates, only the New York Post reported how they were caught. "Three of Lt. Eugenio Perez's five victims separately gave investigators matching descriptions of the prison guard's penis right down to the nickname he'd bestowed on it…" is how the Post put it. Another lieutenant, Carlos Richard Martinez, posted "It's only PREA [Prison Rape Elimination Act] when you don't like it," on Facebook. Leaving aside for a moment any discussion of the amount of class that these two federal employees have, it's important to note that prison rape is so rampant that these two thought they would never get caught and, certainly, never be punished, otherwise they wouldn't have shared their crimes and introduced their privates to inmates.
Lee Boyd Malvo, the 17-year old who was suckered into going on a serial sniping spree in 2002 watched his life without parole sentences sail out the window on Friday when a Virginia judge vacated them.  I always felt that this kid, who lacked a positive male role model, was hijacked by John Allen Muhammad, a very ill man who was 25 years his senior, and brought into crimes he never would have been involved with otherwise. Malvo admitted well after his sentencing  – when it couldn't mitigate his punishment – that Muhammad sexually abused him. In 2012, the United States Supreme Court ruled that mandatory life sentences for juveniles were unconstitutional in Miller v. Alabama. Last year the Supreme Court applied Miller retroactively to sentences issued before 2012, paving the way for the Virginia judge to give Malvo another turn at sentencing. By all accounts (except the prosecutors' – because they have to show how big their dicks are) Malvo is contrite and a well-behaved inmate. He deserves a chance.
This week brought three more instances of Milwaukee County Sheriff David Clarke's coloring outside the lines. Allegedly the man who ran the jail where four inmates perished in six months (including one who was dehydrated to death) plagiarized his master's thesis, projects the image that he's earned medals for valor when he really just wears a big pin collection like costume jewelry,  and had someone who barely disagreed with him on a plane detained and questioned by his deputies. I almost want him to become the Assistant Secretary of Homeland Security because this man will never quit this fraud, puffery and abuse. I think people need to know how corrupt and abusive law enforcement is and Clarke likes the attention; he'll put law enforcement's warts on full display so people can really understand who's supposed to be keeping them safe.