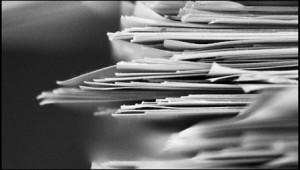 When the notices went up in such decisive words, they scared us.  "Inmate Property Audit" they read.  Guards and counselors usually mumble announcements in the housing units.  We muttered to ourselves as we read the signs with ceremonial language like "excessive" and "cubic."  This was not a search, nor a simple inventory nor  a form-filling exercise; this was an audit.  It involved numbers, measurements and calculations.  In a world that depends on the qualitative to have an effect, we were about to get quantitative, and know about it ahead of time rather than get traumatized when the event was sprung on us. It was a switch.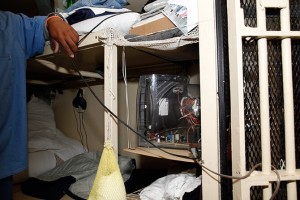 Because one inmate so exceeded the property limits  – like instead of 10 CD's she had 60, instead of four books, she had 26 – the sum total of each inmate's property was to be reduced, distilled, condensed and purified into six cubic feet of a contraband-free space.  That meant that a prisoner's pillow, hairdryer, work uniforms, regular uniforms, socks, underwear, shoes, toiletries, towels, pajamas, books, magazines, radios, CD's and CD players, stationery supplies and legal paperwork had to fit into a space slightly larger than the size of that area in your trunk that houses the spare tire.  Anything that didn't fit would be tossed.
"How can this be fair?  It is not fair to make us live out of six cubic feet!"  This became a mantra on my tier, because women who have lived here for a long time and expect to live here for a long time more want to make themselves as comfortable as possible.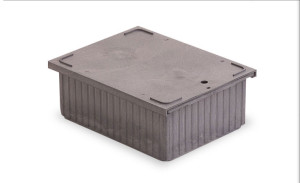 Shorter-term prisoners struggle through their six month sentences without these amenities. Because they own barely one cubic feet of property so they would fall safely within the audit's parameters.  But most women in my unit had much more property than could be packed into six. They buy all of the commissary's electronic equipment like CD players and CD's; magazines subscriptions pile up in our rooms and we buy a lot – a lot – of undergarments to stave off feeling totally funky during a long lockdown when we might be denied showers.
The age-old philosophical debate about justice – whether we achieve it through fairness or equality – comes alive every day in here.  The rule in prison is equality, that each inmate receives the same.  Guards cloak prisoners in equality when they issue uniforms; we all wear the same one – a burgundy T-shirt and a pair of jeans – unless we pose an escape risk and then we wear DayGlo yellow scrubs.  We receive the same sheets, shoes, and socks.  We are equal in all things.  Or at least we are supposed to look that way.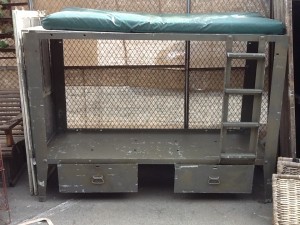 If we ask for something that no one else can have – like an extra piece of cake when only twelve pieces remain in a room containing seventeen inmates or one lone sweatshirt containing pockets discarded by a discharging inmate – staff members tell us:  "Sorry.  I can't give it to you if I can't give it to everyone else.  Everyone gets the same."
On a Tuesday morning, like it was some kind of emergency, my supervisors ordered me to leave work to submit to the property audit which took place in a housing unit so tightly locked that no one could squeeze out her contraband with the hopes of re-squeezing it back into their six cubic's after the audit.
Two nosy, yet emotionally detached female guards stood at the door of my cell and barked:
"Do you have a radio?"
"Panties!  How many?"
"White T-shirts!  How many?"
"How many is too many for us who work in the kitchen?" I asked.  Because beef broth, baked beans and brown gravy cover every stitch of clothing we wear, kitchen workers receive (gasp) special treatment because some prison crisis (like a non-functioning clothes dryer or a lockdown forcing us to return to work after we changed out of one kitchen uniform) might force us to don another set of clothes.  Besides, we stink from the food we prepare; everyone around us wants us to change our clothes multiple times a day.  Limiting kitchen workers to the same number of T-shirts as inmates who don't work in the kitchen makes wearing clean clothes impossible for us so the administration usually allows us to keep extra clothes; that's only fair.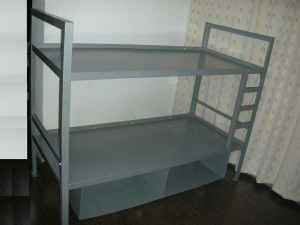 "Same as everyone else!" squawked one of the inventory buzzards.  I live in cell A-1, the first cell searched.  I wondered if she was going to be better or worse to the subsequent search-ees or would she treat them equal bitchery.  I handed one guard the three excess white shirts I'd just purchased only to see all three go into the garbage, equally.
When we came to inventory my legal papers, I had already filled my six cubic feet.
"They need to be sent out," said one woman, a wizened guard notorious for her Google-stalking of inmates' charges and criminal cases. Everyone thinks she's nice. I don't.
"I can't send them out.  I need them for court proceedings," I told her.
"I said send them out as in store them!" she screamed.  I was about to tell her she should have said "They need to be stored" but I remembered that I am not her equal and bagged up the papers for her to cart them to the property office.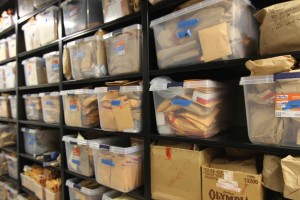 Now, whenever I need to do legal research, I must write to the property office and pick up a few envelopes of documents.  Then I exchange that set of documents for another pile of – you guessed it – equal size.  Usually, any legal work in prison takes ten times longer to do than it would take outside the facility. I've been defaulted more times than I even know about because of the delays in getting documents in and out of here. But with this new equal property arrangement, equal has become excessive and it takes ten times longer than before, even with the property officers' consistent cooperation and kindness. I don't see how I can compete anymore in court, much less win, with all things being equal.
Limited to the equal-across-the-board property rules, my six cubic feet without my papers make me equal to other inmates.  But other inmates – 99.5% – don't represent themselves like I do and therefore don't do their own legal work. To people in a minority, equal isn't fair.  Quite a lesson for the privileged, little white lady who's outnumbered.
THREE IDEAS IN JUSTICE REFORM FROM AUGUST 22 – 28, 2016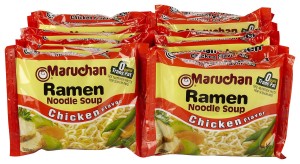 Ramen is the new dough, according to a study released at this week's American Sociological Association's annual conference. It's replaced cigarettes as currency in prisons and jails because of correctional tobacco bans. I've eaten a few ramen, but never smoked a cigarette. Cigarettes might have been healthier. Everyone thinks this news is, well, news. Anyone who's done time knows that anything can become currency behind bars.
Illinois Governor Bruce Rauner signed more than twelve justice reform bills on Monday, including one that helps released prisoners get the occupational licenses they need for certain types of employment, the first law of its kind in the United States.
And on Thursday, Judge Aaron Persky, adjudicator and sentencer of the infamous Brock Turner has decided to stop hearing criminal cases because the Brock-Backlash has affected his ability to appear impartial – and go on vacation in peace. In many ways, this is a sad turn of events because defense attorneys swear that Persky was one of the judges who was most fair toward indigent defendants.