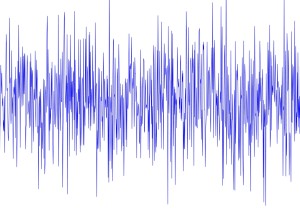 Nasal swallow, gurgle of flushing toilet.
"Man on the floor!"
Pulsating squeak of non-existent floorboards.
Plumbing's buzz and boom of other cells' plumbing.
"Yo, warden be with the bullshit!"
Hiss and flat taps of water on sink drain.
Reverberating metallic thunder of a kick to cell door.
Vent's unsteady hiccup.
Steady click of second hand, passing plastic minutes and hours.
Steely clank of freed bolt in door.
"Motherfucker."
Intermittent pongs, bumpy rumble of clothes dryer.
"Where my clothes at?"
Rasp and grind of washer, honking end of cycle.
Pitchy purr of hairdryers.
Shower rain.
"Who been pissin' in this bitch again?"
Wobbly ping of the intercom.
Tinny announcement backed by sizzling static.
Miniature squeaks of screenplay tied umbilically to television.
Jangle-jig-jangle-clangle of keys on guard's belt.
Yelp from laundry worker as dental floss stick catches between her teeth.
"On the door for chow!"
Sarcastic clap of cabinet doors as bathmats store away.
"Quiet around here since they took that chick to seg, the one… screaming, huh?" TL asked.
"What's that?" I asked.
"Quiet in here. Since they took her to seg."
"Huh? I'm sorry. You know this place made me deaf."
"QUIET IN HERE NOW THAT SCREAMER IS GONE!"
"Oh. Oh yeah. Definitely. Much quieter," I agreed and nodded my tinnitus.
READER POLL

From CBS News: Judge Marvin Wiggins to Defendants: To Avoid Jail, Pay Court Fees or Give Blood
Perry County, Alabama Judge Marvin Wiggins is facing ethics charges this week for offering defendants summoned to his courtroom the chance to donate blood outside the courthouse in lieu of paying outstanding fines/court costs that would put them in jail if they remained unpaid. The Southern Poverty Law Center says he was forcing

Loading ...